Tell the truth: how many times have you seen photos of beautiful and super-equipped gaming chairs but you have always preferred to enjoy your gaming sessions comfortably spread out on the sofa or on some armchair? If you want a stylish product but you absolutely don't want to give up the enormous comfort of sofas, the two alternatives come to your rescue, offering you a more than successful middle ground, are the so-called poufs, a sort of large bags that can keep you very comfortable between games.
Distinguished by the most different colours, features and accessories, gaming poufs are in fact highly versatile products, perfect both to support you during a few games and as an object capable of giving a splash of color to your living rooms. In short, there are really several reasons to buy a gaming pouf and, just so as not to run into any unfortunate purchases, we have decided to collect in this article both those that are the best gaming bean bags on the market that the main tips to make a careful choice in this regard.
Have you rethought it and are you now more inclined for a gaming chair? No problem: in this article you can find the best gaming chairs on the market for all budgets, while in this one the best ever. But now let's stop talking and let's see what they are together the best gaming poufs purchasable right now on the market, obviously based on what your personal needs are.
Gaming ottomans, the best
Avalon Pouf Bag XXL
Game Over Poltrona
Pablo gaming pouf in faux leather
Lumaland Beanbag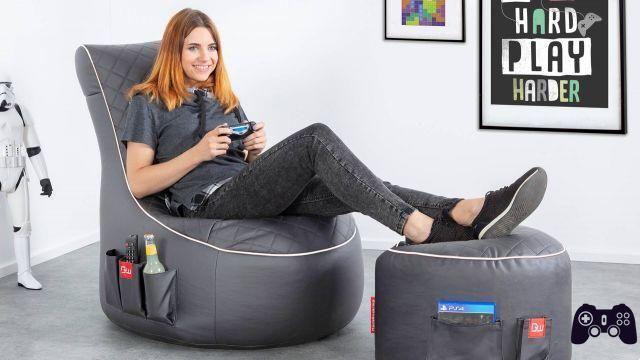 Avalon Pouf Bag XXL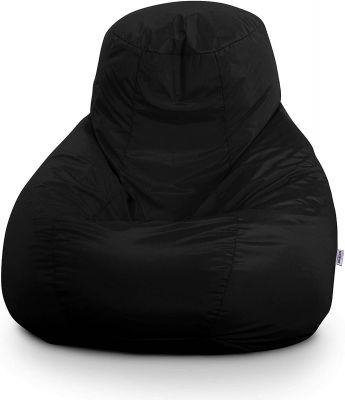 It is certainly one of the best gaming poufs on the market
l'Avalon Puf Bag XXL.
It is a very comfortable pouf measuring 110cm in height by 100cm in diameter filled with
EPS Pro Quality polystyrene beads
able to make the seat ergonomic and stable for a long time and without releasing any dust. Great ease of cleaning, with
the Avalon Pouf Bag XXL which can be easily cleaned by hand without problems,
and excellent quality fabrics finally make it not only one of the best gaming beanbags on the market, but also
a trusted ally in any gaming session.
To make everything even more interesting is the large number of dimensions of the product, which is available in three different types to satisfy every need.
SEE ON AMAZON SEE ON EBAY

Game Over Poltrona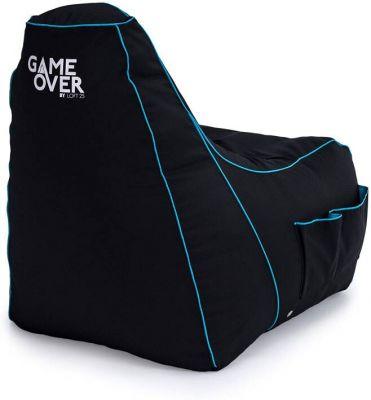 The Game Over gaming bean bag is without a doubt
one of the best on the market,
thanks to a simple but captivating style, good quality materials and not bad features. With dimensions of 83 cm long, 60 cm wide and 83 cm high, the Game Over pouf is in fact then equipped with side pockets, a headphone strap and has been designed to last a long time, studying it with particular attention, for example the ventilation functions. A great manufacturing care also confirmed by the water-resistant and fire-retardant polyester and the double stitching. In short, all characteristics that make this product
one of the best gaming beanbags out there.
SEE ON AMAZON SEE ON EBAY
Pablo gaming pouf in faux leather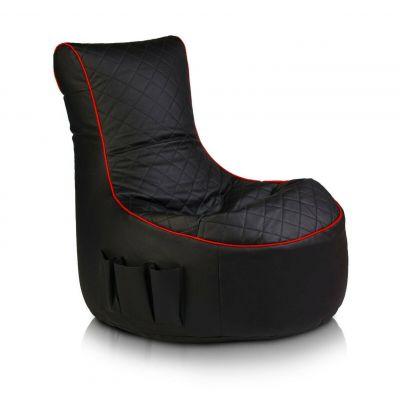 Another very valid choice if you are looking for a good gaming pouf is definitely
the Pouf Gaming Pablo in faux leather
, which manages to stand out among competing products thanks to an attractive and elegant design at the same time. In addition to being decidedly comfortable and ergonomic,
the Pouf Gaming Pablo is also equipped with large side pockets
complete with removable compartments, a feature of absolute value, which will allow you to store remote controls, headphones and joysticks in total comfort, always having them at hand. Not bad, right?
SEE ON AMAZON SEE ON EBAY
Lumaland Beanbag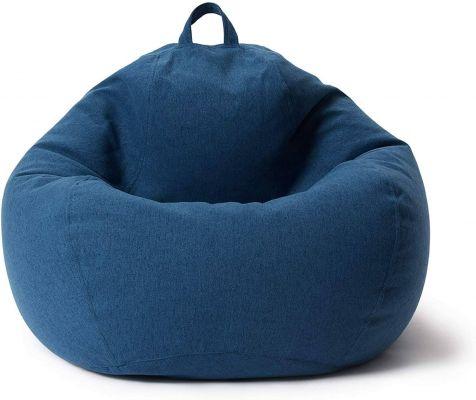 If you are looking for a pouf or bean bag, if you prefer, cheap and perfect for other situations as well as gaming, Lumaland will come to your rescue.
a simple but very good quality product.
No side pockets or other gaming accessories, but
Lumaland is characterized by great comfort
, different colors and sizes and a level padding. To complete the package is then a comfortable handle, which allows you to
move the ottoman from one place to another with total ease.
SEE ON AMAZON SEE ON EBAY
How to choose a gaming pouf
Choosing the perfect gaming pouf that can satisfy your every need is often not easy. Although the aspects to take into consideration are decidedly fewer than those for a gaming chair, choosing the correct pouf can often prove difficult without the right tips.
Design, dimensions, material, functionality and much more: the choices to make in choosing the best gaming poufs are in fact different and allow you to move towards a product suitable for everyone's needs, a trusted ally for hours and hours of play. Just to help you make a decision more in line with your wishes, we have compiled a series of points to reflect on before launching into the purchase of a gaming pouf: so let's see together what you need to pay particular attention to.
Host the gaming pouf?
First of all, why move towards a pouf and not a gaming chair? The reasons can certainly be different and reside in different themes, but it is clear that the main one is certainly the type of seat and the methods of use. For example, you will hardly be able to use a gaming pouf to play on the PC or to work, while a gaming chair lends itself well to a greater number of situations. On the other hand, a gaming pouf can fit in a living room without standing out too much and at the same time it can also be used to watch TV in comfort. Not to be underestimated is the price, since usually a gaming pouf is characterized by a decidedly lower price compared to that of a gaming chair.
Material
The first feature to keep in close attention is definitely the one relating to the material of your pouf. Fabric or leather: these are usually the materials with which you will find yourself dealing, with leather, usually PU or synthetic, which is much more beautiful to look at, but which could prove particularly difficult in terms of perspiration in the summer months. Leather products are usually more resistant to tearing and, as such, more resistant in the presence of some small animal in the house. Also not to be underestimated is the great ease of cleaning of leatherette products, so a rag is enough, while the fabric gaming poufs can be washed comfortably only if the covers are removable.
Side pockets
If you want to have everything at your fingertips during a few gaming sessions, your gaming pouf must absolutely be equipped with some side pockets. In fact, it will be possible to store practically everything in them, starting from the controller of your console and the remote control of your TVs up to some snacks. In short, having side pockets on the pouf will surely prove to be a not indifferent quid sooner or later.
Price
How much does a pouf from gamin costg? As always, it obviously depends on the characteristics of the chosen product. Each pouf that we have chosen to include in this guide takes into account a series of different characteristics, which differentiate it from the others and which obviously also affect the final price.
Brand, materials, dimensions, additional features and more: the aspects that can affect the final price of a gaming pouf are different and affect different aspects of the final product. In order to meet every budget, we have in any case tried to include gaming poufs of various price categories in this article. In principle, however, the price of a gaming bean bag can vary from just over 50 euros up to a hundred plentiful. A price range in the end not so wide, but which still manages to enclose within it a vast number of different categories of gaming poufs.
Dimensions:
For some it could perhaps be trivial, but it is important to underline how not all gaming bean bags are the same size. Before proceeding with the purchase, it is therefore a good and right thing to understand how much space you have available in the living room / bedroom and how big you want your gaming ottoman, in order to buy the best product in line with your needs.
To help us in this regard is the fact that most of the gaming poufs are distinguished by the same measurement system as clothes. S, M, L and XL: thanks to these indications that will certainly be familiar to you, you can therefore more easily orient yourself and choose the most suitable product both for your personal needs and for those of the room in which it will be placed. In any case, the advice is to also check the actual size of the pouf you have chosen as well as the measurement system: not all manufacturers, in fact, use the same standards and an M of a given product could be more cumbersome than the L of a competing brand.
Design
How to match ottoman to sofa? A question that for many may seem superfluous or almost trivial, perhaps even useless. Understanding how to match the pouf to your sofa and, more generally, to your living room or room is instead something to take into consideration, although perhaps less than other aspects that we have reported a little above. After all, who would want to have something out of place, a real eyesore, inside their home?
Precisely for this reason it is important to opt for products with colors and designs that blend well with the other elements of the furniture, thus making your future gaming pouf a less foreign body in the whole. Even if you are not very interested in color combinations in your room, choosing a design that is to your liking is still essential, in such a way as to make the product more enjoyable and make it even more personal. In short, the advice is not to choose a product only for its color or design, but to take this feature into consideration in your decision.