What are the best gaming monitors under 500 euros? We started from this question, aware that gamers are very demanding but not everyone is willing to spend too much, bringing the cost of a monitor closer to that of a latest generation TV. We therefore searched the main online stores for the best offers that the market offers in this period, keeping us below 500 euros, but trying to include all the priority features for a good gaming experience.
In fact, To enjoy an experience free from interruptions and visual artifacts, it is essential to purchase a monitor with some features, in particular of AMD's FreeSync or Nvidia's GSync, so as to avoid tearing problems and benefit from a more fluid experience. Furthermore, given the insistence of standards such as HDR, increasingly present in the gaming world, buying a panel with a 10bit and HDR certified display is now a must. Penalty, not displaying the games to the best of their ability.
Having said that, the time has come to tell you about our selection and show you which are the best gaming monitors under 500 euros. You will also find the chosen products divided into categories in order to offer you a list that includes all the standards we have talked about up to now. Before starting, however, we suggest that you also take a look at the best desks and the best chairs, in both cases suitable for gaming, so as not to miss anything at your workstation!
Best gaming monitors under $500
LG 32GN650 UltraGear, the best in QHD
ASUS TUF Gaming VG289Q, the best in 4K
LG 34GN73A UltraGear, the best with curved screen
Itek GGF, the best high refresh rate
BenQ EW3270U, ​​the best for mixed use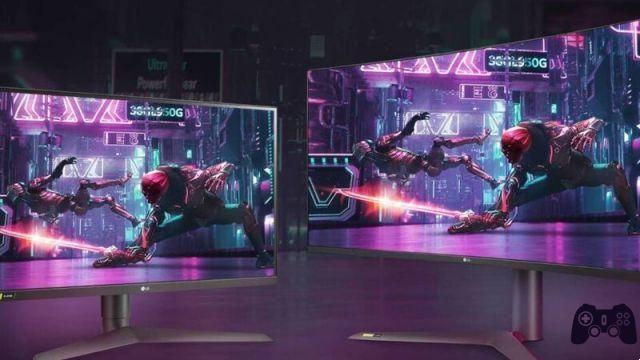 LG 32GN650 UltraGear, the best in QHD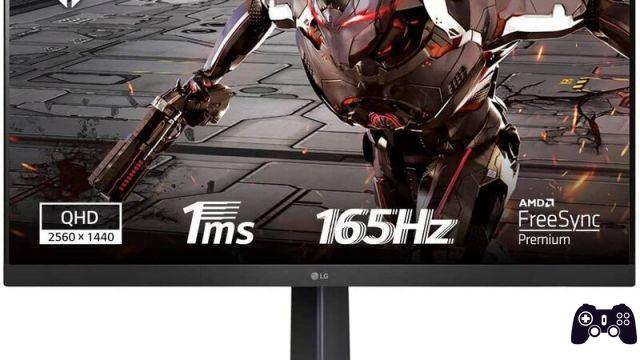 If you usually find out about the best monitors currently on the market, obviously in reference to gaming, you will surely have come across LG's UltraGear line. Models specifically designed to meet the needs of the most hardened and passionate players.
The monitor in question, the 32GN650 model, is characterized by a VA type display with support for HDR technology. The version we selected is the 32" one, but you are completely free to select another one from the link we leave you below. In our opinion, it is the one with the best value for money, especially considering the frequent discounts. That said, The screen is perfect for gaming, considering the presence of a very low input lag (1ms), AMD FreeSync Premium technology, 165Hz, HDMI 2.0 and DP 1.4 ports. All this at a very high QHD resolution (2560 x 1440 pixels), the most recommended in the PC environment. So, if you love playing at 1440p resolution and are looking for excellent gaming specifications, this is the monitor for you.
See on Amazon
See on eBay
ASUS TUF Gaming VG289Q, the best in 4K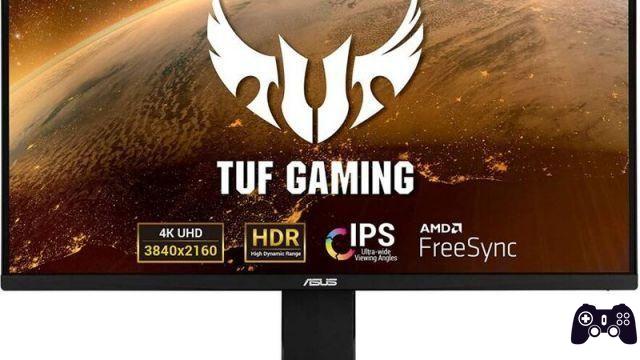 We have selected this monitor in particular for lovers of 4K resolution. To keep costs low and not exceed the ceiling of €500 that we set for ourselves, we necessarily opted for a 60Hz model. Nonetheless, don't think it's unsuitable for gaming: the monitor is in fact characterized by a good general quality of the panel, with support also for HDR and IPS technologies for more precise color rendering and does not give up on gaming features at all.
As evidenced by the appearance first and second by the fact that it is part of the TUF Gaming line from Asus, the VG289Q is absolutely a gaming screen. The icing on the cake is AMD's FreeSync support, which can also be used on Nvidia configurations, as has been possible for some years now, and, of course, also the HDMI 2.0 and DP 1.4 inputs. That said, if you have hardware capable of pushing games up to 4K resolution, this monitor is for you: you'll enjoy ultra-smooth ultra-high-resolution visuals.
See on Amazon
See on eBay
LG 34GN73A UltraGear, the best with curved screen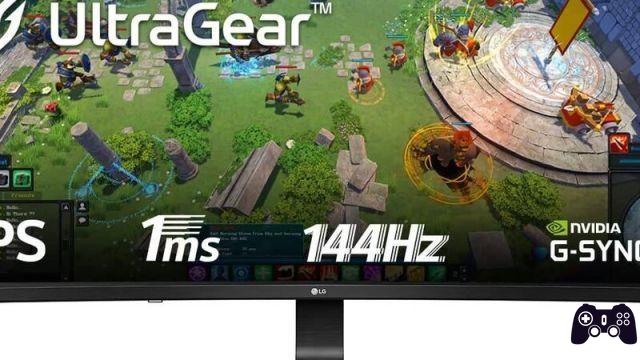 What we are about to tell you about is a monstrous monitor, complete with all the specifications necessary to enjoy gaming in a fluid way and perfect for those looking for a screen let's say ... particular. Well yes, unlike the models mentioned above, LG 34GN73A is characterized by a curvature of the display, which further amplifies the sense of immersion given by some video games. Of course, in order for everything to work properly, it is necessary to maintain a position in front of the screen, which we imagine however is the most popular in the PC environment, considering the usual desk setup.
Having said that, just like for the other screens, the monitor is a QHD, the aspect ratio of the image changes, considering the curvature and the fact that it is capable of going up to 21:9 aspect ratio. For the rest, as mentioned, at your disposal 1ms response time, certified HDR, AMD FreeSync, GSync, 144Hz and the common HDMI 2.0 and DP 1.4 ports. If what you're looking for is a screen you can fully immerse yourself in, without distractions, this is the monitor for you.
See on eBay
Itek GGF, the best high refresh rate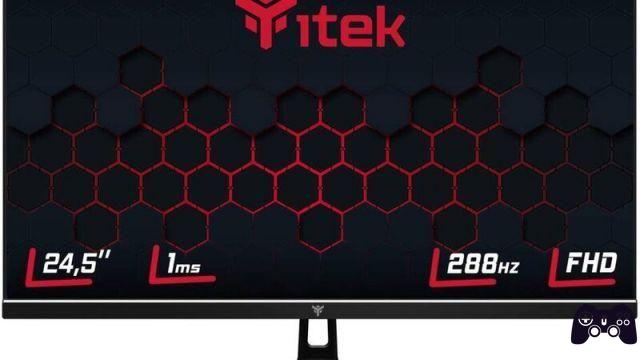 We know, we know, there are monitors that go well beyond 300Hz, but we want to remind you that our intention is also not to make you spend too much; moreover, as the title states, we are talking about the best gaming monitors under 500 euros. Having said that, let's get into the details!
Therefore, this Itek GGF monitor stands out for its high refresh rate, anchored to 288Hz combined with TN technology (always very responsive) and 1080p resolution, the classic Full HD. A screen particularly suitable for lovers of high frame rates, colors who love to play extremely fluidly, in this case also with the support of Adaptive Sync and HDR technologies, and the usual HDMI 2.0 and DP 1.4 ports. If your goal is to perfect the frame rate of your games, this screen is unrivalled.
See on Amazon
See on eBay
BenQ EW3270U, ​​the best for mixed use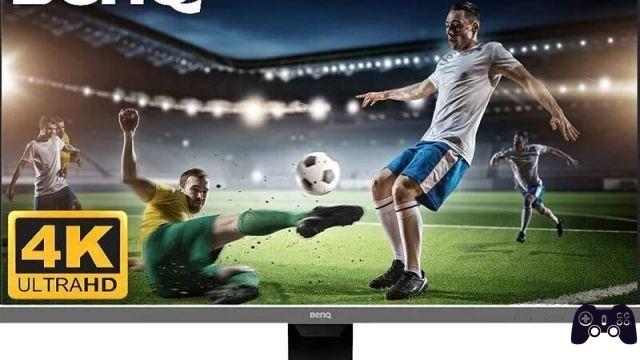 Gamers also consume on-demand content on the most popular streaming platforms such as Netflix, Disney+ on Prime Video, and often they do it directly through their console, not having a smart monitor. And they do well, because smart monitors give up some important and indispensable features for gamers, from the input lag reduced to the bone to the most popular technologies such as FreeSync. That's why, although we offer you a monitor designed by BenQ itself for the use of multimedia content, we prefer to discard the idea of ​​smart monitors, in our opinion recommended only for productivity, therefore for working.
That said, the BenQ EW3270U features an outstanding VA panel with HDR and 10bit per color support. A perfect profile for enjoying multimedia content, but also for playing, considered input lag below 5ms and support for FreeSync technology, HDMI 2.0 and DP 1.4 ports. What to say? For less than 500 euros you will take home a monitor suitable for gaming and which does not give up a good reproduction of multimedia content at all. In short, a complete package.
See on Amazon
See on eBay
How to choose a gaming monitor
If you have come this far, it means that you have taken a look at our selection of the best gaming monitors under 500 euros, divided into curved screens, with QHD and 4K resolution, and with specific support such as HDR and variable refresh rate. Well, in the following paragraphs we will try to provide you all the necessary information so that you are able to make an informed purchase and know what are the basics for every avid gamer. So, pay attention because we are about to tell you everything!
Resolution
Trivial as it may seem, the resolution remains one of the most important characteristics to look at when buying gaming monitors under 500 euros since, by itself, it is able to significantly increase the cost of the monitor. So, you will need to have the usage scenario in mind and decide whether or not 4K is necessary within your routine. For our part, we can tell you that the choice also depends on the hardware you mount under the body of your computer: to play in 4K, perhaps with maximum graphic details, you will necessarily need a latest generation card, complete with DLSS to lighten the load; a monitor Full HD o 1440p, on the other hand, perhaps allows you to achieve more satisfactory results for your setup, with higher refresh rates and the possibility of playing at an unlocked frame rate that travels beyond 100 fps (also in this case it depends on the hardware, but here we are intended). So, consider carefully.
High refresh rate, why is it important?
If you've ever experienced a super high frame rate gaming experience, well, you won't want to be without it. The feeling of control that such a scenario is able to give is incredible, and the response to commands also benefits, whether you play with a mouse and keyboard or a compatible controller. Also, high frame rates aside, most monitors when set to the maximum available refresh rate noticeably reduce screen response times, the so-called input lag, improving your experience even more. Therefore, also in this case your purchase must take into consideration various elements, above all the conditions of your PC, whether it is more or less suitable for playing at such high frequencies.
Screen sizes and shapes
The size of the screen matters a lot and must often be compared to that of your desk. In fact, even before eyeing 27 or 32-inch screens, take the measurements of your desk and keep them in mind. This procedure is important because each monitor, depending on the size of the screen, has a different visual distance, which must be respected not only to view it at its best, but also to Don't overstrain your eyes (on that front check out our guide to the best blue light blocking glasses).
Having said this, beyond the dimensions there are also monitors characterized by a different shape, i display ricurvi, for example. We recommend these screens to all those who usually play video games sitting perfectly in front of the screen. Respected this condition you will enjoy an immersion that is certainly greater than traditional monitors, so keep an eye on these screens because they could give many satisfactions.
HDR, VRR, FreeSync and GSync, let's clarify
Those we have selected would certainly not be the best gaming monitors under 500 euros if they did not have features such as HDR and VRR. We will try to make you understand the usefulness of these technologies in a simple way. Starting from the first, theHDR, it is enough to know that it is a rendering technique that has made its way in recent years in the gaming sector to significantly increase the color rendering of video games by rendering images at 10 bits per color (provided that the screen adequately supports the specifications, of course) . In short, you will get much deeper and more nuanced images, with super-defined blacks to enjoy your favorite video games like never before.
With regard to VRR (an HDMI specification found on most modern TVs), known in monitors as Nvidia GSync or AMD FreeSync, is a technique that allows the refresh rate of your display to synchronize perfectly with the frame rate of the games. In this way, video artifacts such as stuttering and tearing are completely eliminated, and you will enjoy a responsive and always smooth experience. Be aware, however, that this process of synchronizing the frames and the refresh rate could also slightly increase the latencies due to the work that your video card has to do in order for you to benefit from an experience without interruptions.
In the past, all of this was handled by the del option alone V-Sync, which does nothing but synchronize the refresh rate of the screen with the maximum frame rate of the game (it does not follow any oscillations). With specs like VRR, AMD FreeSync or GSync, however, this process becomes more complete and variable, since the synchronization is constant and does not only concern the maximum output peak (60Hz = 60 FPS, just to give an example).
HDMI and DP, what's the difference?
As obvious as it may be for many of you, we want to underline the differences between these two video inputs, that is HDMI e Display Port. First of all, we specify that, although there are differences between the two inputs, the basic operation remains the same, that is to allow video connection to devices such as a computer or a console. The main difference lies in the bandwidth of the two inputs and in the fact that, in the vast majority of cases, they are their own DP inputs to unlock all monitor functionality. This happens due to an increase in bandwidth.
Ma what is bandwidth? Imagine it as a giant number which, little by little, is subtracted as we increase the load. In traditional HDMI ports found in monitors, there aren't enough resources for high resolution or higher refresh rate than 60Hz and so on. And in these cases it really comes in handy the DP input, which overcomes these obstacles and allows us to play to the best of our possibilities.
Price
As per the title, in this article we only examined monitors costing less than €500. An already very clear and explanatory indication for your wallets. Nonetheless, we have undertaken to include products that are sufficiently varied in price, sometimes even going far beyond the €500 ceiling. To give you an example, to bring home a gaming monitor more or less equipped with all the essential specifications to play at your best, even €310 is more than enough, which drop further during discount periods. In this regard, we suggest the Itek Monitor GGF model, equipped with a very high refresh rate. For the more geeks and with a larger wallet, we recommend the BenQ EW3270U model, perfect for a mixed use of gaming and content such as TV series and films. All this at a price of around €400.