Just like for a console player, having an excellent controller is essential for competitive gaming and for playing comfortably; likewise, for a PC player it is essential to grab a nice gaming mouse, so as not to be caught unprepared and better face the most demanding matches.
Clearly, it is not easy to select the most suitable mouse for the purpose, especially if you do not have a very large budget. That is why, within this guide, cWe will try to give you specific advice on not very expensive models, the best gaming mice under €100, as per the title. We also anticipate that in the coming days we will publish other guides related to mice, however characterized by a different, lower or higher price range. Having said that, before starting, we advise you to also keep an eye on these articles: best gaming keyboards and best gaming headsets, in order to complete your gaming setup.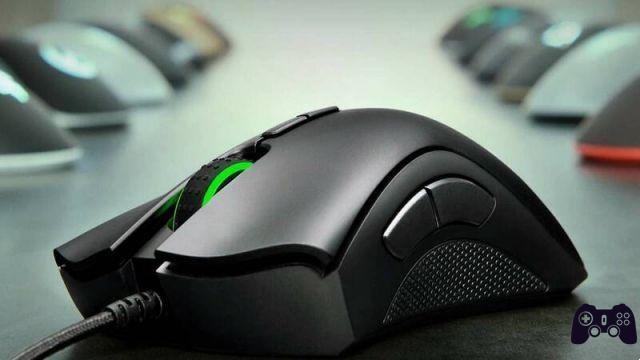 The best gaming mice under $100
SteelSeries Aerox 5
Logitech G502 HERO
Razer Naga Trinity
Logitech G502 wireless
Corsair SABER RGB PRO
SteelSeries Aerox 5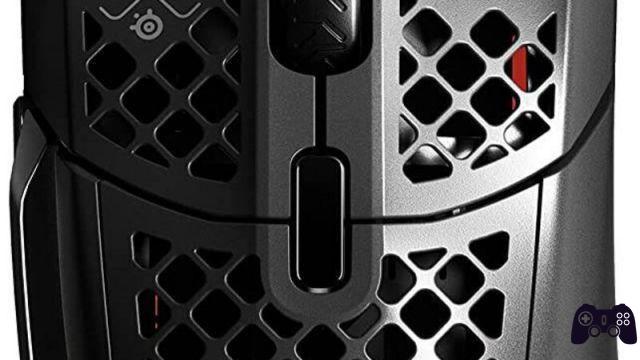 Let's start with an ultralight mouse, designed to ensure fast and optimal performance in all games, especially in the more competitive ones such as Valorant, Call of Duty, Fortnite, CS: GO and League of Legends, just to name a few. That said, let's talk about wired gaming devices, therefore with one really low latency, unlike what could happen with a wireless mouse, despite the quality achieved by these models as well.
Coming to the pièce de résistance, you'll be happy to read what this mouse is equipped with 9 buttons to configure to your liking, in such a way as to lighten the key assignments to the keyboard and move many of the most common and frequent actions such as reloading the weapon in an FPS title, to the mouse. The weight is also low, equal to 66 g, accompanied by a high shift speed that reaches 18.000 CPI. Complete the package, then, the PrismSync, i.e. themouse RGB lighting, which allows you to choose from 16,8 million colors in 3 different areas of the device. In short, if a wired mouse is what you are looking for, this solution is one of the most valid.
See on Amazon
See on eBay
Logitech G502 HERO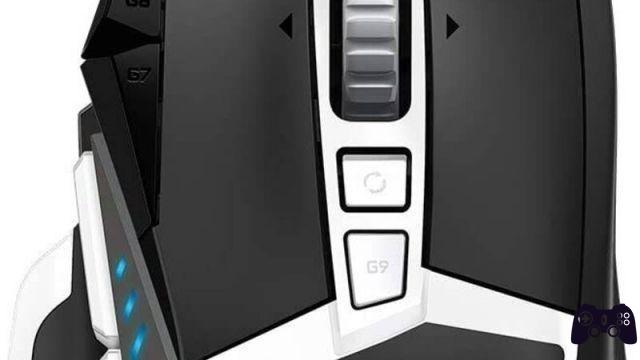 And here is another wired mouse, this time the Logitech G502, which, equipped with the brand new HERO sensor, offers unprecedented accuracy up to 25.600 DPI. A frighteningly large number that will ensure you an enviable movement speed, and, thanks to the consistent weight and the materials used, also a more than precise movement.
Regarding the programmable keys, we go up to 11 this time, two keys more than the previous model, which could be useful depending on the game used. As often happens in these cases, the customization takes place via the proprietary app and allows the switch of multiple profiles, so as to recall them if necessary depending on the genre or single video game used. Finally, also in this case, waiting for you there is wonderful RGB lighting equipped with technology LIGHTSYNC, which also makes your mouse look very nice in low light conditions. What to say? A step forward from the previous model, as well as a valid choice for those looking for a wired gaming mouse.
See on Amazon
See on eBay
Razer Naga Trinity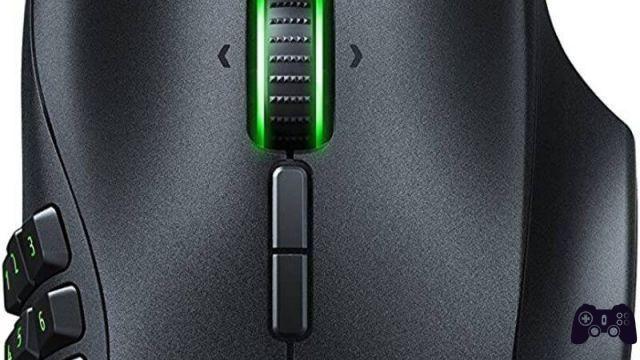 By now you will have understood it: this selection of ours, at least up to this point, is a climb to the top, with gradually better and more satisfying products. The model in question is from Razer, the Naga Trinity, it is always wired but, listen, listen, it has 19 programmable buttons and 3 replaceable side panels. In short, maximum customization and convenience for the player, who can remap all the keys to his liking. But how is the yield? Exceptional! The Razer Naga Trinity is optimized to return high accuracy and incredible moving speed thanks to the 5 DPI 16G optical sensor.
In addition, the design is very valuable and they are as always present different RGB lighting modes, in this case called Razer Chroma, access to 16,8 million color options to customize! So, even in this case, if a wired mouse is what you are looking for, we can only recommend it.
See on Amazon
Logitech G502 wireless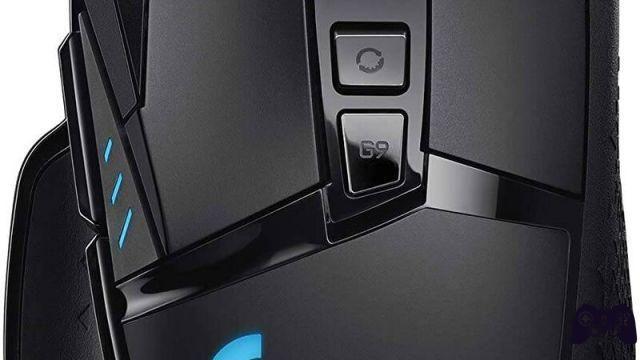 Now we come to wireless models, always designed for gaming but also for those who have a very careful eye for cable management, considering the annoyance of mouse and keyboard cables, which cross the entire desk. Here, in this case you will have a decidedly clean look, but also level performance. Indeed, the mouse reaches 25 600 DPI, thanks to the well-known and powerful HERO sensor. In this way, it guarantees very responsive and fast cursor movement, and a precision that you will need in the most competitive titles.
Regarding the programmable buttons, in this case there are 11 of them, as always you can remap to your liking for each title, or create real profiles to change according to the genre or single video game. RGB lighting is also a must, adjustable for intensity and colors. In short, we are talking about a mouse of the highest level and designed by a well-known brand in the environment. From our point of view, if it's a wireless gaming mouse you're after, we highly recommend it.
See on Amazon
See on eBay
Corsair SABER RGB PRO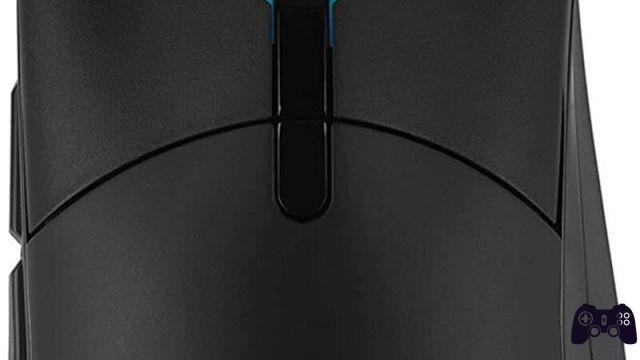 Finally, we close with a wired model, equipped once again programmable keys and a DPI that goes up to 18.000, thus ensuring high reactivity, as well as good precision when moving the cursor; as confirmed by the tracking speed of 450 IPS and a maximum acceleration of 50 G. To allow all this is the CORSAIR AXON Hyper-Processing system that transmits clicks and movements to the PC with a high speed up to 8 times faster than any other traditional gaming mouse. The weight of only 74 g makes it a very light product designed to accommodate rapid movements and lightning-fast reflexes.
Then there is the RGB lighting, operated via iCue software, and a response time reduced to the bone, also guaranteed by the presence of a solid USB cable. So what to say? Another great alternative for wired gaming mice!
See on Amazon
How to choose a gaming mouse
As written in the opening, The gaming mouse is a must-have device for every PC gamer, but it is often very complex to understand which one to buy, at what price and what a player's needs are. Furthermore, with the advent of new technologies, programmable keys, dedicated apps, wireless devices, and so on, mice have changed a lot over the years. Between wired and wireless mice, for example, there is a difference in performance which, depending on the needs, could annoy and lead the choice towards the always excellent and safe wired mice, so as to minimize latency as much as possible.
Technologies and features aside, when looking for a mouse don't forget the form factor. It goes without saying, but the mouse must adapt to the size of your hand, otherwise it will be quite difficult to use it, especially in gaming. Having said that, it is appropriate to begin: let's see point by point how to choose a gaming mouse.
PPE, everything you need to know
Assumed that it is, the most important feature in a gaming mouse is the optical sensor. This magical little word, DPI, which stands for Dots Per Inch, indicates the minimum and maximum sensitivity level that the mouse sensor can achieve, as well as establishing the speed of the screen cursor and the precision when selecting various elements . In short, the higher the DPI, the faster and more responsive our mouse will be, and, being able to control it better, also very precise. Not surprisingly, several brands include an app that allows players to change the DPI to their liking, so as to create numerous profiles to adapt to the different video games available on the market. In addition to this, returning to the main topic, it is important to select the most suitable for your workstation. In short, there are two types, with laser sensor and with optical sensor. Here are the differences.
Gaming mouse with a laser sensor: Generally, it's best suited for those looking for unprecedented speed, due to the ability to read more DPI. It works on shiny, reflective or transparent surfaces, and continues to work even without a surface (while suspended in mid-air, so to speak).
gaming mouse with an optical sensor: Works much better on matte surfaces, but doesn't achieve the same sensitivity and speed as laser sensor gaming mice, which is why many gamers don't prefer them.
Connectivity
Element often very underestimated, yet really important and able to make a difference. So, is a wired or wireless mouse better? Although wireless gaming mice do exist, also equipped with state-of-the-art Bluetooth or WiFi connection, having a wired mouse is, for many, still an indispensable choice today. The reason? You don't have to deal with different devices to install on dongles, which could also malfunction over time or conflict with other peripherals scattered around your room or on your desk. In addition, with the cable the input latency is also reduced to a minimum, a factor that should not be underestimated especially if you want to compete. Nonetheless, wireless mice still remain a valid alternative, to be preferred or not according to one's needs.
Ease of use
Fundamental, considering that the mouse is the means by which you will interact with the video game, is that it is comfortable and characterized by a good form factor, to be chosen according to your hands, whether large or small. There is no size that can meet you and help you in the selection, so you will have to calmly pay attention to the shape of the device, and also worry about whether you are right or left-handed.
As you will have guessed, it is therefore the most difficult part of the selection. In fact, you have to experiment a bit: some are happy with symmetrical mice, which are also perfect for left-handed people; other players prefer instead asymmetric mice, more comfortable in shape, but exclusively suitable for right-handed people, excluding left-handed ones. To this, as another fundamental factor, must be added the weight of the device: a gaming mouse, in fact, it is better that it is heavy, so as to favor faster movements, improving precision and general performance. A light mouse, in fact, due to its extremely low weight, could be unwieldy and too sensitive and imprecise.
Constructive quality
As with any good self-respecting peripheral, from controllers to a great gaming headset, the build quality, the materials used, are very important. And the same goes for the mouse, which as we have reiterated several times in the guide, is a fundamental tool for a PC player. If you usually play a lot and for extended sessions, a sturdy body is just what you need, as well as well-crafted keys, considering all the clicks they will suffer.
There are different types of shells, but those in plastic and aluminum are the most common. With regard to the texture, however, which is important for a good grip, it can be more or less rough. Do not underestimate the presence of some soft inserts positioned on the sides of the mouse, which increase the general grip, favoring excellent comfort.
Additional keys
We now come to a truly fundamental part, namely the presence of additional keys in a gaming mouse, in addition to the usual left, right and the wheel, positioned on the surface. Without turning around, for an experienced player they are, without ifs and buts, the most important feature. A gaming model incorporates several, all positioned on the sides. All this, in addition to being completely customizable by the player, helps a lot in key assignments, with the player being able to set many more actions to the mouse by subtracting them from the keyboard. A truly remarkable boost and not to be underestimated, especially in the FPS field, considering the use of weapons that require secondary fire and manual reloading.
Also to be considered is the possibility, in some gaming mice, to change profile and DPI directly with a key, provided that you have already set everything up through the dedicated application.
The most famous brands
As often happens, the brand plays a very important, almost priority role. In fact, a good name, well known and appreciated over time, can make the difference, and guarantee a not indifferent quality. Of course, we specify that the reasoning is not always so linear, i.e. well-known brand = quality, but it is often and willingly a useful indication for discarding several dozen products and focusing attention on the best.
The best-known differences you will encounter are related to the materials used, the quality of the assembly, the packaging, or the technical support. From this point of view, the brands we recommend to look at are Logitech, Razer and HP, which with the Omen series satisfies many players. This does not mean that all the other brands are not able to offer good products, of course, but there are still cases to be paid more attention to.
Price
And here we are finally at the highlight: the price! Well yes, despite the quality of the product, the additional keys, the materials used, and so on, the last word is his alone, the price, which will determine whether or not the product will be purchased by you. Also, just like with the brand, the price is indeed a fundamental and often indicative factor for the general quality of the product, but it's not always that simple, since there are many brands that overprice their products. In most cases, however, it is a good indication, even anticipating the presence of premium features.
But, coming to the core, how much should we spend? Well, this being a guide on the best gaming mice under €100…less than €100, to be precise, but no less than €50, otherwise we would enter another category, that of cheap gaming mice, which we will soon publish in the next few days. So, staying in a price range that goes from around €60 to around €90, the ideal if you don't want to spend too much is just around €60, for example with the excellent Logitech G502 HERO mouse, equipped with cable and perfect for gaming. Alternatively, to the more spendthrift, we suggest the Razer Naga Trinity, sold for around €80.