On the pages of Game Division we have always told you: just like a good controller is essential for a console player; for a PC gamer, the mouse and keyboard are very important. In recent weeks and months, we have told you about gaming mice to the best of our ability, publishing various guides and dividing them by price range. We intend to do the same with gaming keyboards, starting with this guide in which we're going to suggest some products offered at a price of less than €100.
Gaming keyboards, available in large quantities in online stores, are well differentiated from each other, and although they may seem identical at first glance, two / three notions are enough to understand that this is not the case at all. There are many aspects to take into consideration, and some of which depend precisely on your needs. Needs that concern the type of video game, perhaps, or the game environment, your workstation. Having said that, let's start right away: let's see together the best gaming keyboards under €100.
The best gaming keyboards
HyperX HX
Logitech G-PRO
CoolerMaster SK622
Steel Series Apex 3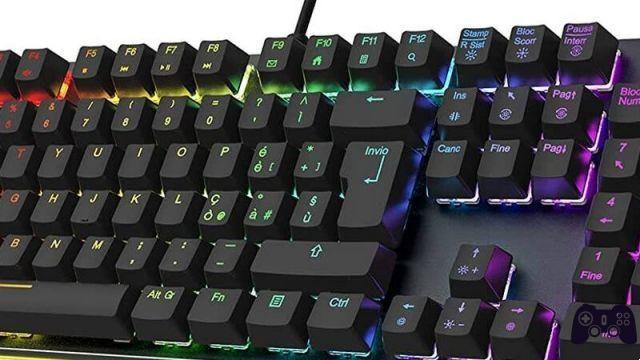 HyperX HX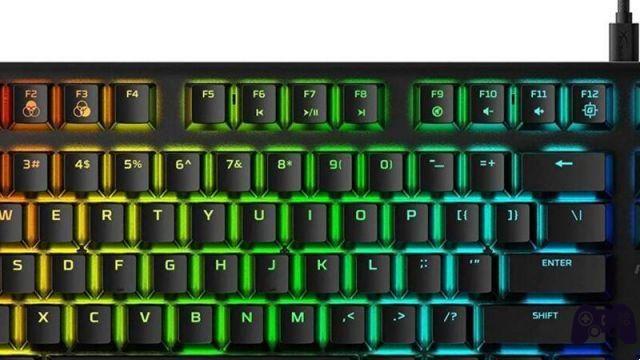 Let's start our list with HyperX, a well-known brand that certainly needs no introduction. The model in question is HX-KB7RDX-US, but for convenience we will limit ourselves to calling it HX, to avoid writing such a long name all the time. That said, we are talking about a keyboard clearly dedicated to gaming, as demonstrated by the very compact design, the presence of the USB cable, the mechanical switches (which guarantee a perfect mix of reactivity and precision), an aluminum frame and, finally, the always excellent RGB lighting, in this case even customizable via the appropriate application, HyperX NGENUITY.
Compatibility is also almost total with Windows systems (which we imagine are by far the most widespread among gamers), considering the support even for the dear old Windows 7. In short, if what you are looking for is a gaming keyboard under €100, HyperX HX, thanks to a series of features well dear to the players, it could absolutely be for you.
See on Amazon
Logitech G-PRO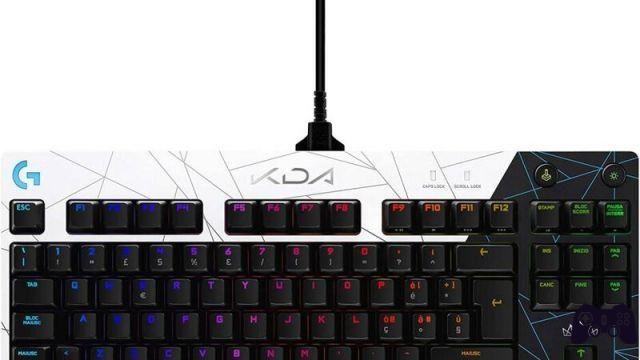 We level up with a product, think about it, designed at the table for competitive gaming, with particular mention to the hugely popular League of Legends. The design of the product, in fact, fully draws from the very popular MOBA; a feature that could certainly bring all the fans of the brand closer together, who have grown even more after the success of the exceptional Netflix TV series, Arcane. However, coming to the product itself, expect, as is typical of Logitech, a well packaged product, since the keyboard is designed to support athletes and hardcore gamers. The speed and precision in keystroke, not surprisingly, are the absolute trademark of this product, guaranteed by the resistant GX Brown Tactile switches, which offer a perceptible tactile sensation and feedback to ensure fluidity and precision in pressing the keys. keys.
His super compact design, then, it is further supported by the presence of Brown switches that offer a perceptible feel and tactile feedback. Finally, as a side dish, as has become tradition, we also find the LEDs, which can be configured with Logitech's proprietary software so as to satisfy the greatest number of users.
In short, Logitech G PRO is compact, designed for the most hardcore gamers and even customizable in the backlight. More than that, it really can't be.
See on Amazon
CoolerMaster SK622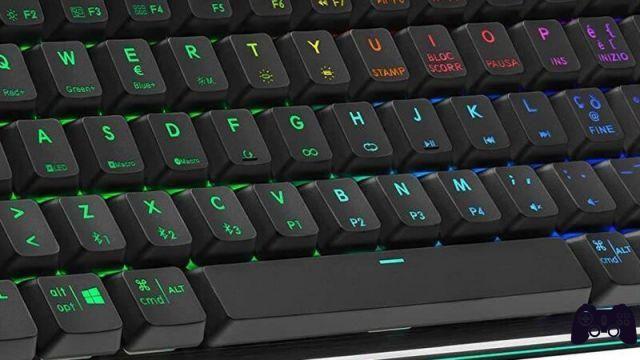 Cooler Master SK622, a product that has attracted our attention thanks to its incredible versatility: it is in fact possible to use this keyboard both with the classic USB cable, or via a Bluetooth connection, therefore without any cable whatsoever. Convenient and intelligent solution, which we are sure will please many players who find themselves playing in different positions, from the usual desk to the sofa in the living room. Furthermore, also from a technical point of view, the keyboard is well placed: SK622 uses a 0-bit ARM Cortex M32 MCU with a polling rate of 125 Hz / 6-key rollover (wireless) and a poll rate of 1000 Hz / N-rollover key (wired), and sports a compact 4000mAh battery. The total weight is instead of 446g.
And it certainly doesn't end there: Cooler Master SK622 is also a very compact product, characterized by buttons with a very short stroke and, in general, a very appreciable general comfort. Also inevitable is the RGB lighting, now truly ubiquitous, and the presence of an integrated firmware that allows you to customize the keyboard on the fly (18 preset effects). In short, another interesting proposal that we are sure could interest some of you.
See on Amazon
See on eBay
Steel Series Apex 3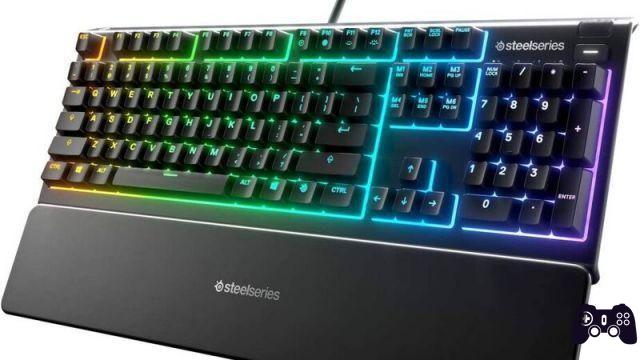 Finally, we conclude with a product that we chose above all for its high comfort, since it features a comfortable and high-quality magnetic palm rest, which supports the entire palm of the hand; we are sure it will satisfy the most demanding. Exactly, you got it right: SteelSeries Apex 3 is very comfortable, and this translates into a rather substantial help to all those players who usually spend several hours in front of the PC. In addition, we report an IP32 degree of protection against accidental damage caused by liquids.
The keyboard layout, however, to the delight of many, is Spanish, with the initials QWERTY in the first row. Inevitable, then, as for every single product that we have told you about, RGB lighting, which in this case has ten zones. In short, summing up, the particularity of this product is certainly its extreme comfort; for the rest, it is quite similar to the others that we have already described to you, at least in terms of functionality.
See on Amazon
See on eBay
How to choose the best gaming keyboard
As we wrote at the beginning (and we reiterate it here too), the keyboard, like the mouse, is an essential device for PC gaming, to the point that deciding which one to buy is becoming increasingly difficult, given the myriad of products available on the market. That's why, in addition to the products we have selected, in the following paragraphs we want to pay attention to some of the most important features of a gaming keyboard, so as to allow you to choose - with knowledge of the facts - the most suitable device for your budget and your needs. .
USB o wireless?
Let's start from the beginning, right from the basics: is it better to choose a wired or wireless gaming keyboard? It depends on your needs, but we tell you right away that there are also technical reasons to be aware of. A device completely devoid of cables is certainly more comfortable and easier to transport, but it faces possible latency problems (which may not even occur or be imperceptible, mind you), the main cause that drives professional players to always have fully wired mice or keyboards. On the other hand, as you may have already guessed, you will have the middle cable, which may or may not bother you, but at the cost of an always reliable and responsive connection. In any case, whatever your choice, make sure that the cable is of good quality and that the bluetooth connectivity of the keyboard is effective.
Key layout
A feature that is so, so underrated, yet very important to pay attention to. The typical keyboard layout that we regularly use in Spain is the ISO IT type, immediately recognizable by the positioning of the various keys, specifically the initial ones, since they will always correspond to QWERTY. However, there are several gaming keyboards which, despite being Italian in layout, give up some keys, in particular accented letters. That said, what's the point of choosing a Spanish or American layout?
It could be irrelevant, in fact, especially if the use is exclusively aimed at gaming, but if you find yourself writing, perhaps even during a Call of Duty match, finding a Spanish and extremely recognizable layout between your fingers will save your life and will spare you countless curses. So, as Italians, we suggest you rely on the ISO IT layout, even if you find yourself just playing.
Customization and functionality
LEDs, RGB strips and so on and so forth. Today the PC gamer is no longer just looking for efficiency, but also tries to satisfy one's taste, creating very well-packed stations full of apparently superfluous details. Well, even the world of gaming keyboards has been engulfed by this trend; in fact, there are many keyboards that have fully illuminated keys and, at times, even customizable in different colors. For example, for gamers, an extremely important function is the one that allows you to light up only a handful of keys of your choice and dim all the others; perfect if you want to highlight only the keys needed to play.
Of course, it is also true that, although beautiful, they're often well-priced features, which you may want to give up to buy a keyboard that is not too expensive in terms of cost.
Ease of use
Granted you seem to say, a keyboard must first of all be very comfortable to use. We gamers, you know it well, when we are captivated by a video game we usually spend even 4-5 hours a day on average (life and work permitting, of course). Imagine spending these hours using an uncomfortable keyboard… Very bad.
When you choose the one you believe could become your ideal keyboard, pay attention to some features and, above all, define your needs well. You could opt, for example, for a keyboard equipped with two feet to lift it slightly; or again, a keyboard equipped with a palm rest (unfortunately many models do not have one, but we assure you that they could make a difference in some cases).
To this must be added a whole other discourse related to the stroke of the individual keys: the longer this is, the greater the precision with which you will type, but it could be - in the long run - more tired in use. The membrane keys, in fact, much softer and characterized by a reduced travel, are born precisely in contrast: more comfortable and faster, ensure less tiring typing.
The different types of buttons
Most common gaming keyboards have membrane keys, i.e. characterized by a very short stroke, to the point of making the button appear almost flat; the greatest advantage, however, is an enviable silence, as well as an almost instantaneous pressure. However, it is impossible that they can suit everyone: the total absence of typing feedback, for example, may not please some players.
Then there are the very popular mechanical buttons, which guarantee millions of jokes before saying goodbye forever. A solution, therefore, very effective and destined to last over time. In order for the mechanism to work, however, each single key must be equipped with a switch; among the best known is Cherry MX, which is divided into the different categories that take the name of Red, Blue and Brown. No, we are not talking about Quentin Tarantino's Reservoir Dogs.
Red Level: Ideal for gaming, having a shorter travel, very quick response and good tactile feedback.
Blue: ideal for those who write a lot and do a lot of typing, because they are extremely noisy and resemble a typewriter in all respects.
Brown: a middle ground, excellent solution for gaming but also quite noisy compared to the Reds.
Price
And here we are finally at the highlight: the price! Well yes, despite the quality of the products, additional features or comfort, the last word is his alone, the price, which will determine whether or not the product will be purchased by you. Also, just like with the brand, the price is indeed a fundamental and often indicative factor for the general quality of the product, but it's not always that simple, since there are several brands that overprice their products.
Coming to the core, how much should you spend? Well, this being a guide focused on the best gaming keyboards under €100…less than €100, to be precise, but no less than €50, otherwise we would enter another category, that of the cheapest gaming keyboards. which we will soon publish in the next few days. So, remaining in a price range that goes from around €75 to around €90, the ideal if you don't want to spend too much is just around €75, for example with the excellent HyperX HX-KB7RDX-US keyboard, perfect for gaming. Alternatively, to the more spendthrift, we suggest Logitech G PRO, sold for around €91.