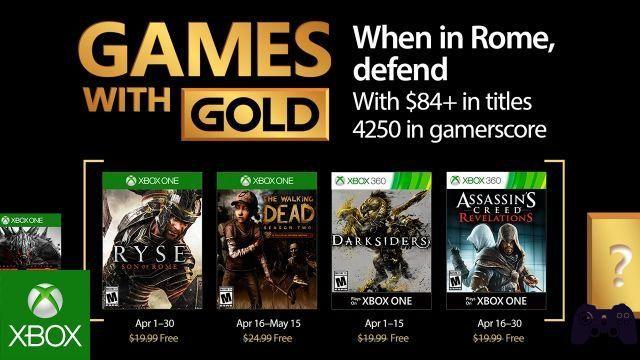 If you have let yourself be abandoned to the fear created by the paintings of Layers of Fears, if you have become prey or hunters in Evolve, if you have entered a tank in the Heavy Weapon arcade or if you have wielded your favorite weapons in Borderlands 2 , go back to zero point and get ready for a Games With Gold, perhaps even richer than the previous one.
Why Microsoft's April Pack titles fascinate gamers, which once again they will be able to get two titles for Xbox One and as many for Xbox 360 (as always, these games are backward compatible and playable on One too). Let's find out together in which worlds we will find ourselves in a few days.
Ryse - Son of Rome - Xbox One - Available from 1/04 to 30/04
An Urbe attacked by ferocious barbarians
The drop in the price of this game in the major world chains in recent weeks must certainly mean something. The cost of Ryse: Son of Rome it has in fact decreased dramatically recently, which we have been able to observe from GameStop and in the other major videogame retailers. Presented in the now distant E3 2013, and released at the launch of Xbox One, this Microsoft exclusive takes us back almost two millennia, in theancient Neronian Rome, and puts us in the shoes of General Marcus, in a city attacked by ferocious barbarians, looking for revenge and blood. The title has not been highly praised over time, these criticisms due to two irremediably important components in a videogame game. Let's start from gameplay, repetitive were it not for some different interlude that breaks the "rhythm" due to a thousand kills and nothing else. The other big problem concerns the plot, too predictable and short, without forgetting the almost complete uselessness in replaying. But Ryse is not only this: although the title was released in 2013, the graphics sector is "impressive", as it was defined by one of Holygamerz's pens back in 2013; This adjective is not accidental because the title developed by Crytek is visibly beautiful to look at. In short, despite the flaws, it is a title that must be tried (and aggratis is a must).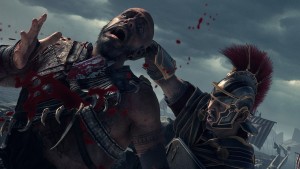 To learn more:
Ryse: Son of Rome
Darksiders - Xbox One and Xbox 360 - Available from 1/04 to 15/04
You are WAR. It can hardly be clearer than that. Released in January 2010, that of Darksiders was certainly one of the most acclaimed sagas of the Xbox 360 and PlayStation 3 generation. The title, of which a remastered called Warmastered Edition has been released, puts us in the shoes of War, blamed for serious crimes, and who will return to planet Earth in what could be his last mission. Halfway between platform and action, this title was highly praised for its graphics after its release, and in fact seems to suffer little from the past seven years. Pressing, fun, never banal, Darksiders is a title that must be recovered by those who have never tried it before.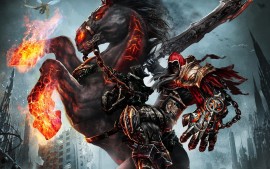 To learn more:
Darksiders
The Walking Dead: Season 2 - Xbox One - Available from 16/04 to 15/05
By now it seems clear that Microsoft is continuing along the path it took a few months ago: the sequels. After Monkey Island 2: Special Edition of February and after Borderlands 2 in March, a new "sequel" makes room for games with Gold, this time on Xbox One. The Walking Dead: Season 2 it will therefore be available for free starting from the second half of the month, and thanks to this title we will walk the story of Clementine in yet another masterpiece by Telltale, which now seems to be a partner of Games with Gold, after the aforementioned five episodes of the first season of The Walking Dead and The Wolf Among Us of April 2016.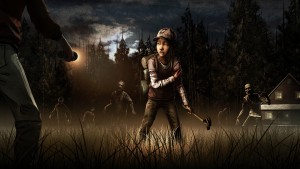 To learn more:
The Walking Dead Season 2
Assassin's Creed Revelations - Xbox One and Xbox 360 - Available from 16/04 to 30/04.
A very particular choice is to include Assassin's Creed Revelations inside the playground in April. A title that only traces the epilogue of Ezio Auditore's life as a murderer, who arrived in Constantinople and Masyaf, homeland of the great and revolutionary murderer Altair Ibn La-Ahad. The beauty of the title, in which it is possible to recognize a more mature Ezio and the lands in which the first Assassin's Creed is set, do not do justice to a title to which perhaps more criticism than praise can be addressed, due to a little plot. exciting and no big change from its prequels. Despite the many negative comments, if by chance you missed the last chapter of the trilogy dedicated to Ezio, this is the case to play it, even though the Ubisoft saga has lived (literally) better times.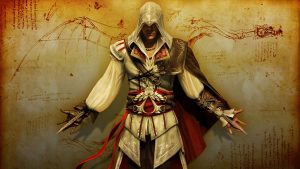 To learn more:
Assassin's Creed: The Ezio Collection
April 2017
Never like this time, trying to summarize everything in a few words has been difficult. The titles available between the beginning of April and the middle of May have big names, but at the same time they all lack some problem, sometimes serious. The Walking Dead: Season 2, perhaps the least successful title of the Assassin's Creed saga, and finally the repetitiveness of the platform part of Darksiders are elements not to be underestimated, but all these titles deserve to be tried ... and aggratis we have the duty to grab everything.