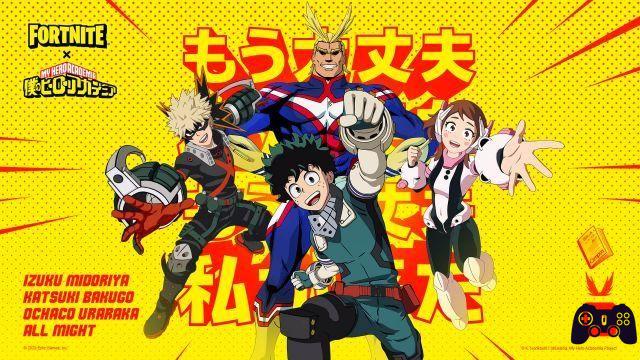 The third chapter of Fortnite ended only a few hours ago and a lot of news related to the content coming for the title is already on the way. We have recently seen that Epic has decided to revolutionize the graphics sector of the game, thanks to the use of Unreal Engine 5.1. Thanks to this new version of the graphics engine, the technical sector of the game is enriched with new possibilities that will certainly be exploited with the new crossovers.
Indeed, in the latest trailer, Epic Games showed which will be some of the next characters to enter Fortnite on the occasion of the new chapter. Among these, we find Deku, protagonist of the beloved anime series My Hero Academia. In the video, in fact, we can see him throw the powerful One For All against a building until it is completely destroyed. This, however, is only one of the crossovers that we will find during the fourth chapter of the famous battle royale.
In fact, in the same presentation trailer for the fourth chapter, we see many other well-known faces who will enrich the playable characters in Fortnite. Among these, we immediately recognize Geralt of Rivia, protagonist of The Witcher series (find the third chapter on Amazon), Doom Slayer of the DOOM saga, MrBeast and many others. The characters are shown in different settings, intent on showing off their skills to survive adrenaline-pumping clashes alternating between motocross bikes and precise sniper shots.
The fourth chapter of Fortnite is therefore on the starting line and the new crossovers are ready to enter the game. As always, this new period of the title will be divided into seasons, within which the characters shown in the trailer will be made available. For more information, you can consult the official website where you will find all the details of this new chapter. These include new map areas, new weapons, dirt bikes and progression systems.