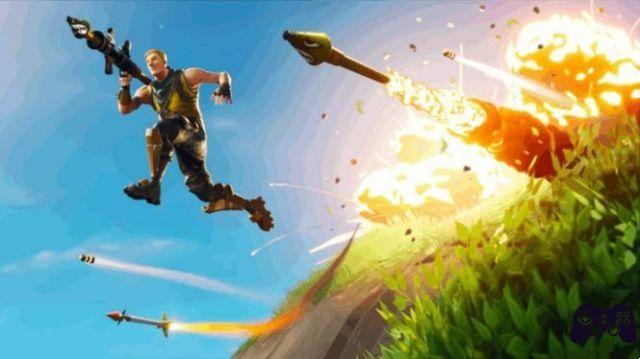 Fortnite may be one of the biggest games out there right now, and like all technology it has its fair share of problems. From broken updates and server problems to a whole host of computer problems that cause the game to crash. However, it's not all Epic's fault. Crashes aren't always the developer's fault. All you should do is restart the game. This tutorial will show you some things to try if Fortnite keeps crashing on your PC.
Fortnite Mobile on Android: here are the compatible phones
If restarting the application doesn't fix it, read on below.
Fortnite keeps crashing on PC - What to do
There are a few reasons why Fortnite keeps crashing on PC. It could be the temperature, power, overclock, driver or something else.
The easiest way to find out is to play another game for an hour. Play something graphically intense for at least an hour and see if it crashes. If so, it's probably a computer error. If it doesn't crash, it's probably a problem with Fortnite.
You can do the same thing with a couple of other games if you want to be sure. The only thing you need to do here is to try another game at least once for a significant period of time. Most of the websites that offer "tips" for stopping Fortnite crashes can't tell right away if it's the game or the computer in error.
RUN FORTNITE AS ADMIN
A simple test will see if your Windows account has sufficient privileges to play. Right-click on the Fortnite launcher and select Run as administrator. If the game works correctly, you need to take control of the Fortnite folder on your disc.
Right-click on the Fortnite folder and select Properties.
Select the Security and Edit tab.
Select your account and check if you have full control in the window below.
Add Full Control if needed and close windows when done.
Select Advanced in the original window.
Check to see the owner at the top of the new window.
Select Edit and select your user account in the next window.
Select OK and allow the system to make the change.
Try Fortnite again.
Issues with file permissions mostly affect new game installations, but if you've made other changes to your system, these could cause crashes.
Fortnite stickers for WhatsApp
CHECK FOR UPDATES
The next step is to check both Windows and Fortnite for updates.
Right-click on the Windows Start button and select Settings.
Select Update & Security and select Check for Updates.
Visit the AMD or Nvidia website and check for updates for your graphics card.
Check Fortnite for game updates.
If you are experiencing audio problems before the accident, you may want to update your audio drivers as well. Use Device Manager for this.
SWITCH TO FULL SCREEN MODE
In some situations, running Fortnite in Windowed Full Screen mode can cause crashes. Trying a different mode may solve the problem.
Open Fortnite and select Game Settings.
Select Video and change the window mode to something different.
Save your changes and try the game.
If the game remains stable, leave it in the current mode. If it still crashes, you can switch to the previous mode if you like.
The best Fortnite wallpapers for PC [HD and 4K]
CHANGE THE GRAPHIC SETTINGS IN FORTNITE
If changing the screen mode doesn't work, you can reduce the graphics.
Open Fortnite and select Game Settings.
Select Video and reduce the quality by a setting.
Save and try again.
I wouldn't both go below the Medium setting as the game can get choppy as well. If the problem persists, try a different video resolution by repeating the above but changing where you see Resolution set in Quality. Save and try again.
Fortnite keeps crashing on iPhone - How to fix
DISABLE TIMEOUT DETECTION
My last fix for when Fortnite keeps crashing on PC is to turn off Timeout Detection and Recovery in Windows. This setting can cause crashes when you think your graphics card is frozen or taking too long. The GPU might be fine, but it's a common fix for Fortnite crashes.
Back up the registry first:
Press the Windows logo key and R on the keyboard to open the Run box.
Type regedit and press Enter on your keyboard.
Click on Fillet, then click Export.
Select the location where you want to save the backup copy, then type a name in the File name box. Then do it click su Save
And then …
Create a Windows restore point
Press the Windows key and R.
Type regedit and press Enter.
Passare a HKEY_LOCAL_MACHINESYSTEMCurrentControlSetControlGraphicsDrivers.
Look for TdrLevel in the right pane. Select him and go to step 7 if he's there.
Right click in the right pane and select New, QWORD (64 bit) The value of TdrLevel is not present.
Double-click TdrLevel, give it a value of 0 and select OK.
Close the registry editor and restart your computer.
Run the Fortnite test again.
Do you have more to share? Tell us how you solved it below!
How to Record Fortnite on PC
Further Reading:
Fortnite keeps crashing on iPhone - How to fix
How to Record Fortnite on PC
Fortnite Mobile on Android: here are the compatible phones
Instagram keeps crashing on Samsung Galaxy A80 [Solutions]
How to download Roblox on Windows PC and join millions of users on the gaming platform