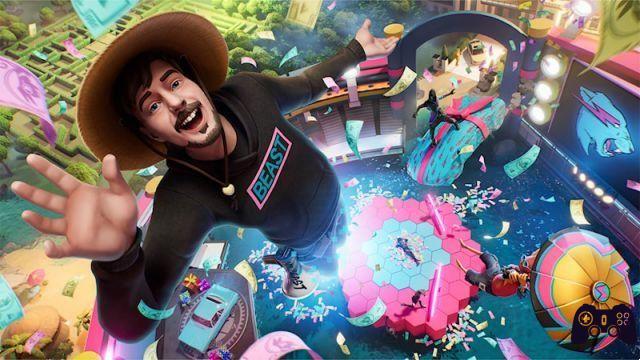 If unwavering fans of Fortnite you are in the right place. Starting today (December 13 2022) the most daring and glory-hungry players will have the opportunity to try their hand in a new challenge which also promises an immense cash prize.
We're talking about MrBeast's Extreme survival challenge, in which the highest score achieved by the most skilled player will be equivalent to a recognition that goes far beyond the skins and accessories that can be purchased in the game shop, equivalent to 1 million dollars. Registration is open from December 13th until the 17th, the day when everything will start (this new Fortnite challenge begins, precisely speaking, at 18:00 to end at 21:00, Spanish time).
For anyone interested in registering, we inform you that the MrBeast's Extreme Survival Challenge will be accessible, on the designated date and time, from the section Fortnite competitions, moving towards Discovery. Once registered, at the end of your game with the best score will be used to calculate the placement with all the other members of the challenge.
Although this is an initiative open to all Fortnite fans, there are still some rules to be respected when entering. The minimum age to participate has been set at 13 and over. Furthermore, if under the age of majority, considered as such in the country of origin, it will be necessary to accompany everything with the permission of a parent / legal guardian.
Furthermore, depending on the score and a crystal clear calculation of their actions in the game, the participants will have to confirm their 2FA activated and verified on the Epic Games account, and have a career level 15 or higher.
We have no doubt that this new event will raise new rumors and complaints about Fortnite (an example of this is the latest court filings by some desperate parents for their children). However, it remains fascinating to note how over the years the title has branched out so much within our society as to become almost an inalienable element (you will also remember the matter with the super passionate English football world cup player).
Before saying goodbye, we also recommend that you drop by on our YouTube channel, where you can find videos dedicated to the videogame world at 360 degrees, with curiosities, goodies and reflections on the sector and the current approach possibilities it offers.