I admit it, I'm a big fan of management and city builders, especially when they try to introduce something new like Frostpunk. For this I could only be intrigued by floodland, a title that takes a strong inspiration from the 11 bit studios product, while trying to immerse the player in a different context, perhaps even more consistent with the climate change we are unfortunately experiencing.
I spent several weeks in the company of the work of Vile Monarch, finding myself faced with a product with obvious technical problems, but also with a managerial heart that seems to work very well. In short, a title between ups and downs that could have given more joys, but which is limited to satisfying the hungry for the genre.
An uncertain future
The context of Floodland is anything but nice since it deals with something that we really risk finding ourselves if our habits do not start to change right now: the whole world is in fact completely submerged by water due to the melting of the glaciers and a strange phenomenon called "Event" has completely reset every single technological component present on Earth, bringing humanity to a new beginning and primordial state.
During the adventure we will discover more about both the origin of the Event and how people struggle to live in a social situation where food and water are scarce. It is up to us to keep the situation under control, often making decisions designed not to please everyone.
Our new life
Floodland is an old-fashioned management game, a city builder in which the purpose is not only to evolve our settlement (and our technologies), but also that of keeping people at bay and establishing a series of relationships capable of making the population coexist without too many problems.
Initially it is important to understand with which "clan" we want to face our adventure. Each of them has unique characteristics that can help us during our rebirth journey. The "clans" model is fundamental in the game mechanisms because although we initially work with people from the chosen faction, it happens and will happen that we have to bring together people from different clans and this could inevitably create friction, perhaps linked to buildings or choices that someone loves and some not.
It is therefore up to us to try to keep them at bay, trying to please everyone in the best possible way. Not a simple aspect, given that resources are severely limited and the fact that the game "world" is divided into islands does not help. Between water to be purified and the search for food, survival is always within limits, especially as regards the various building materials which are extremely complicated to recover from the outset.
Exploration serves as the main point of departure and progression. In addition to discovering new islands, being able to locate buildings that can hide people and resources soon becomes the focus of the whole experience.
The technologies are vast and allow an important customization on what to improve first. However, the tutorial (in Spanish) is also very useful for newbies, so if you get stuck, the game is still able to bring you back on the correct path, letting you go only when you have 100% learned the basics.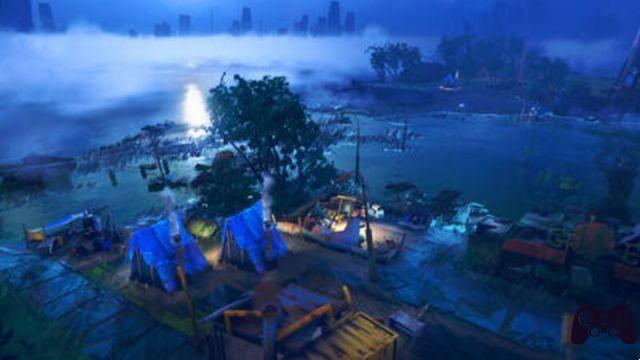 The important thing is to always be ready to withstand the bad weather that could arise, which are certainly not at the levels seen in Frostpunk, but certainly cause quite a few problems. Acting with a logical sense, therefore, is definitely useful, also to avoid building useless buildings.
A world not without (technical) problems
Floodland has a scenic visual impact that is anything but indifferentindeed I strongly believe that Vile Monarch has found a successful artistic style, contrasting with the dark shades of Frostpunk and giving life to something more "alive", colorful and bright. This does not mean that at least graphically we are not on very high levels, where the definition of the environments (even with the maximum settings) is anything but incredible.
If during the first hours the game manages to guarantee more than good performances, during the advanced stages I found myself in decidedly difficulty with the high amount of people and buildings on the screen. Consider that I play with a 3070Ti, which is a medium-high range card at the moment, yet in Quad-HD I struggled quite a bit to maintain 60 FPS, a sign of a far from excellent optimization.