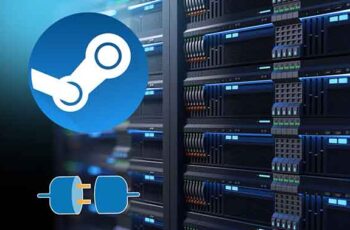 If there's one name in the gaming industry that stands out, it's Steam. The online video game seller has established itself as the most trusted source for buying and playing video games. However, the platform isn't always error free.
For experienced Steam users, bad server problems are nothing new. If your Steam account has connectivity issues and you can't download or play games, read on to find out how fix Steam is finding problems connecting to servers on your PC.
Fixed Steam stuck on disk space allocation on Windows
How to view your subscriptions on Steam
How to use Steam Cloud saves for your games
How to view Steam's built-in FPS counter
8 Solutions for When Steam Won't Download Games to Your Computer
Solved Steam is having problems connecting to servers
Why is my Steam account not connecting to servers?
Considering the popularity of the application, it should come as no surprise that Steam's servers are generally overcrowded. With thousands of people running Steam at the same time, server problems are bound to happen.
However, if the frequency of this error is high, it is likely that the problem was caused by your side. Regardless of the cause of the problem and its severity, the server failure on Steam is avoidable. Here are some things you can try to do to fix the problem.
Method 1: check the Steam servers
Before you start running fancy troubleshooting methods on your PC, it's important to check if the Steam servers are working properly. There are a few websites that track the server strength of various companies, two of which are the unofficial Steam status website and DownDetector.
The first reveals the status of the website and the second shows the number of reports submitted by people who have suffered from server-related problems. Both of these sources are quite reliable and accurate for the most part.
If, however, the Steam servers are down, the only thing you can do is wait. Companies like Steam are adequately equipped to deal with such situations and solve most problems fairly quickly. On the other hand, if all servers are working fine, it's time to start tinkering with the PC to try and fix the problem.
Method 2: perform a network reset
The first thing you can do is reset your PC's network configuration. As the name suggests, this will reset your network connections and help your device connect to various servers. Here's how you can resolve if Steam is having problems connecting to servers performing a network reset.
1. In the search bar next to the start menu, type "cmd" Once the command window application appears, click on the option "Run as administrator" to open the prompt window.
2. Inside the window, type the following code first and press Enter: netsh winsock reset.
3. Once done, enter the following command and press Enter: netsh int ip reset reset.log
4. Once both codes have been executed, you will need to restart your PC and the server problem should be fixed.
Method 3: change the download region in Steam
Steam has various servers around the world, and users get the best results when their account is connected to the server closest to their original location. You can change the download region in Steam to be closer to your location to troubleshoot server issues with Steam.
1. apri theSteam application on your PC and click on the option "Steam" in the upper left corner of the screen.
2. From the drop-down options, click on "Settings" per I will proceed.
3. In the Settings window, or al menu Download.
4. Click on the section entitled Country of download to view the list of servers that Steam has around the world.
5. From the list of regions, select the area closest to your location.
Method 4: run Steam as an administrator
Having administrator rights improves the functioning of most apps by allowing them to access files and data that were previously restricted. While you can run Steam as an administrator every time by right-clicking on it, you can also permanently change its startup preferences.
1. Right-click the application Steam and, from the options displayed, click on "Properties".
2. In the properties window, select the option titled Compatibility.
3. Within the compatibility settings, to enable the check box named Run this program as an administrator.
4. Quindic click Apply and you're good to go. Your Steam will now run with administrator privileges and connect to servers without any problems.
Method 5: terminate all Steam background activities
On every PC, Steam has a lot of background tasks that run continuously. By disabling these activities, Steam will be forced to restart them and thus improve its functioning. This may not seem like the easiest solution, but it can be very effective.
1. Right-click the start menu button and then click click Task manager.
2. In the task manager, search for the functions associated with Steam and finish the tasks.
3. Steam will restart and most app related issues should be fixed.
Method 6: create an exception for Steam with Windows Firewall
Windows Firewall, while important for your PC's security, has the potential to break networks and slow connections between apps and their servers. While completely disabling the firewall is a drastic step, you can create an exception for Steam, making sure the firewall doesn't block its connections.
1. In the search bar, search "Allow an app through Windows Firewall".
2. A huge list of options will be displayed; first, click on "Change settings", then find and enable the boxes di control ahead of all Steam related services.
3. Steam should now be free from Firewall actions and should be able to connect to servers.
Method 7: Reinstall Steam to fix the connection to the server
If all fails, it's time to say goodbye to Steam and uninstall the app. After the tearful goodbye, try installing the app again and see if the problem is resolved. Many times, a quick reinstall is all it takes to fix any software.
Open the start menu on your PC e right click on the Steam app before clicking uninstall. Once the app is uninstalled, go to the official Steam website and install the app again.
Method 8: contact Steam customer service
If you are unable to resolve the "Steam is having trouble connecting to servers" despite all your best efforts, it's time to seek professional help. Steam's customer service is very effective, and via Steam's support option, you can pass on all the details of your problem.
Server issues on Steam are a long-standing issue, with many users reporting issues every day. With the steps mentioned above, you should have understood the cause of the error and fix it without much difficulty.
We hope this guide has been useful to you and that you have been able to Solve Steam is having problems connecting to servers. If you still have questions about this article, feel free to ask them in the comments section.
Further Reading:
How to hide Steam activity from friends
4 ways to speed up your Steam download
Call of Duty disconnect error: how to fix?
8 Solutions for When Steam Won't Download Games to Your Computer
How to fix Steam damaged disk error on Windows 10