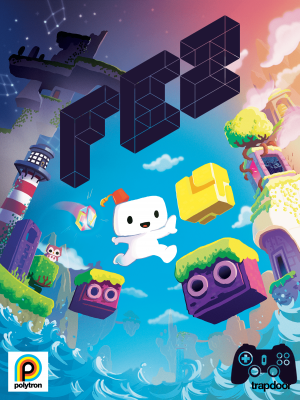 After a great launch on Xbox 360 and a series of conversions for PC, PlayStation 3 and PlayStation Vita, here it is FEZ, a splendid puzzle-platformer created by the brilliant mind of Phil Fish, finally lands on the new Sony home console, thanks to its participation in the program PlayStation Plus of the month of August. Will it be worth returning to travel between dimensions with Gomez and his at least bizarre game world?
Version tested: PlayStation 4
LIFE IN 2D IS LESS COMPLICATED
FEZ's storyline puts us in the shoes of Gomez, a white monster who lives in a world where everyone is convinced of the non-existence of a third dimension. Our hero, after receiving the hat that gives the game its name as a gift from the village elder, will discover that the two-dimensional reality in which he has lived up to now is nothing more than a lie and that, to save his country from a terrible threat, he will have to manage to recover a series of cubes with mysterious power. While the plot is just a pretext to take advantage of FEZ's unique gameplay, the dialogues are always well written and they will not be long in getting more than a smile thanks to a no sense humor characteristic of other productions such as, for example, Adventure Time.
3D IS FOR "FUN, DIFFICULTY AND ADDICTION"
The FEZ gameplay can simply be summarized with the title of this paragraph.
The Polytron title, in fact, offers us the possibility to rotate the horizontal axis four times
The title by Polytron, in fact, offers us the possibility to rotate the horizontal axis four times, in order to give us a two-dimensional version of a three-dimensional world each time. In a nutshell: imagine crossing one side of a cube and suddenly being able to rotate the cube itself to find yourself on another adjacent face. The FEZ gameplay is therefore a perfect fusion of a platformer, given that in our "face of the cube" we will have to move by jumping from platform to platform, and a puzzle game, since many environmental puzzles can be solved thanks to the use of the change of dimension and different perspective games. FEZ also manages to be a particularly difficult title as there is no help whatsoever on the screen, leaving the player more often than not lost and / or stuck in an attempt to overcome one of the title's many complicated puzzles. In any case, this difficulty will rarely be stressful for the player who, thanks to the innovative style of play and the desire to continue the adventure of Gomez, will not be able to help but remain hours with the controller in hand in the hope of also exceeding the scheme. harder. The longevity of a title like FEZ is difficult to calculate as it is an extremely complex title that could take you 4-5 hours if you are particularly good at solving puzzles, but also double if the puzzle games are not yours. daily bread.
PIXEL! PIXEL EVERYWHERE!
The graphic style of FEZ traces some titles a 8-16 bits thanks to a graphic composed entirely of colored pixels. This element, alongside the
1080p guaranteed by the PlayStation 4 version
1080p guaranteed by the PlayStation 4 version, guarantees sharpness and brilliant colors never seen in any other conversion of the title created by Phil Fish. The soundtrack, by the Californian composer Disasterpeace also manages to conquer the player thanks to hypnotic melodies (always in retro style) and able to stay in the head for hours. It is difficult to find any criticism of the technical sector of FEZ which, with its colors and its unique and unforgettable style, will not fail to bewitch any type of gamer who is lucky enough to embark on this extraordinary adventure together with Gomez. Finally, remember that the title is totally translated into Spanish and, although this is not particularly useful for a type of game like FEZ, it certainly can be calculated as an added value for this independent production.
Verdict 9/10 Size matters Comment FEZ turns out to be, even on PlayStation 4, a title capable of involving any type of gamer thanks to a unique gameplay and an irresistible graphic style, in this version more enhanced thanks to the 1080p offered by the Sony console . Ultimately it is an experience that everyone, once in a lifetime, should face and, despite the high level of difficulty, complete. Pros and cons
✓
Unique and addicting gameplay
✓
Technically flawless
✓
Difficult...
x
Apart from 1080p, there are no innovations compared to the other versions
x
... maybe too much in some situations