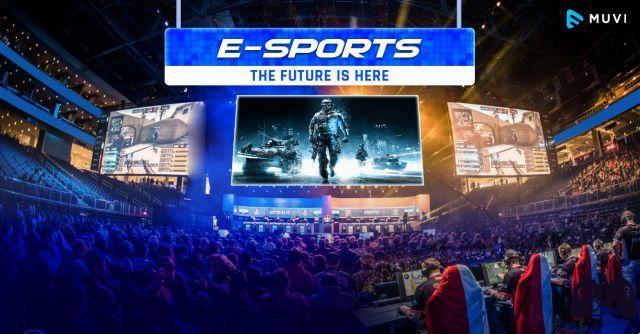 Despite the two-year period to forget, the competitive gaming sector has held up despite no live events. Fortunately we are returning to contact with enthusiasts, insiders and especially gamers.
Live events
From the report on Esports published by IIDEA for the two-year period 2020-2021, it is noted that the sector, for 2022, has restarted with an even more decisive momentum. A still emerging market, full of opportunities together with live events which are the main positive factors for Esports.
Spain is increasingly enriching itself with appointments if we consider for example the Naples Comicon, Lucca Comics & Games and Milan Games Week. In addition to these of course there are l'EIC with Apex Legends, GT Sport, Pokémon Unite and Storm Circuit.
But the trends that can drive Spain more and more into the Esports Which ones are they?
Mobile gaming in esports
Recall that gaming on mobile devices is expected to reach and exceed 3,07 billion dollars. Already now, since it can no longer be considered a novelty, publishers and developers are looking at mobile gaming with increasing interest, a bit like Blizzard did with Diablo, or Ubisoft with the next ones The Division e Rainbow Six Siege.
Competitive gaming can be the main means by which to captivate competitive and passionate gamers esports We already have many successful experiences before our eyes: just think of the titles that have boasted a scene for years Esports structured and layered like the IP Supercell, PUBG, Call of Duty and virtually all games owned by Tencent.
Lo stream
Obviously Sports it is not only competition but also entertainment concept. This two-year period has basically increased the desire to start streaming and for those who were already part of this world it has obviously increased the audience more and more.
Between Twitch (which holds over 80% of the market), YouTube Gaming e FacebookGaming, streaming is worth over two billion dollars and will grow to 3,5 billion by 2025, in this the Esports they certainly have positive variables regarding not only the streaming of teams or individual players, but also the streaming of events.
Think of the investment of endemic but above all non-endemic sponsors who decide to put their brand on teams, players and tournaments, attracted by an exposure with immense potential and at a low cost for the brand, among other things by meeting one of the categories of consumers most difficult of all: the Gen Z.
Job opportunities
This growth in the sector has led, and is leading, to the creation of completely new jobs that either did not exist before or were not recognized at all. This is also due to the fact that slowly the Esports organizations have become real companies, just think of the Qlash, Mkers, Macko and many others. In short, it is no longer the player or the team that acquires value. Or, at least, not only. The logo acquires value; the company name Esports, the recognition of the brand and its reality.
Most organizations, just like traditional sports clubs, have in their organizational chart doctors, social media managers, psychologists, personal trainers, managers, communication experts, all unpublished professional profiles that allow job seekers to get in touch game right now, although we are still at the beginning, at least in Spain.
The NFTs
In gaming they have existed for several years, just think of the market surrounding skin trading in Counter-Strike: Global Offensive. Either way, organizations can promote their franchise through all kinds of NFTs: from a limited series of collectible cards dedicated to their players to real digital products, such as skins, messages or contents registered and personalized by the pro players or content creators of the org.
In this way it will be possible to produce multiple positive outcomes: affection for the brand, investments, unprecedented sources of income for the growth and expansion of the organization and so on.
If entire competitive universes like CS:GO, VALORANT, FIFA, League of Legends, Hearthstone e Overwatch they can create markets NFT within them, these will be able to benefit from a large amount of revenue, so as to further drive the growth and sustainability of the entire ecosystem, transforming it into one of the richest industries ever.