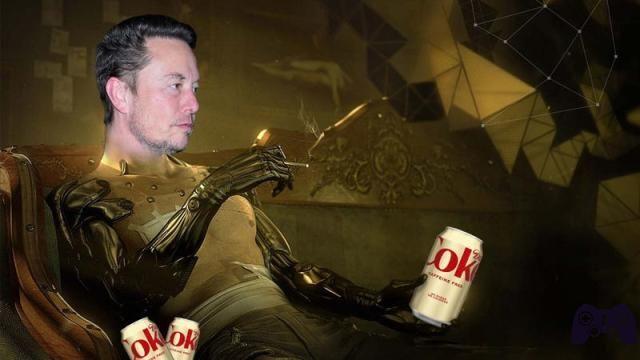 On yesterday's day, Elon Musk has decided to show a photo of his nightstand near the bed. In the image, released on Twitter (a social network recently bought by Musk), what caught the eye of the man's followers and not only was a huge revolver, positioned near a series of Diet Coke cans. Many were worried, but in reality the gun doesn't work and it is only a tribute to Deus Ex and in particular to Human Revolution.
The object on the bedside table is in fact the Diamond Back .357. It is a rather faithful replica, a prop (hundreds of them can be found on Etsy or eBay, for example) probably made by some company or freelancer who creates objects for cosplay.
The gun has no trigger and is held together by some screws made by Philips. It is, therefore, a real replica, probably purchased as a tribute to Deus Ex: Human Revolution. And it's not even new, given that Elon Musk has always admitted that he loves video games, so much so that he began his career in this industry when he was still in its infancy. In short, there is nothing to worry about: the object is completely harmless.
My bedside table pic.twitter.com/sIdRYJcLTK
— Elon Musk (@elonmusk) November 28, 2022
Elon Musk has always been a man with very bizarre theories not recognized by the scientific community and the idea that he decided to pay homage to Deus Ex also resides in some of his statements and in some of its behaviors. The South African-born billionaire is fascinated by theories such as that he would like to see the world as a simulation, a huge video game of an alien civilization. It is therefore no coincidence that among the many titles set in dystopian and utopian realities Deus Ex: Human Revolution is probably one of his absolute favorites.
Video previews, reviews and insights await you on our YouTube channel.