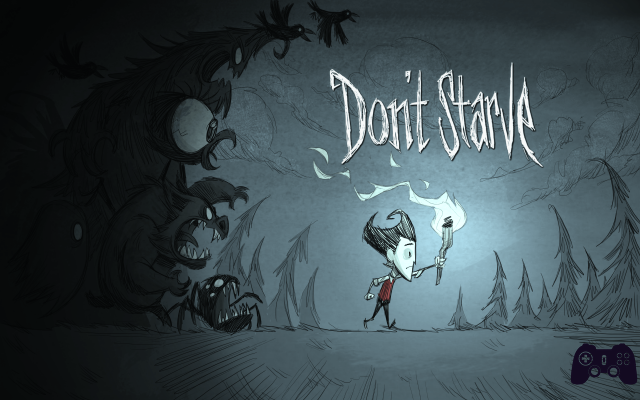 There are far too few real survival games nowadays. Don't Starve, a title that arrived last year on PC and now also on Ps4, tries to revive this genre and tries to do it with great humor and with graphics that recall the early works of Tim Burton. Will he have succeeded? We remind you that the tested version is the one for Ps4 and that the title is available only in digital format at a price of about 14 euros, while for Playstation Plus users Don't Starve it can be downloaded for free during the month of January.
Wilson in Wonderland
The plot of Do not starve it is almost completely non-existent and only sees the Scientist Gentleman (who responds to the name of Wilson) catapulted by a mysterious character into a world full of dangers and mysterious creatures. Our hero will have to do everything to survive, from hunting to defending himself from the onslaught of monstrous creatures. In any case, the Gentleman Scientist is only the first among the characters available and you will not be long in unlocking others (for a total of nine) much more useful and with particular skills. Certainly this game will not be remembered for having an exciting plot, but the atmosphere of this title is something unique that manages to magnetize the player within the story and, in a very short time, you will find yourself identifying with the protagonist and doing all so that he can get out of this strange adventure safe and sound.
The Real Survivor
Definitely the main feature of Do not starve is its gameplay. Gameplay that is as simple in mechanics as it is complex once deepened. As previously mentioned, we will find ourselves playing a character who, as a goal, only has to survive. So, initially, we will have to collect grass, sticks and stones, only to discover that by joining the sticks with the stones it is possible to make an ax. Ax with which we can cut down the trees that, once felled, will give us the wood to mix with the grass to build a bonfire and survive the cold night. The game proceeds with this simple method until reaching heights of not indifferent complexity. Difficulty that will increase with the passing of the days and with the arrival of the cold winter. Don't Starve manages to keep a level of challenge always high also thanks to the fact that, once dead, you will be forced to start over from the first day. Worlds are randomly generated from time to time, making each game new and never the same as the previous one.
The adventure continues
So far we have talked about the Suvivor mode, but in Don't Starve there is also an Adventure mode that will be unlockable after having thoroughly explored the game map and after having found a certain portal. Once this mode is unlocked, you can choose to enter the portal and face five worlds of increasing difficulty characterized by particular modifiers (such as, for example, a permanent winter). Within these worlds we will have to find some particular objects that will allow us to open a new portal and catapult us, therefore, into the next "level". Although it may seem simple, this mode has a very high level of challenge and it will be very difficult to complete it, even after many hours of play. Thanks to this "Campaign" mode, in addition to the Survivor mode, Don't Starve does not get bored for a long time (although it is possible to notice a certain underlying repetition) and I am sure it will be able to capture both lovers of the genre and those who decide for the first time to approach something different within the videogame panorama. Finally, we underline that the conversion from PC to Ps4 was carried out with great skill and using the Dualshock 4 will not make you regret the use of the mouse even for a second. If you really have to find a flaw in this version compared to the original counterpart it is the obvious absence of the mods, among which a translation in Spanish and the possibility of playing the title in coop stood out.
Melancholy Death of a Gentleman Scientist
On a graphic level, the title cannot fail to recall the first works of Tim Burton ("Melancholic Death of the Oyster Child" in primis), but at the same time manages to have its characterization that immediately enters the player's heart and helps to create that atmosphere that makes it different from any other game. The character design of the nine characters and all the antagonists can only delight lovers of the gothic genre, but will also be able to conquer those who have nothing to do with this genre. The music, although not memorable, manages to be pleasant, while there is no type of dubbing as the characters express themselves through sounds and not with the use of words. A flaw for those who do not chew English is, in fact, the lack of localization in Spanish, which, however, is not excessively serious as Don't Starve uses basic English and never complex and not essential to proceed within. of the game.
Verdict 8.5 / 10 A real survival title Comment Don't Starve turned out to be a real surprise and, thanks to a particular atmosphere and its simple but at the same time complex game mechanics, it manages to create addiction towards the gamer, be it a veteran of the genre or a neophyte. Too bad for the absence of the mods as a localization in Spanish and the addition of the coop could have raised the quality of this already excellent title. Pros and cons
✓
Unique atmosphere
✓
High level of challenge, but never exhausting
✓
It is addictive
x
A slight background repetition
x
Lack of localization in Spanish
x
Absence of novelty with respect to the counterpart Pc