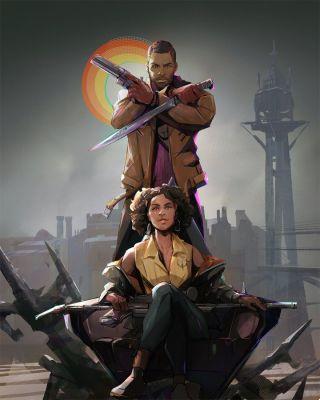 Many fans of the two series had already managed to connect the dots and clues scattered by Arkane but, now, the confirmation comes directly from the developers: Deathloop and Dishonored are set in the same universe. There are many easter eggs left by the studio but Arkane has decided to make it official through the words of one of the main insiders of the latest title, also arriving on Xbox Game Pass.
It's true. @Deathloop and @Dishonored universes are connected.
Tune in to the Xbox Podcast for more details: https://t.co/sFuzqJ94Mt pic.twitter.com/ChPgxpFXXK
— Bethesda (@bethesda) October 7, 2022
The confirmation, in fact, was entrusted to Dinga Bakaba, Game Director of Deathloop who works in the French headquarters of Arkane in Lyon. Accompanied by Harvey Smith who, however, worked on Dishonored and the upcoming Redfall for Arkane Austin, the developer has revealed details on this theory during Major Nelson's Xbox podcast. Indeed, after finishing Death of the Outsider, the developers decided to develop a connected story in the same universe and with great narrative potential.
From this, of course, Deathloop was born (which you can buy on Amazon). The title, therefore, was born as one of the possible futures that branch off from the ending of Death of the Outsider. The clues are many and range from more evident elements such as the motherland which, in reality, is none other than Tyvia, up to more difficult to find easter eggs. Bakaba and Smith talk hard-to-find songs, weapon logos and more.
All of this is aided by the non-linear nature of Deathloop. In fact, not all players experience the game in the same way and, in many cases, the title runs are quite varied. For this reason, the developers have enjoyed hiding the details of this relationship within the game. It is not clear whether or not this announcement is related to an upcoming official crossover or new title set in this same universe, however, the news will prompt many fans to look for any links between the two games.