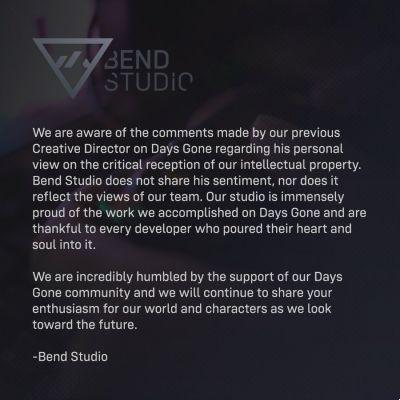 In recent days we have returned to talk about Days Gone, one of multiple PlayStation 4 exclusives that was developed by the folks at Bend Studio. Attention was brought back to the project by John Gravin, game director of the post-apocalyptic open world with an infected theme who, after leaving the studio, wanted to put himself in a very edgy way against the reviews he received at the time of launch game he had been working on.
Now, days after the statements of the ex-Bend Studios director, it was the development team itself that opened its mouth to what Garvin said. With an official post, the US studio claimed to have distanced himself from what was declared by John Garvin, strongly emphasizing that the words of the ex-game director of Days Gone (you can buy it on Amazon) do not equate to the thought that the team has towards the reviews and how the PS4 title had been received .
"Our studio is immensely proud of the work that has been done with Days Gone and we are grateful to all the developers who have put their hearts and souls into it. We are also incredibly honored for all the support that has been shown to us by our passionate community and will continue to share all your enthusiasm for our world and our characters as we look to the future", reads what can be read inside the communique recently published.
John Garvin ha left Bend Studio shortly after the launch of Days Gone, and one of the causes was precisely a different vision with Sony on the vision of a future for the saga and the development of a possible sequel to the adventures of Deacon and his companions.
Before saying goodbye, we advise you to also visit our YouTube channel, where you can find videos dedicated to the gaming world at 360 degrees.