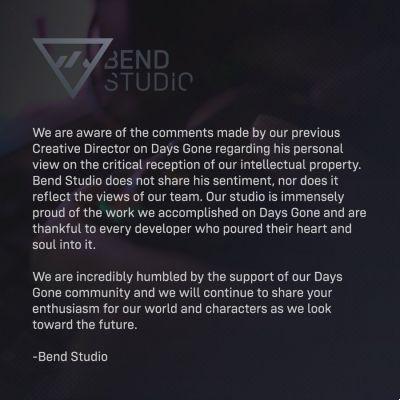 Over the last days, the former director of Days Gone has lashed out against the press and the players, guilty of having sunk his game because of the politically correct. According to the developer, in fact, the title would not have been appreciated due to the presence of a straight white male, as well as further comments that we do not believe should be reported, but which can be recovered on his Twitter profile.
The release, decidedly unhappy and clearly right-wing, was sent back to the sender by Bend Studio, which through social media decided to respond to those statements, clearly siding against it. "Bend Studio does not share his thoughts in the slightest, which does not reflect those of the team. We are extremely proud of the work we have done with Days Gone and are grateful to every single developer who has put their heart and soul into the work," the words contained in the press release.
Behind the former director's comments there is probably a person who really cared about his job, so much so that he was certainly sorry for the performances of Days Gone. However, the truth does not concern a certain press or even the players: the title simply did not live up to certain standards for PlayStation players, who are probably used to having exclusives that are decidedly different from the gaming experience offered by Bend Studio. We are not criticizing the game, mind you, but simply stating the obvious: Bend Studio's work is certainly great, but not good enough for what other studios have done in the past, at least on Sony consoles.
pic.twitter.com/BgnMUgqyN8
— Bend Studio (@BendStudio) December 8, 2022
After Days Gone, Bend Studio is currently working on new projects. One of the most talked about is a Game As A Service, which will arrive on PS5 and PC on day one, at least according to Sony's statements. It is very probable that in 2023 there may be news on this, which we will report to you as soon as it is available.
Before saying goodbye, we invite you to subscribe to our YouTube channel.