The ending of Final Fantasy VII Remake was probably the most beaten and gutted topic of discussion by fans of the saga in recent years. The twists and turns of the plot, the details, the possibilities that appear in the enigmatic sequel have stirred souls like few things before, and it is not surprising given that we are talking about the return of one of the most beloved chapters of all time .
However, there are some who remain excluded and partially disoriented in this debate, i.e. all those players who, for one reason or another, have not played Crisis Core: Final Fantasy VII, one of the most significant chapters of the so-called Compilation of Final Fantasy VII released at the time exclusively for PSP. Since the protagonist Zack Fair promises to play an important role in Final Fantasy VII Rebirth, Square Enix has well thought of bringing its adventure back to current platforms in this remaster subtitled Reunion, in order to allow everyone to recover it and arrive prepared on the threshold of the awaited sequel. Or even simply to give others the opportunity to play it again, avoiding having to dust off the PSP (and probably looking for a new battery for it).
In view of the review, I report my impressions on the first hours of the game of Crisis Core -Final Fantasy VII- Reunion.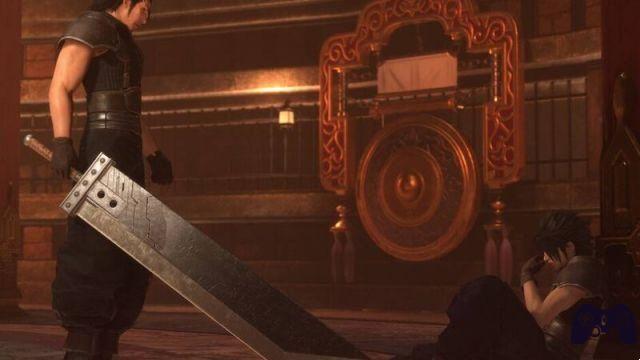 The importance of words
I begin by reiterating an important point to dispel any fears on the part of the most intransigent players: this Reunion version is to all intents and purposes a remaster of the original Crisis Core and is devoid of any ambition to rewrite. Giving reason to the arguments already made in the specific article, Square Enix has confirmed that it wants to leave the game's narrative intact.
In the first hours of the game that I went through I didn't even come across new scenes, which could potentially be functional to clarify some elements of the story, or perhaps simply to enrich it with new details. While I can't be 100% sure, I'd tend not to expect any in the hours of gameplay that follow either. But who knows, maybe Square Enix will place a new cutscene after the credits, maybe something that relates to the ending of Final Fantasy VII Remake. We'll see.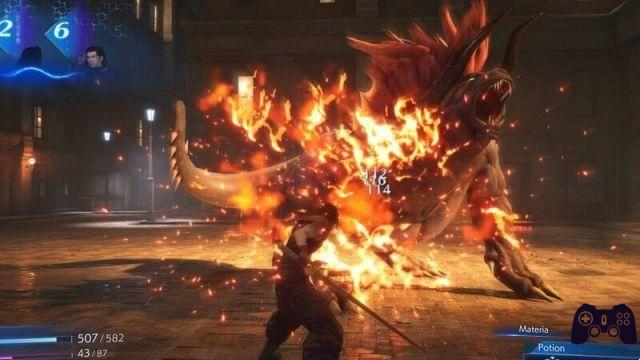 In a new light
I must say that the overview of Crisis Core -Final Fantasy VII- Reunion is more than positive. Probably to shorten the distances with the enormous achievements obtained with Final Fantasy VII Remake, Square Enix has chosen to go big and it didn't limit itself to upscaling and tweaking textures, a procedure that is standard administration when it comes to creating a remaster.
Above all, the characters have a noticeably rejuvenated look, if we consider that we're talking about a game from fifteen years ago. Of course, the difference with the polygonal models of FFVIIR is immediately noticeable, but I must say that it is a more than good compromise (also considering that the game will also be released for Nintendo Switch).
However, the animations, which remained much simpler, betray its origin as a seventh-generation console title. Initially I found this contrast rather comical, but in a short time I got used to it. The feeling of playing a title from other times has remained tangible, however, and not only for the mere graphic aspect.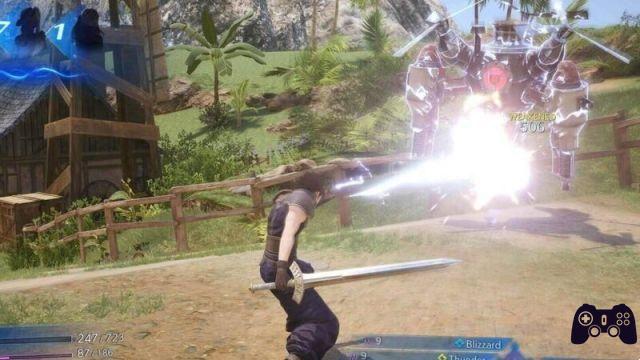 Activating Combat Mode
For those who have never played it, Crisis Core: Final Fantasy VII is a full-fledged action RPG, so you'll have to leave your thirst for turn-based combat aside and instead immerse yourself in the snappy shoes of Zack. The protagonist of the game has access to the classic commands of the genre: in addition to attacking, it is possible to dodge, parry, use healing items and cast spells (depending on the equipped Materia).
Not being able to count on tidy menus, the gameplay relies on different key combinations, and I must say that on several occasions I have missed the excellent combat system engineered for Final Fantasy VII Remake.
Also in this case the improvements that Reunion brings with it are partially diluted by the native age of the original game. The fights are certainly more fluid and follow one another with reduced waiting times, but for certain actions I felt the full weight of the woodiness of the original, especially for the dodges, the dead times between one action and another and the animation recovery after a hit suffered. Surely a fair amount of time will be enough for me to get used to playing within these limits again, but it is good that you prepare yourself to have to deal with a title that is certainly not up to date in this sense.
My first impressions of Crisis Core -Final Fantasy VII- Reunion are mostly positive, all things considered. As far as the graphic aspect is concerned, it can be seen that Square Enix has spent itself far beyond the standards of this type of production. It is absolutely not a common thing to see a fifteen-year-old title go from a portable display, now smaller than our smartphones, to a 50-inch screen with some dignity. Certainly the structural limits behind this skilful make-up remain there and can be felt, but after all there are limits to what can be done with a remaster.
The original Crisis Core was a prominent game on the PSP, but it certainly wasn't perfect. It will be interesting to test whether its negative sides will be exacerbated by the time gap or if it will prove to be a stock that has aged well after all. I just have to give you an appointment in a few days for the complete review.