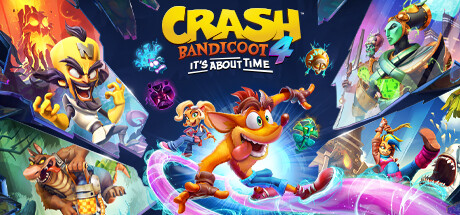 Crash Bandicoot 4: It's About Time (which you can find on Amazon for PS4) returns to be talked about with new promotional material. Some streamers have received an interesting package that could contain important clues both on the platform and on the new chapter of the series. The first, in fact, will almost certainly arrive during this year, while the second could be shown at the TGAs which will close in 2022.
We will continue to use the conditional, since there are no official confirmations or communications. However, what we are reporting refers to the video of a youtuber, Canadian Guy, who received this promotional material from the developers, so the reliability is quite high. The package received by the content creator contains a pizza box that bears various information on Crash Bandicoot 4: It's About Time and the next chapter in development by Toys For Bob.
In fact, the package label, instead of bearing the information relating to the pizzas purchased, contains a couple of sentences that are difficult to misunderstand. Crash Bandicoot 4: It's About Time will be released on October 18, 2022 on Steam. The message, therefore, leaves room for few doubts and practically announces the arrival of the title on PC as well. However, the surprises for bandicoot fans didn't end there, because the package is also aimed at those who are not yet full after this news.
At the end of the same label, in fact, you can read the message: "Still hungry? Try our Wumpa pizza, for $12,08!" This is a rather obvious reference to the new chapter which, currently, is known as the Wumpa League. The message may refer to the date of December 8, 2022, when this year's The Game Awards will be held. Precisely on this occasion, therefore, Toys For Bob could show new material for the next Crash Bandicoot game. If everything is confirmed, we expect to see an official communication from the team in the next few days, since Crash Bandicoot 4 does not yet have a page on Steam.