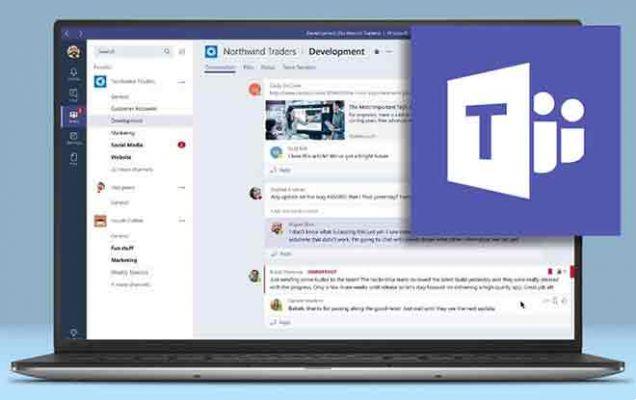 Collaborate with colleagues, schedule meetings, and more using Teams. Microsoft Teams is an online collaboration tool that supports chat, video calling, file sharing, screen sharing, and other tools to facilitate coordinated productivity. Every Microsoft Office user should know how to use Microsoft Teams.
The information in this article applies to the desktop version of Microsoft Teams, the Microsoft 365 version for web browsers, and mobile apps for iOS and Android.
Who can join Microsoft Teams?
When setting up Microsoft Teams for an organization, the number of users who can access its full functionality depends on the number of licenses purchased. You can invite users added from Microsoft 365 who don't have access to Microsoft Teams as guests without purchasing the license, but they will have limited access. A single team can have up to 2.500 members, including licensed users and guests.
A Microsoft 365 subscription is not required to use Microsoft Teams, but it is required to use certain features.
How do i use Microsoft Teams?
Microsoft Teams is very similar to Slack. For example, when you mention other team members in conversations by typing @name, the user receives a notification in the Activity tab. All users can view all chat logs in the teams and channels they have access to.
When you create a team, you also automatically create the following:
An Office 365 group
A Microsoft Planner plan
A SharePoint team site
A shared OneNote notebook
When you make changes to one of these apps, they automatically sync with the others. For example, you can use Microsft Planner to set reminders for teams, and scheduled meetings in Microsoft Teams automatically sync with your Outlook calendar.
Use the command bar at the top of the interface to search for conversations, apps, and files. Type forward-slash (/) to see a list of command shortcuts.
What is Microsoft Teams
How to install and configure Microsoft Teams for Mac
Download, install and use Microsoft Teams on Linux
How to create an account on Microsoft Teams
Download, install and use Microsoft Teams on PC (Windows and Mac)
How to create a team in Microsoft Teams
To set up a team in Microsoft's collaboration app:
1. Select Team in the toolbar, then select Create Team.
2. Select Create a team from scratch.
3. Select Create from if you want to set up a team using an existing Microsoft 365 group.
4. Select Private, Public, or organization level to determine who can access the group.
5. When you add members to a private team, you can designate them as members or owners. Only owners can invite additional members.
6. Give the team a name and description, then select Create.
7. You can start inviting users to join right away or select Skip to do so later.
8. You can now select the ellipsis (…) next to the team name to add or remove members, manage team settings, and more. For example, if you select Get Team Link, you'll receive a URL that you can copy and send to others to invite them to join.
9. To join existing teams or create a new one, select Join or create a team in the lower left corner of the Team window.
Select the plus sign (+) to the right of the team name to add links to various apps, shared files, and Wiki pages.
Video calling with Microsoft Teams
In a specific team or channel, select the camera icon at the bottom of the conversation window to start a video call. You will be asked to send invitation links to other team members via email. You can schedule meetings with Microsoft Outlook or you can use an app like Calendar BOT.
While chatting, you can share your screen by selecting the Share icon (the screen with the up arrow) in the upper right corner of the chat interface.
How to enable or disable your PC's microphone in Windows 10
Microphone does not work on Windows 10
What to do when the Windows 10 webcam is not working?
The apps you can integrate into Microsoft Teams
Microsoft Team integrates with hundreds of third-party apps and web services like Trello, GitHub, and Evernote. Select Apps in the toolbar to see all your options. Some third-party apps require an additional paid subscription, but many are free. After adding an app, select the ellipsis (…) in the toolbar to access it.
Share files in Microsoft Teams
One of the best collaboration features of Microsoft Teams is the ability to share files between users. Sharing files with your team is simple and can be done in a few simple steps.
1. Join a team or channel and select the Files tab at the top of the interface to upload and download files.
2. You can select Files in the toolbar to view all the files you have access to for each of your teams.
3. Select Add cloud storage to sync with Google Drive, Dropbox or another file storage provider. You also have the option to save files to your personal OneDrive.
Microsoft Teams privacy settings
If you have a Microsoft 365 business plan, your account administrator can manage all Microsoft Teams third-party users, settings, and applications from the Microsoft 365 admin center. Anyone can change their Microsoft theme. Teams from the settings menu.
Best practice di Microsoft Teams
Here are some general tips for getting the most out of Teams:
Create organizational rules to name files and channels consistently.
Acknowledge and respond to requests using the "Like" button to speed up the approval process.
Take advantage of bots to automate tasks like meeting scheduling.
Test your computer's video and audio before starting or joining a meeting.
Further Reading:
How to install and use Microsoft Teams on Fire Stick
What is Microsoft Teams?
How to block contact in Microsoft Teams
How to install and configure Microsoft Teams for Mac
How to remove your profile picture from Microsoft Teams on mobile and PC