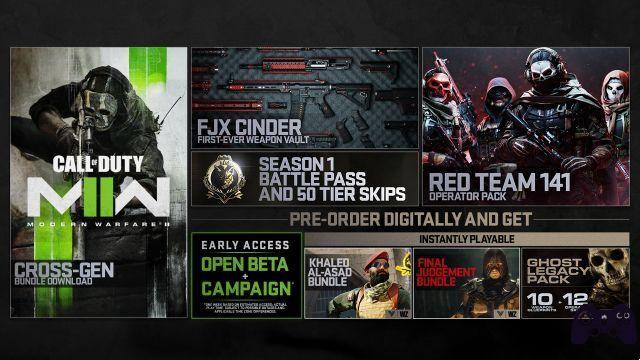 It seems that the codes to get double XP points in Call of Duty: Modern Warfare 2 is proving to be a double-edged sword for Activision. In fact, just a few days ago we reported how many users are reselling these codes on e-bay or even stealing them from dried meat packages. However, other users have found themselves caught in a communication error that led the studio to have to give away double XP.
An update on the Call of Duty: #ModernWarfare2 Vault Edition. pic.twitter.com/hfax5ilyaH
— Call of Duty (@CallofDuty) November 4, 2022
Indeed, when Activision announced the Vault Edition, many users thought that the bonuses announced by the studio were available to all those who purchase this version. In reality, the twenty hours of double XP offered in the package and equally divided between player and weapon XP have some limitations. In fact, in the intentions of the developers, this bonus was intended only for players who purchase the edition through the store of one of the previous games in the series. This information, however, has not passed due to a communication error and has generated confusion in many fans who have not found the content in their Vault Edition.
For this reason, with a post on Twitter, Activision has announced that the double XP will be made available to all owners of the Vault Edition. Furthermore, to definitively eliminate the misunderstanding, this bonus will also be extended to those who purchase this version of Call of Duty: Modern Warfare 2 (which you can also find on Amazon) in the future.
Finally, Activision has specified that the bonuses should arrive on the accounts of players in possession of the Vault Edition within 48 hours. As for players who, however, will purchase this edition in the future, there will be no restrictions and bonuses will be regularly included in the package. Furthermore, all those who want to upgrade their copy of Call of Duty: Modern Warfare 2 to the Vault Edition can do so at any time, obviously receiving the bonuses offered by Activision.