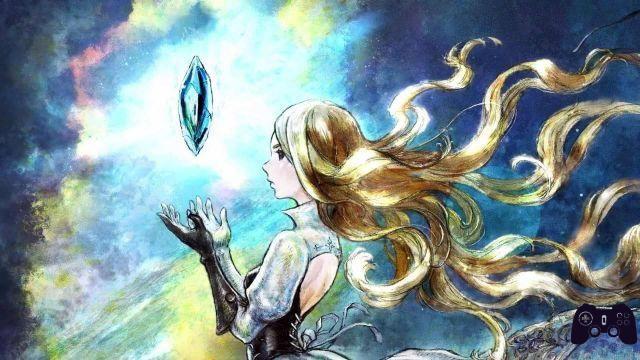 For years I have been waiting for a sort of sequel to Bravely Second, able to continue the events narrated by the two games in the Bravely series. In 2021 I haven't had it yet, but in return I was able to enjoy some sort of spiritual sequel, that is Bravely Default II, which follows the formula of the first title of the series. After about 6 years from the last main chapter, we no longer return to Luxendarc, but to the brand new continent of Excillant, which is equally impressive. And it is with these premises that I am going to tell my experience as a longtime player, since I am very attached to this series.
The relationship with the past
The Bravely series has always presented itself as one window on the past, able to mix those elements of the traditional JRPG with the modern component. This title is no exception, given that roughly follows the formula introduced by the first game and enriches it in his own way.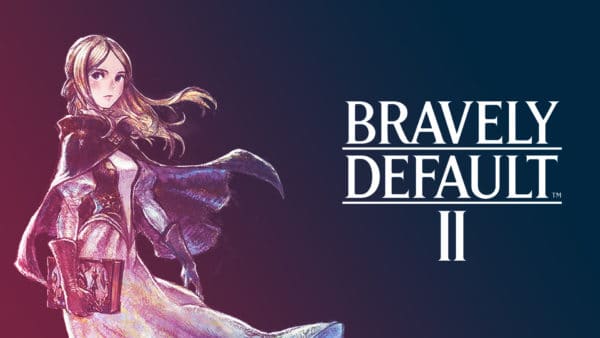 To learn more:
Complete guide and solution [100%] - Bravely Default II
You don't have to wait nothing innovative or never seen before because this is not the purpose of the work, it is only a beautiful homage to the old pearls of the past. That said, the title is also approachable by novice players or players who don't have who knows what experience in the genre, given its immediacy and genuine simplicity, which I personally love.
By virtue of this, the style is essentially chibi / stylized just like the other two chapters in the series, to maintain some sort of coherence. And to be honest I also noticed some clear improvements compared to the other main chapters, it can be said that a great job has been done.
During my hours of play I was able to relive that feeling of nostalgia and pleasant grinding that I missed so much, while I could observe quite suggestive landscapes. Because yes, I love to spend hours and hours leveling in this game, also because of the settings and the music, all very nice details.
Brave, Brave, Brave and Brave again!
If there is one thing that Bravely Default II does damn well it is to please the classes and the various skills that you will unlock. Since we are talking about a turn-based JRPG it is natural to level and above all enjoy the different combinations of classes / equipment. This is nothing too complex honestly, a lot of things are also intuitive and well thought out for players of all types / levels.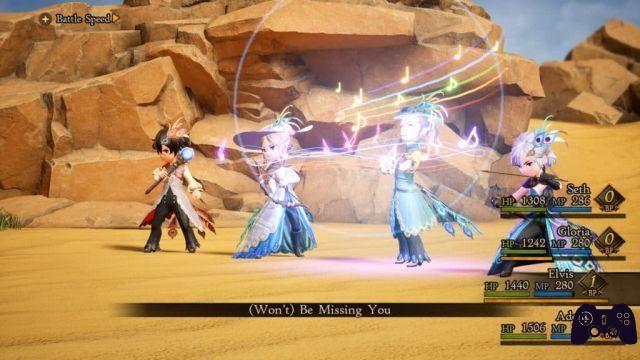 However, seeing how the class system still holds up today in 2021 and is so much fun can only please me. It was also decided to resume many of the classes present in the other Bravelys by modifying them slightly or in some cases changing them a little more sensibly.
The game system is quite linear, it is a flow, a sort of rhythm, which alternates the action of the Brave with that of the Default to advance the fight. Bravely Default II "introduces" a sort of ATB to make the gameplay already a little different and to experiment with new possible mechanics. In addition to this, weight mechanics was introduced, which is common in many old-fashioned and non-old JRPGs, so nothing sensational.
4 Warriors of the Light but many worries
Here, too, the plot revolves around 4 Stolen Crystals and it will be the purpose of our team to find them to restore order to Excillant. During the course of the adventure we will see all the colors, exploring plains, deserts but also snow-capped peaks or caves.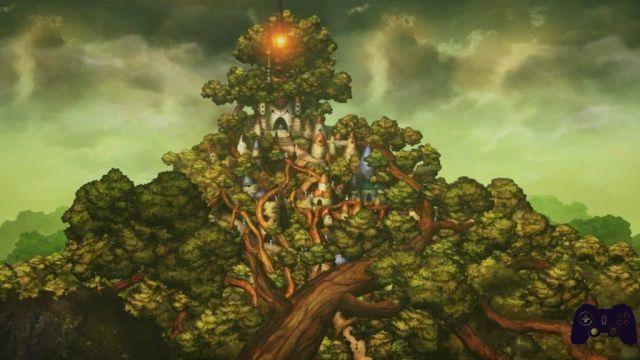 The variety of places lends itself well to telling an eventful story, which sees our heroes extricate themselves from the numerous tests scattered across the continent to recover the lost Crystals. Again I was expecting many of the typical twists and / or various betrayals and so it was, so I can also be satisfied.
One thing that I wasn't exactly happy with is the characterization of the team (Seth, Gloria, Elvis, Adelle) and the other characters in the game. Much more could be done to make the characters grow psychologically instead of relegating them to a more static role.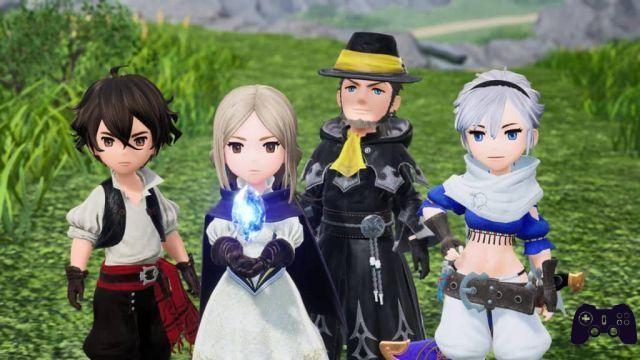 Leaving aside the serious stuff for a moment, the game also features some secondary missions, perhaps not suitable for those who prefer battles to the simple collection of objects. Personally I have not felt this problem too much, but it is fair to point out that the map will show you what to do and where to go, so I would be exaggerated to define them as real missions.
However, you are free to continue in your adventure without missing one (approximately), they are not so intrusive, although I strongly advise you to do as many as possible.
The generational leap that was needed
We've seen Octopath Traveler, but never before has Bravely on Nintendo Switch, and the result is good, with some reservations. Every now and then I have encountered too long shots or uploads, not to mention some problems with the voices when playing at full speed.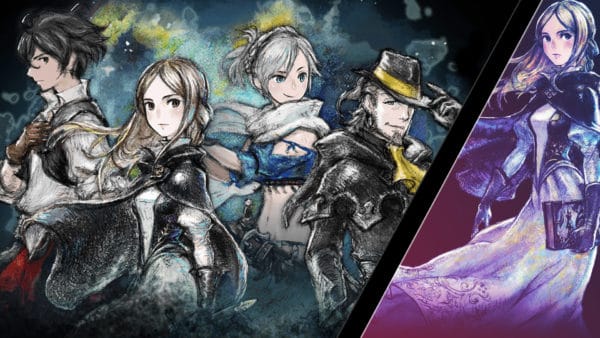 To learn more:
Bravely Default II: what you need to know before buying
Of course it comes to minor problems that do not affect your gaming experience, but it is worth mentioning them to make it clear how the generational leap was experienced. For those who have played Bravely Default and Bravely Second many of these speeches will be deja-vu, as both titles had minor bugs even in the European version.
I am quite confident for the future of the series, I have had the confirmation that we still have the possibility to see other chapters. I have a slight reservation on one thing, namely the novelty factor, since there is no need to innovate too much or not to step more than the leg can afford, but too many elements are taken from the first game.
It is evident that we tried to touch it slowly with this new chapter, there are not too many elements of detachment from the other 2 and indeed you can see several references throughout the story.
An experience to live as you want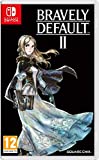 Bravely Default II
On amazon: 55,05 € buy
In my opinion Bravely is the classic game that you live differently based on your relationship with the genre, if you prefer old-fashioned JRPGs then you will struggle not to love this series. Bravely Default II manages to be once again suitable for anyone, offering different levels of challenge and not bad freedom of exploration.
It is true that the markers on the map reduce the sense of loss, but it is also true that you can go to different places without too many limits. I also add that the variety of classes of the game allows you to experiment with even extravagant combinations and with different types of weapons.
The verdict: necessary game or yet another filler?
Don't expect a revolutionary or generational game, it is the usual Bravely formula with some modifications, the feeling is identical. Even though I was among the ranks of fans who wanted the direct sequel to Second, I changed my mind by playing Bravely Default II.
This is a very nice experiment and that made me relive the joy of grinding and admiring suggestive landscapes for no reason. The narrative presents the usual level of pathos of the series (indeed no, this time less) and will make you enjoy this adventure that is compelling, but also relaxing.
Rating and Price 9/10 50 € / 60 € Comment Bravely Default II is the classic example of a spiritual sequel that doesn't dare too much. Despite this, it remains a great title and I absolutely recommend you to play it, as it is fun and also has great environments and a fighting system that will keep you busy for several hours. Pros and cons
✓
Fun as ever
✓
Suggestive settings and sound
✓
The classes are very interesting
x
I expected more ...
x
Questionable Spanish localization