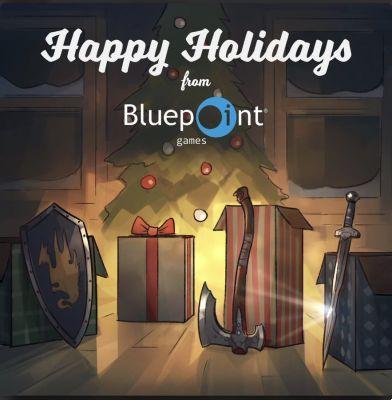 As we are leaving 2022 behind us there are still a handful of rather important announcements that various companies and software houses are making. At the TGA we feasted on new games coming out from 2023 onwards, but apparently there are those who still have something to communicate and have decided to do it in a special and stimulating way. Let's talk about Bluepoint games, makers of multiple acclaimed remakes, with the team appearing to have something to say before the year is out.
The US team, which was recently bought by Sony, wanted to make some special happy holidays to the players by posting a very traditional post on Twitter, at least at first glance. Within the post, in addition to wishing a happy holiday season, the team has published an image that represents four gifts; three of them already unpacked and one completely shrouded in mystery still all wrapped up.
The three already opened presents represent the three main titles that the guys at Bluepoint have been working on over the past few years. We can clearly see the sword wielded by Wander in Shadow of the Colossus and one of the shields of Demon's Souls, both remakes developed by the team. In the third gift, however, we find the Leviathan, an ax wielded by Kratos in God of War Ragnarok, a game on which the studio lent a hand during development.
pic.twitter.com/o2CS78q4VI
— Tidux (@Tidux) December 15, 2022
The fourth and final package remains hidden, as if to indicate that it is inside the next game from Bluepoint Games and that could be announced very soon. On the other hand, gifts in this period open at Christmas, but it is possible that the team wants to give us an early gift; for this reason it is better to keep your eyes open, 2022 could still have some last surprises.
Before saying goodbye, we advise you to also visit our YouTube channel, where you can find videos dedicated to the gaming world at 360 degrees.