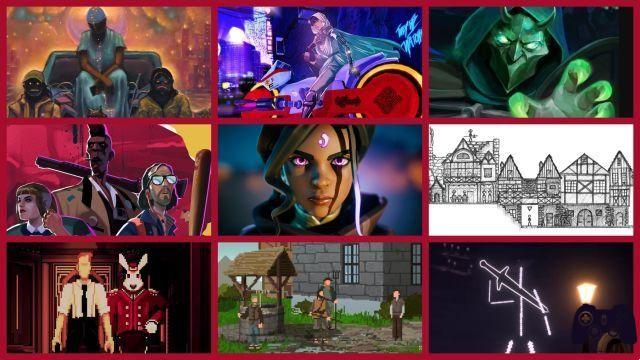 We have reached October, which means the beginning of the autumn season, of cold and rain, in short, the perfect climate to spend the days playing at home. So, if you don't want to be caught unprepared, the best thing to do is give the library a dusting, taking a tour of the various stores and finding new titles to explore; in this article we will give you a hand, indicating ten of the video games hottest indies coming to PC in October 2022.
10. Nitro Kid
Gender: Strategic
Developer: Wildboy Studios
Release date: October 18th
Do you like 80's kung fu movies? Do you like the cyberpunk genre? Do you like roguelikes? Well, because in October 2022 an indie that combines these three elements comes out on PC. We are talking about Nitro Kid, set in a dystopian Miami where the mega-corporation INFINITY has secretly imprisoned gifted children to turn them into military products.
In grid-structured combat you'll have to slide around enemies, finding the best position to perform combos and using the surrounding environment to your advantage. Furthermore, through a large variety of cards you will be able to change and improve the skills, moves and powers of the three agents at your disposal.
9. Signaled
Gender: Action, Adventure, Horror
Developer: rose-engine (Humble Games)
Release date: October 27th
Since October is the month of Halloween, at least one horror title could not be missing from the indie releases on PC; one of the most interesting and original is Signalis, which the developers describe as a "horror survival classico" set in a dystopian future, where humanity has revealed a dark secret. As Elster, a Replika who is searching for her lost partner and dream of her, you will have to explore a world of mysteries, escaping terrifying creatures and solving challenging puzzles.
The graphic style of the work and the gameplay are clearly inspired by classic PlayStation 1 titles like the first Resident Evil, all enriched by a Japanese nuance found in the design of the characters and in the various references to oriental culture throughout history. If you are a fan of pixel art, Signalis is definitely for you.
8. Sunday Gold
Gender: Adventure, RPG
Developer: Team17
Release date: October 13th
Team17 doesn't miss a beat, and their umpteenth indie that looks promising is Sunday Gold, a point-and-click genre game set in a dystopian future. At the center of the story are three criminals, who must hunt down and expose the dark secrets of an evil mega-corporation led by a billionaire.
The gameplay blends puzzle-style escape rooms, turn-based combat and RPG mechanics, all within a dark story. The 2D and hand-drawn graphics look really convincing, as well as the sequences inspired by the world of comics. The prologue chapter of the game is also available on Steam for free, so you can get an idea before deciding whether to buy it or not.
7. Hell is Others
Gender: Action, Adventure, Horror
Developer: Strelka Games, Yonder (A List Games)
Release date: October 20th
Another indie coming out just in time for Halloween is Hell is Others, a top-down PVPVE survival shooter. Here you will play as Adam Smithson, who has only one wish: to live alone in his small apartment in Century City. Although it seems like a smooth situation, there is obviously a catch: everything in the city needs blood to survive, including its plants.
Adam is then forced to search the streets of the city for the resource, where blood is currency and everyone wants the same thing. You will then have to face The Others, taking advantage of thearsenal crafted from your bloodsucking plants and doing your best to survive one more day. In fact, all the enemies will not only want to drain your veins, but also to rob you of everything you have collected up to that moment. Finally, in order to become stronger and stronger you will have to take care of your plants, feeding them, making them grow and producing very powerful admonitions.
6. Potionomics
Gender: RPG, Simulation, Strategy
Developer: Voracious Games
Release date: October 17th
If you followed our article on PC indies last month, you may remember Potion Permit; in October a title comes out with a similar basic idea, but completely different in the realization. We're talking about Potionomics, where you'll play as a girl who has inherited an old potion shop from an uncle… and a huge debt. Your task will therefore be to fully customize the shop, hiring heroes to collect the ingredients needed to make potions and making friends (or going further) with customers.
To beat the competition you will have to choose the best ingredients, in order to make even the simplest potions extraordinary, and generating aromas that meet the tastes of customers. Also, being the game of genere deck-building, you'll have to play each card intelligently, earning as much money as possible and learning new tactics to achieve success.
5. Bibot
Gender: Action
Developer: Square Squid (PID Games)
Release date: October 5th
One of the most intriguing indies among those coming out on PC in October 2022 is Bibots, a shooter with a top-down perspective set — once again — in a futuristic world. The story focuses on Tayar, explorer and savior of the planet threatened by an evil mind.
However, the protagonist is not alone in his adventure, since you can choose a Bibot, a robots that you can summon during fights, unleashing its devastating power. During the game you will get to know several companions, each with different abilities; even Tayar himself is fully customizable, giving you free choice on the powers to equip to face even the most difficult situations.
4. Coral Island
Gender: Adventure, Simulation, RPG
Developer: Stairway Games (Humble Games)
Release date: October 11th
If typical Halloween horrors aren't your thing, a relaxing title is also coming to PC in October 2022, perfect for unwinding on a rainy day. Coral Island is in fact a game of the farm sim genre, where you can be whoever you want and live on an island at your own pace, enjoying nature, animals and the company of fellow citizens.
The work is finally released in full version after 15 months of early access, and the result is magnificent: the 3D graphics are breathtaking and extremely detailed, while the inhabitants - over 50 - are reminiscent of those in Disney films. As in any game of the genre you will have to grow fruits and vegetables, decorate the island, craft items, explore and relax, planning the future of Coral Island.
3. Batora: Lost Heaven
Gender: Action, RPG
Developer: Team17, Stormind Games
Release date: October 20th
In October Team17 scores double, given that another indie coming out on PC is Batora: Lost Heaven, an action RPG set in space where you will take on the role of Avril, a girl who has been entrusted with exceptional powers. The protagonist will have to embark on an action-packed adventure, exploring diverse alien planets and discovering a galaxy where the line between good and evil is thin, to say the least.
In fact they will be your choices to affect the course of history, as well as having to wield weapons, training in different fighting styles to defeat countless enemies, solving intricate puzzles and carrying out missions for the alien inhabitants. Your ultimate goal? Restore Paradise Lost.
2. Asterigos: Curse of the Stars
Gender: Action, Adventure, RPG
Developer: Acme Gamestudio
Release date: October 11th
The graphics of Asterigos: Curse of the Stars are so beautiful that it feels like a Triple A instead of an indie, and we can't wait to explore the magnificent city of Aphes to discover the truth behind the curse that grips it. The protagonist of this adventure inspired by Greek and Roman mythology is Hilda, a young warrior who will have to face more than 60 different enemies and 22 bosses within the various regions that make up the map.
In Asterigos: Curse of the Stars your every choice will be decisive, and you will be able to choose from a variety of melee or ranged weapons, finding the fighting style that suits you best. In terms of gameplay, the title is an action RPG, including over 100 collectibles, side missions and a NewGame + mode.
1. Scorn
Gender: Action, Adventure
Developer: Ebb Software
Release date: October 14th
We close the list with Scorn, a first-person horror adventure set in a universe teeming with strange shapes and eerie tapestries. The work was designed to catapult the player into the open world in media res, creating a feeling of bewilderment and forcing him to explore the different regions that compose it.
The surrounding environment is so important that it is considered a character in itself, and each location is labyrinthine in shape, with rooms and paths to discover. The whole story takes place in-game, so there is no cut scene to relieve your tension; you will be forced to pay attention to every moment, keeping close to the few ammunition available and trying different types of combat.
That's it for the best indies releasing on PC in October 2022; the preponderant themes are clearly horror and adventures set in space, but there is still a great variety that will satisfy any taste. However, if you want other ideas, we advise you to take a look at the previous editions of this article, and to follow us for the upcoming months' appointments.