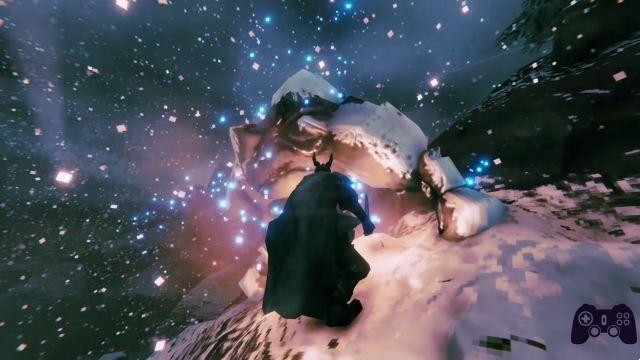 We have reached the last month of the year, which means not only cakes, gifts and bright decorations, but also - hopefully - more free time to devote to video games. The Christmas holidays are in fact an excellent opportunity to switch off, get in front of the PC and relax with a hot drink close at hand, and there will be the plenty of indies coming out in December: although the winter months may seem apparently lacking in releases, in reality there are many new titles peeking out in the last days of 2022, so as to make us end the year (or start the new one) in the best way, that is by playing.
As always there is something for all tastes, from puzzle games to strategic ones, so whether you want to relax or immerse yourself in an exciting adventure, there will surely be an indie that's right for you.
So I just have to wish you a good read, while below you can also find the video version of this article:
10. Bots Are Stupid
Gender: Random
Developer: Leander Edler-Golla (Yogscast Games)
Release date: December 15
Let's start with a decidedly peculiar 2D platformer: Bots Are Stupid takes the basic elements of the genre, however, populating it with stupid robots. In fact, you will have to take advantage of the programming language Simple gameplay to teach characters how to get to the exit, then watch them do your bidding… and often die in the process.
As complex as it may seem, all the commands have been thought to be as simple as possible, therefore you don't need to have previous programming knowledge to be able to command the robots. However, if you feel confident in your abilities, you can enjoy creating your own levels in the editor mode, then letting the world try them out.
9. Afterglitch
Gender: Adventure
Developer: Vladimir Kudelka (Hangonit)
Release date: December 9
My first thought when I saw Afterglitch was Christopher Nolan's Interstellar, so I can only describe it with words like intricate, spacey and trippy. In fact, within this decidedly atypical title you will play the role of an astronaut, who has embarked on a multidimensional journey with the aim of tracking down an extraterrestrial civilization; you will then experience an extraordinary adventure through space-time, exploring unique fragments of parallel worlds without knowing limits or borders.
Although the gameplay lasts just 1 to 3 hours, the development of Afterlglitch was carried out by one single developer for 7 years; considering the totally unique style he managed to create, this indie definitely deserves a place among the best PC releases of December.
8. Zombie Cure Lab
Gender: Simulation, Strategy
Developer: Thera Byter GmbH (Aerosoft GmbH)
Release date: December 7
Almost always within the list of the best indies of the month there is space for management software, set in ever-changing times and places, but December's one differs from any other title of the genre for its underlying objective. In Zombie Cure Lab you will not have to make a civilization prosper, but (as can be guessed from the name), you'll have to build the perfect factory to turn the zombies that have invaded the Earth back to semi-human.
You will therefore have to build walls and barricades to protect the scientists from the monsters, developing an efficient production line that manages to make the de-zombification process work and keep up with the ever-increasing needs of the laboratory. Before you can cure them, however, you will also have to be able to capture zombies using freezing guns, as well as gather resources to keep the laboratory going and discover new technologies.
7. Stalcraft
Gender: Action, Adventure, Multiplayer, RPG
Developer: EXBO
Release date: December 9
If you are looking for a free-to-play title to play with friends during the holidays, Stalcraft is for you: it is indeed an indie in the MMOFPS genre that combines elementi RPG, survival horror e shooter within an open world map with similar graphics reminiscent of Minecraft. In fact, you will be catapulted into the Chernobyl contaminated area, and you will have to search for artifacts, hunt mutants, explore a variety of different scenarios, carry out research in the laboratory and participate in wars between different factions.
One of the main elements of the title is the PvP completely free, where players can join a faction and kill foreigners in any location. Each scenario is in fact full of activities to be carried out in multiplayer, thus giving you the opportunity to alternate from the main story, which also includes cut scenes and dubbed dialogues.
6. Aka
Gender: Adventure, Simulation, Casual
Developer: Cosmo Cat (NEOWIZ)
Release date: December 15
I often talk to you about farming simulators, but I've certainly never presented one with a red panda as the protagonist. In addition to its peculiar protagonist, Aka surprised me with its inspiration from permaculture: the design of your crops will in fact have an impact on the animals that inhabit the world, while you can also build shelters, tools, clothes and objects of various kinds.
During the gameplay you will not have to follow a specific story, but you will meet characters of all kinds, including inhabitants who are willing to help you in your tasks, animals in difficulty, giant monsters and even ghosts. The primary objective of the game though is to make you relax, then you can simply decide to take a hot bath or watch the clouds listening to the sound of the ocean.
5. Chained Echoes
Gender:RPG
Developer: Matthias Linda (Deck13)
Release date: December 8
Let's move from the relaxing notes of Aka to the captivating adventure of Chained Echoes, a narrative JRPG where a group of heroes embark on a journey across the vast continent of Valandis with the aim of ending the war between the three kingdoms. You will therefore have to pick up the sword, channel your magic or command your robot during the random encounters that you will have to face during the exploration.
Chained Echoes is inspired by the classic 16-bit RPGs of the SNES in graphics, world design and soundtrack, so if you feel nostalgic for the retro titles of the genre, this is definitely the indie for you on PC in December.
4. Choo-Choo Charles
Gender: Action, Adventure
Developer: Two Star Games
Release date: December 9
Do you remember Tom the Train? Well imagine it in horror guise and you get Choo-Choo Charles, a bloodthirsty train that you will have to destroy to save yourself and those around you. You will therefore have to plan each mission carefully, weighing your every step and carefully deciding the direction of the tracks, as Charles may be waiting around the corner.
During the gameplay you will collect tools to make your personal train more powerful, while helping the villagers will earn you weapons and other vital items to be able to face Charles at the end of the adventure.
3. Lil Gator Game
Gender: Action, Adventure, Casual
Developer: MegaWobble (Playtonic Friends)
Release date: December 14
If you are a fan of Zelda, you will find some of the elements of the saga (in a decidedly simplified and more adorable guise) in Lil Gator Game, a work in which you will take on the role of a friendly crocodile. Within a colorful open world you will have to explore, get to know many characters, undertake ever-changing activities and craft objects to give life to the playground of your dreams, all in paper.
For example, you can ride down mountain slopes on improvised sledges, swing your sword in the forest, make new friends and invite them to play with you. In short, you will have hours and hours of guaranteed fun, as well as a good dose of relaxation and light-heartedness.
2. Kynseed
Gender: Adventure, RPG, Simulation
Developer: PixelCount Studios
Release date: December 6
If you're familiar with the action-RPG Fable series, you'll be happy to know that the veteran development team has churned out a new opus, Kynseed. Here you can raise a family, cultivate your own plot of land, manage shops and explore the worldby observing the aging of everyone around you (including your character); once dead, the reins - and the point of view - will pass into the hands of your children, and so on, until you decide to continue the adventure.
You can then completely decide how to live within the open world built with truly stunning 2D pixel art, which makes Kynseed a truly unmissable indie among those coming out on PC this December.
1. Blacktail
Gender: Action, Adventure, RPG
Developer: THE PARASIGHT (Focus Entertainment)
Release date: December 15
The most interesting indie ever among those coming out on PC in December is undoubtedly Blacktail, developed by Focus Entertainment (exactly, the same as A Plague Tale). This title — which we can define as double A — is inspired by the legend of Baba Yaga, a 16-year-old girl accused of witchcraft and expelled from a medieval Slavic settlement.
Throughout the adventure, archer combat, magic and dark storytelling will be combined, all in a fairy world where you can decide the fate of the inhabitants. In fact, your choices will influence Blacktail's moral system, gradually changing your destiny; your goal, however, will remain one: to discover the mysteries of your past, defeating the memories that will return in the guise of spirits in the flesh.
+ 1: Hubris (VR)
Gender: Action, Adventure
Developer: Cyborn B.V.
Release date: December 7
Exceptionally, this month in the list I decided to add an eleventh indie to the best releases (after all, we're all better at Christmas, right?). This is Hubris, a title for VR set in a unique and intriguing sci-fi universe where you take on the role of a recruit, in training to become an agent of the feared Order of Objectivity (also known as OOO).
Together with the pilot Lucia you will be sent on a mission to the Twin planet to look for the mysterious agent Cyanha, and you will have to use all your agility and strength to survive the environment, to say the least, difficult. During the mission you will have to fight, learn to craft weapons and control vehicles, defeat alien and humanoid enemies and, of course, uncover the secrets behind OOO. Hubris features one of the most realistic and immersive VR graphics ever seen, so I had to include it in the list of the best indies of the month.
That's it for the best indies releasing on PC in December; as always I have tried to include titles of all kinds to meet everyone's tastes, but if you haven't found anything that suits you, I invite you to take a look at the previous months' editions of this article. Alternatively, follow us to find out what will be released in January!