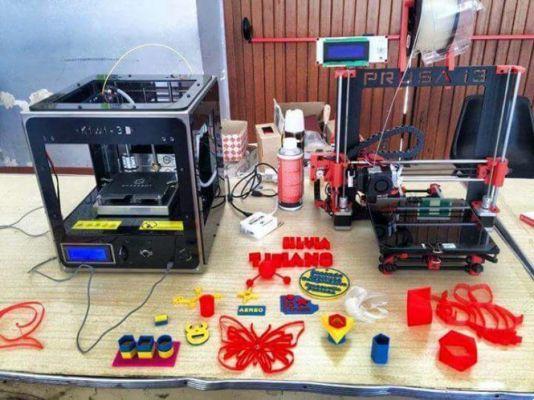 I bet Nike ZoomX Vaporfly Next%, the 3D printed marathon shoes, must have motivated you to create something interesting. It is wise to want to try out 3D printing software before investing in a 3D printer. However, choosing good free 3D printing software can prove to be a hassle. There are too many options, where each caters to a wide range of applications.
3D printers What are they? How do they work? All about 3D printing
To make things a little easier, we've compiled a list of the best 3D printing software for beginners. But before you take a look at the list, there is one thing you should know. If you're already using Photoshop, you can get started right away. Photoshop also allows you to create 3D models from scratch and print them using services like Shapeways 3D.
1. TINKERCAD
Kicking off the list is TinkerCAD, an online 3D design application perfect for beginners. It makes use of a simple block building concept, which essentially gives you access to basic shapes with which you can make your 3D models. This makes it an excellent tool for creating geometric designs.
TinkerCAD is quite simple and also offers a series of tutorials to speed up the learning process. Once you're done creating a template, it lets you easily share or export the file. And if you don't own a 3D printer, you can also use its third-party printing service integration and have your model delivered to your home in no time.
2. Ultimaker Cura

Next up is Cura, another great beginner 3D printing application from Ultimaker, a leading 3D printer manufacturer. Unlike TinkerCAD, Cura is 3D printer splitting software that you can use to create a 3D model and layer it as G code for your printer.
Additionally, you can also use Cura as a safety measure for your models. It can let you know if there are any issues with the structure of your template that could be causing problems with printing. This feature is a blessing for beginners as it ensures that no time or printing material is wasted in creating models with structural problems.
3. SCULPTRIS
While TinkerCAD is great for creating geometric designs, you should give Sculptris a chance if you want to create something a little more organic. It is quite simple to use and offers some key features that will help you create amazing 3D sculptures.
Working on Sculptris is very similar to working with clay modeling, which makes it one of the best options if you are looking to create 3D models of things like cartoon characters; something you can't do with TinkerCAD.
However, you will only be able to create basic 3D sculptures with Sculptris. You will have to rely on other premium software like ZBrush to perfect your designs later.
4. SKETCHUP
If 3D sculpting isn't really your cup of tea and you'd much prefer software that relies on line art to help you create a 3D model, then you should try using SketchUp. The software is suitable for most skill levels as it has a natural learning curve. And once you get started, the software offers a couple of advanced features in the paid version as well.
Just like TinkerCAD, SketchUp is useful for creating geometric designs. The software is most commonly used for the design of architectural projects. So if this is what you are aiming for, then you can't go wrong. The best part about using SketchUP is that it's also available as a web app. You can work on your design on any system as long as it's saved to your account.
5. MESHMIXER
Meshmixer is another viable option if you intend to sculpt organic 3D models as it uses a triangular mesh to help you create smooth, even surfaces. Just like Cura, the software also includes a feature that will help you check for holes in your model and fix them in real time.
Along with this, Meshmixer is also great for preparing your projects for 3D printing. It includes tools to cut the sculpture for the 3D printer, generate supports for structural integrity, and even analyze the fragility of the drawing before sending it for printing.
6. 3D SLASH
Now, if you're aiming for a retro, blocky aesthetic for your 3D models, then you should check out 3D Slash. The software allows you to upload your 3D model which it then breaks down into 3D blocks.
You can then make changes to the model using a variety of different tools. However, you will face some limitations in terms of functions in the free version of the software.
In addition to the ability to pixelate virtually any model, 3D Slash also offers a VR mode. You can use that mode to get a clear view of how the model will be built using a VR headset. 3D Slash includes one of the simplest user interfaces of all the software on this list. This is what makes it a fantastic option for people of all ages.
7. FREECAD
Rounding is FreeCAD, a 3D parametric modeling tool that will help you create precise geometric designs as spare parts for your gadgets. The software is not as good for creating new designs as it is for altering existing ones due to its parametric component.
Editing existing projects is quite simple; you just have to go to your model history and change the parameters. It's that simple. So, if you are not bent on creating your own 3D models from scratch, then you should give FreeCAD a try. However, if you prefer to create your own custom template then you will have to opt for one of the other options.
How to choose a 3D printer
Further Reading:
How to print from android phone
Apple introduces the iPad Air 10,5 (2022), the affordable alternative to the iPad Pro
The best wireless printers
2 solutions to the error "Print Spooler service is not running"
How to delete print queue