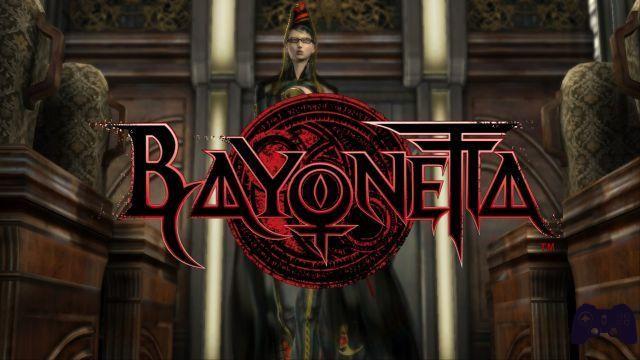 In the middle of Easter, Our Lord Kamiya (who sits to the right of Kojima) gives us the gift of a splendid resurrection: Bayonetta returns to shine on PC after seven years, and is in better shape than ever.
We could have chosen to give a pompous and complete introduction, a retrospective on the history of Bayonetta and on his career for past consoles (spoiler: it generally went "godly", except on PS3 which went at 2 frames per second), but to us Holygamerz we also like to dare, from time to time, and the lucky heroine given birth by Hideki Kamiya lends itself very well to the purpose. Hah, we said "purpose" talking about Bayonetta. Give us a Nobel.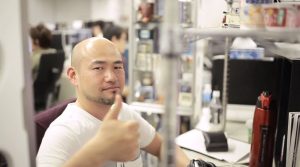 To learn more:
Hideki Kamiya: game designer without rules
But, in short, "Bayonetta what's this"? I don't think there are better words than ours Stefano "SteLynch" Calzati (from the in-depth article above; yes, we know you've seen it, click on it) to describe it:
A sensual and slender witch with very long black hair, which can be transformed into hellish demons. Two guns in hand and two more instead of heels, whose most dangerous weapons will however be an overwhelming personality and a magnetic charm. Spatial-temporal distortions, angels with diabolical aims from which to snatch the shining halos. A plot apparently without rhyme or reason and yes, secondary characters at the height of the protagonist!
It's no secret that the witch's magnetic personality and overwhelming charm Platinum Games revolutionized the action genre in video games, just as they did devil may cry a few years earlier. Born on the seventh generation consoles (yes, it's time for a slightly more "institutional" introduction), Bayonetta has now landed on PC, with a splendor and a charisma capable of piercing the screen and raising much more than a bar. Sold for € 19,99 on Steam with 4K support (we repeat: support for the quattrokappa), there's really no reason why you shouldn't recover such a masterpiece. And now, in fact, it would be appropriate to also say why.
Fly me to the moon ...
The player takes on the role of Bayonetta, a witch in the service of darkness
Assuming that asking to know the plotline of such a game is not exactly the best approach to deal with it, seven years have passed since the release of the original on consoles, and the plot of Bayonetta it should by now have been widely circulated by anyone who has managed to play it. If this is not the case for you (also because tErama is not exactly the first thing that jumps to mind when it comes to Bayonetta), let us know, we are here to refresh your memory. But next time, give him those sixty-nine euros at launch, 'because when Kamiya does things like that he deserves it all.
The player will play the role of the homonymous protagonist of the game, Bayonetta: a sensual and slender witch with very long black hair, which can be transformed into hellish demons. If this sentence is terribly familiar to you, it is because you have already read it above.
All we know from the beginning is that Bayonetta is a witch in the service of darkness, assisted by the demon Ro- "Pelata-Di-Ferro" -din and nothing but her charisma and sensuality. From the epic video of the prologue, the tones that the game will adopt throughout its course are evident (especially considering that the clumsy Enzo finds himself urinating on the name of Kamiya himself, engraved on a tombstone - yes, engraved on a tombstone , and we are also willing to repeat it). Bayonetta is, in short, a woman with a dark past and full of mysteries, and it is immediately clear that the whole idea that governs the game has genius at its base: the witch has the hunt for Angels as a pastime, incredibly dangerous creatures who are anything but hospitable as the Holy Scriptures have accustomed us to believe. Which, considering that Kamiya is seen by many as a kind of divinity, is the source of many and profound reflections.
The striking thing, in the more than 10 hours of gameplay guaranteed by the adventure, is that Bayonetta has a solid and also very interesting plot in some situations, bringing into play divine and demonic forces in constant struggle with each other and placing our beloved witch in the center between the two fires, without disdaining even a very deep (unspoken) reflection on human relationships . Despite the obvious underlying ignorance of the game, therefore, the plot is undoubtedly able to guarantee splendid moments of quality. In short, if playing it the first time on console you thought you were only seeing a lot of smoke, you were probably looking at the wrong roast.
And let me play among the stars…
Leaving aside the plot (which interests us, yes, but only up to a certain point), the real strong point of Bayonetta is in the combat system and in the splendid level-design (which we will talk about shortly, be patient). Dynamic as few, explosive, fast, fresh and incredibly fun even after seven years, the frenetic style à la Devil May Cry feels, and does its job admirably when it comes to chaining even rather complex combos one after the other. A deep, satisfying and satisfying combat system until the last heel hit, and at the same time precise as few others, considering that the slightest mistake is enough to be kicked in the cu for the Angels to make us repent of our sins. Honorable mention goes to the mechanism of Temporal Sabbat, which we do not explain in detail due to editorial space requirements (and because we want you to buy the game and find out for yourself).
A deep, satisfying and satisfying Battle-System until the last heel hit.
Any other word about the combat system would be superfluous, and would risk spoiling the surprise of discovering every single detail and every single spectacular move for yourself; But if you insist and care so much, you can always check out the Bayonetta 2 battle system in our preview. So much the same, just remove that kind of "Devil Trigger".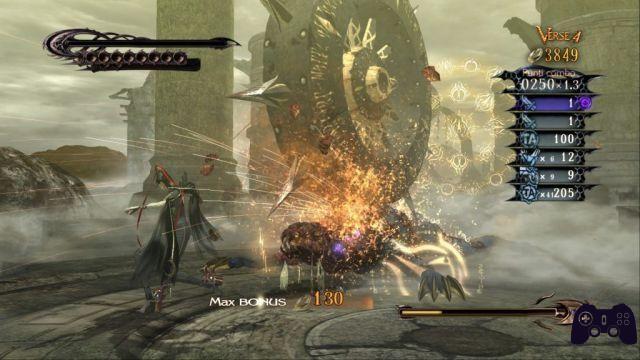 In other words, please be true ...
And finally there we are. We've all been waiting for this paragraph for a while, and now it's time to talk about the main dish, the pearl of production, what stands majestically between Bayonetta's breasts and between her sinuous and sensual shapes. And we are not talking about what you will have in your fingers for the duration of the game experience, if you are a man (and if you are a woman, honestly, too).
Bayonetta is endowed with a breathtaking artistic sector
Bayonetta's level-design makes you scream a miracle: excellent background for the splendid fights of the witch, the artistic sector that surrounds our protagonist is literally breathtaking, with splendid and inspired structures for the duration of the game and with obvious challenges to the law of gravity. There is no limit to the path that Bayonetta could take from the beginning to the end of the level: although they are more static than the environments conceived by Ninja Theory for its DmC - Devil May Cry, the levels of Bayonetta they could take our heroine to the side of a building, in free fall on an airplane, in the middle of a hellish highway, or even on the surface of the ocean to fight a giant angelic sea monster. Wanting to use strictly technical and professional language, Bayonetta it's an average 12 hour orgasm, so powerful that the pigs are already taking notes to try and save their marriages. It would have been "easy" to focus on a charismatic character to build a fun gaming experience and leave everything else to chance; Bayonetta, despite having one of the most ignorant characters ever, he decides to do things right, and to amaze the player level after level without a single moment of pause, with a final climax that will leave you speechless without a shadow of a doubt.
The "Shoot 'Em Up" phases, decidedly subdued, are the real and only reason to remove half a point from such a successful PC port
In such a splendid work and that so much has left us miserable mortals, it is inevitable that there is some small defect in the outline: the shoot 'em up levels, specifically (Sequence XIV, to name one, but not only) Although they have their roots in the arcade glories of video games, they are often long and tedious to manage, a far cry from the incredible impact of all the other sections where you control Bayonetta firsthand. In those cases, the short interludes in which our heroine releases herself from the Arcade controls and moves to fight enemies with her fists, kicks and hair, will be a pleasant relief, suggesting that something has - unfortunately - gone wrong in the conception. of stages like that.
Which is really the only reason why the writer feels almost "obliged" to remove a precious half-point from the evaluation already appeared on these pages, on the occasion of the Wii U version of Bayonetta (and also its entourage). The value of the title of Platinum Games is certainly undeniable, and it is so high as to suggest almost a yardstick for an entire branch of videogame productions to come; however, the more than appreciable tribute to After Burner however, it is not "solid" enough to make certain sections more fun, which, in their very concept, break too much the rhythm and enjoyment of the splendid heel fights. A peculiarity that, inside a seven-year old PC port, could be loved as totally hated; and it is undoubtedly a problem, albeit a minimal one.
These phases, however, remain very few and very limited, and therefore don't even dare to think about emptying your Steam cart for this reason. In fact, while you're at it, put another copy inside and keep it there, because there is always some heretic to play with. Bayonetta.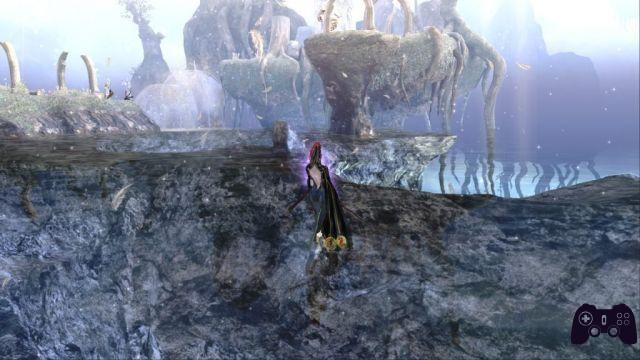 In other words, I love you.
If we were to count the touches of Bayonetta, all the fingers of ten hands would not be enough: from the Angels slapped on the ground to cutscenes with incredible camera movements, from Fly Me to the Moon as the soundtrack of the battles (you've already recognized it somewhere in this article, right?) to the division into "Verses" of the clashes themselves, a division that unequivocally suggests the field of music production (litmus test: LP gold that you will find scattered throughout the levels). And what about the countless quotes scattered around the game (to pop culture and the Norse world, but not only), or the amazing dubbing in English, which allows Bayonetta herself to have a British accent that makes 90% of her sex appeal?
Bayonetta is a masterpiece with no "ifs" and "buts", with rewarding fights, spectacular levels and characters that you will struggle to let go of after beating the game, and luckily there are other difficulty levels to unlock to relive the game. 'adventure. The PC version is also optimized to run perfectly even on older computers, and the most performing ones can always count on support for resolutions beyond Full-HD, with full compatibility for 4K screens and HDR technology. . There is also no reason why you shouldn't buy Bayonetta on PC, especially now that you could buy it for € 19,99. And we advise you to rush to do it as soon as possible.
System requirements:
MINIMUM:
Operating system: Microsoft Windows 7/8 (8.1) / 10
Processor: Core i3 3220
Memory: 4 GB of RAM
Video Card: Radeon HD6950 / GeForce GTX 570 (768MB VRAM)
DirectX: Version 9.0c
Memory: 20 GB of available space
RECOMMENDED:
Operating system: Windows 7/8 (8.1) / 10
Processor: Core i5 4460
Memory: 8 GB of RAM
Video Card: Radeon HD7870 / Geforce GTX 760 or more (VRAM 2GB or more)
DirectX: Version 9.0c
Memory: 20 GB of available space
[nggallery id = "3576 ″]
Verdict 9/10 SEEEGAAA! Comment Bayonetta is a stroke of genius, the triumph of artistic trash in video games and undoubtedly one of the most fun, complete and satisfying titles of recent years. With such a "charismatic" and sensual heroine, there is no eye that cannot be captured by the beauty orchestrated by Platinum Games for this little masterpiece. Bayonetta, seven years ago, was able to bring a breath of fresh air to the action genre, thanks to its fighting system and its frenetic and dynamic style with very few precedents. Today, despite the past years, Kamiya's heroine still holds up against most of the current videogame productions, and the brilliant and successful PC port (on which the title is sold at such a low price as to be embarrassing, for the its actual value) is the perfect opportunity to recover such a pearl of the video game world. In short, are you still waiting for reasons to run on Steam? We would have done it on the first line of text. Pros and cons
✓
Stellar Level-Design and Art Direction
✓
The progenitor of ignorance and fun
✓
Super fresh, beautiful, super smooth gameplay
✓
Incredibly dynamic and "monumental"
x
Definitely subdued "Shoot'em Up" sections
x
He won't sell a c *** or not even this time