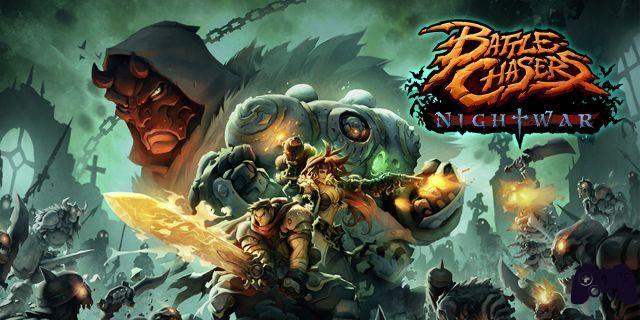 Two years and a little more have now passed since, in September 2015, Joe Madureira, launched a campaign on Kickstarter for a fundraiser for the development of Battle Chasers: Nightwar. It is a JRPG with dungeon crawler elements with characters and backgrounds from the comic series of the same name. Since last October 3, Battle Chasers: Nightwar (from now on only Battle Chasers), developed by Airship Syndicate and published by THQ Nordic, was officially released on Xbox One, PlayStation 4, and PC (via Steam). Two weeks later, we are ready to tell you about our journey in our review.
Version tested: Windows PC
The return of Gully
The events of Battle Chasers kick off with a real time jump compared to the latest events of the homonymous comic. The protagonist, Gully, and her group of friends find themselves attacked as they fly over, with their airship, an island that was their destination before turning into what will be a real crash landing. The main characters of this story will be well known to those familiar with the Battle Chasers universe. All the others, however, will find themselves in front Gully, a girl with a pair of magic jerseys (obtained as a gift from her father Aramus), Calibretto, a sentient golem, Garrison, swordsman who defends the young woman, Knolan, the sorcerer, Red Monika, an exuberant huntress, ed Alumon, a sixth character introduced specifically following the achievement of one of the fundraising goals.
Our heroes will then find themselves on an island unknown to them, populated by dangerous creatures and pirates in search of magical artifacts on behalf of the villain on duty. The story leads to nothing overly particular, but thanks to the charismatic protagonists, antagonists and secondary characters it will manage to be perfectly pleasant and interesting in any case. The various documents scattered around the various labyrinths that will contribute to enrich the background are also useful.
JRPG of yesteryear
Battle Chasers offers linear exploration on a fixed path on the globe from which various points of interest such as shops and dungeons can be accessed. Here, the movement of your group of heroes becomes freer and it is possible to cross procedurally generated rooms upon rooms. Following dungeon crawler mechanics the player will be asked to solve more or less complex environmental puzzles, with the possibility of collecting precious treasures and facing enemies. In addition to continuing the story, you will be able to spend your time facing side missions and optional bosses, in order to obtain increasingly better rewards. While exploring the various mazes, depending on who will be the leader of the team, you can use specific actions to facilitate your wandering (for example, you can stun enemies before a fight).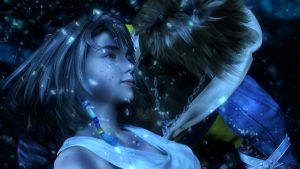 To learn more:
Final Fantasy X | X-2 HD Remaster (PC)
As for the fights, these are structured according to a system similar to the Conditional Turn-Based Battle seen in Final Fantasy X. Everyone's turns will be marked by a sidebar showing who will be next to act. Depending on the type of attack selected, the order will be affected. Basic actions will be instant, while using techniques in addition to consuming What, will have their own charging time, delaying their execution. Altered statuses and Overcharge are also very important, a reserve of points valid until the end of the fight alongside the Mana. Thanks to all of this, the fights inside the dungeons are highly strategic, requiring a wise use of resources and techniques in order not to find themselves empty and in difficulty in the last rooms. Also noteworthy are the Ultrassaults, special techniques, also available to enemy bosses, which can be used by consuming the charges of a bar shared by all.
Your deployable characters will get stronger kill after kill as you gain more and more experience. In this way you will be able to level up, which will lead to the acquisition of new actions and skills. Each of our allies will be equipped with two specific lists on which you can spend points, in a non-permanent way, to obtain passive bonuses of various kinds. Another growth mechanism is instead linked to the fulfillment of certain conditions relating to long chains of killings.
Not everything is perfect
If the battles are fun and challenging and the story offers a happy accompaniment, Battle Chasers shows the side with some flaws that could (can) easily be solved. One of them consists of a difficulty curve that is not exactly well distributed. While you can choose between simpler or more challenging modes for dungeons, the same does not apply to secondary missions and enemies outside of them. IS it will not be so unlikely to face clashes that are definitely out of reach, forcing the player to grind to catch up. Fortunately, to date, this is a less serious problem than it was originally, thanks to a recent patch that has partially balanced the gaining of experience in the later stages of the game.
The other flaw of Battle Chasers concerns the poor management of party members and the less than optimal usability of the menus (in the latter case, however, you quickly get used to it). Indeed, to be able to change equipment or skills to your allies it will be necessary that they are deployed to take the field in combat. If this is not the case, you will have to change your training, even if only temporarily, which is only possible in the tavern and at the entrance to an exploration area. In short, it is an all too inconvenient management that, after a while, could lead to total disinterest in one's reserves.
An unparalleled artistic style
Style and design are one of the strengths of Battle Chasers. Characters, creatures, settings and landscapes are all highly inspired and perfectly made, in a highly expressive world. The choice of colors is also excellent, contributing, along with the rest, to creating a visually quality product. In the course of our adventure we did not encounter any problems whatsoever, with a stable 60fps framerate and bug-free. Despite this, many seem to complain, even today, on the dedicated forum on Steam.
Minimum requirements
Operating system: Windows 7/8/10 64 bit
Processor: 2.0 GHz CPU
Memory: 4 GB of RAM
Video Card: Intel HD 4000 or equivalent with 1 GB VRAM
DirectX: Version 11
Memory: 10 GB of available space
Audio card: DirectX compatible
Recommended Requirements
Operating system: Windows 7/8/10 64 bit
Processor: Intel i5 2.5 GHZ
Memory: 8 GB of RAM
Video Card: NVIDIA GeForce GTX 950 or equivalent
DirectX: Version 11
Memory: 10 GB of available space
Our configuration
Operating system: Windows 10 Professional 64 bit
Processor: Intel Core i7 3770k @4.2GHz
Memory: Ram 16GB
Video Card: Nvidia GeForce GTX 1070
Also noteworthy is the quality of the support offered for those using an aspect ratio of 21: 9. The resolution of 2560 × 1080 is thus supported natively in almost the entirety of the game, with the presence of black bands on the sides to restore 16: 9 only during fights. Good is also the work done with the dubbing and the soundtrack, which make everything more defined and enjoyable.
Verdict 8.5 / 10 I have fists in my hands! Comment Battle Chasers: Nightwar is a great budget-priced JRPG that offers quality content including characters, story, combat and procedural dungeons that are never dull. This is absolutely a great opportunity for those who loved the original comic series to meet their beloved characters again, but also an excellent way to play a solid Japanese RPG that will delight many. The most glaring flaws of a title like this easily fade into the background considering its merits, plus we are quite certain in believing that Airship Syndicate will work with corrective patches in the coming months. The rating of 8.5 is therefore to be understood in an absolutely positive way, which cannot be 9 since, beyond the problems described in the review, it practically never dares more than it should, focusing exclusively on elements already abundantly known. Pros and cons
✓
Successful procedural dungeons
✓
Excellent and quality design
✓
Interesting mechanics ...
x
... but nothing new
x
Suboptimal user experience