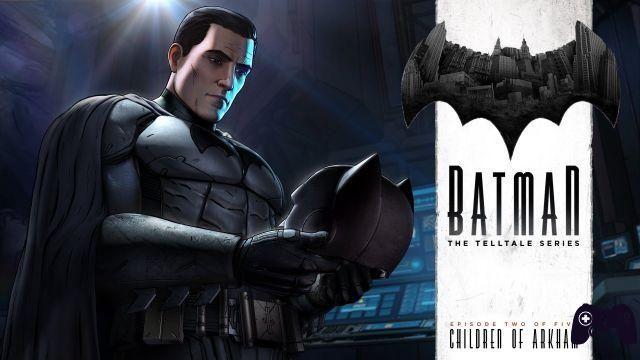 After saying goodbye to Minecraft: Story Mode with the eighth episode last week, it's time to return to the Gotham imagined by Telltale with the second episode of Batman The Telltale Series, Entitled Children of Arkham. Available from 20 September through the Season Pass or individually on PlayStation 4, PlayStation 3, Xbox One, Xbox 360 and PC, how did Bruce Wayne's story evolve?
Tested Version: PlayStation 4
As is now tradition when it comes to episodic release titles, in this review we will refer to the events of the first chapter: Realm of Shadows. We will try to limit any spoilers on the plot of
Children of Arkham
.
Gotham has no Angels
Realm of Shadows ended with the shocking discovery of just how corrupt Thomas Wayne actually was, with a Bruce seemingly bent on confirming otherwise. The beginning of Children of Arkham transports the player to another historic location in the bat publishing history: the alley behind the theater where Martha and Thomas are robbed and killed. And it is precisely around the murder of the Wayne that revolves the first half of this second episode by Telltale. Their rewriting of the events that joins the many already brought on screen and on paper over the years, and which will begin to outline the dark knight of this series. Obviously there will be no lack of characters introduced in the last episode, with a large space for both Selina and Harvey Dent himself. Children of Arkham is completed in just over an hour but is able, like Realm of Shadows, to drag the player to the credits without any downtime, also offering him two choices that could completely change the course of the story narrated by Telltale (we'll see in future episodes if that really happens).
You fight pretty good for such a pretty boy
Children of Arkham leaves great space for Bruce Wayne once again, but there will be a particular event, one of the two narrative crossroads we talked about above, which will allow the player to act as a philanthropist or as a hooded crusader, bringing different consequences to the plot which in any case will coincide in the final act in which we will be given freedom of action through the "trigger" quick time events already seen in Realm of Shadows. Children of Arkham has fewer stages of investigation, and focuses much more on character interaction and action, once again not making you regret the choice of telling a Batman story via episodic adventure.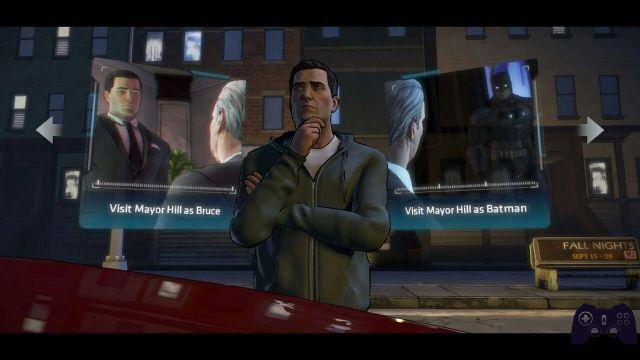 The dance of the penguin
Before focusing on the technical aspect, it is necessary to talk about the figure of the Penguin, now that Realm of Shadows has been available for more than a month and we had the opportunity to interview Telltale itself on the subject at Gamescom 2016. This new representation of Cobblepot is in hand. by hand convincing: especially after his actions in this episode, which see him undertake a certain speech as a future villain of Batman. Similarly we're starting to notice that none of the characters are yet fully defined, and how Telltale is bravely attempting to create a full-fledged masked knight elseworld. We will certainly come back to this topic also in the next reviews, but the work done so far is more than dignified, at least from the narrative point of view.
To learn more:
Holygamerz Interview: Telltale Games
In fact, from a technical point of view, Children of Arkham limps as much (if not more) than its predecessor, going several times to be annoying due to the numerous frame drops that undermine the whole experience. Fortunately, the sound sector (both dubbing and music) is still at excellent levels, offering not only atmospheric music but real exciting moments also from the point of view of acting.
Verdict 7.5 / 10 Bros before Hoes Comment In the course of my "career" as a fan of the batman I have repeatedly seen Martha and Thomas Wayne die, so it's shocking as well as yet another reproduction of the alley scene, this time written by Telltale , has been able to leave the chills on my skin. Not only that, in this second episode there is no shortage of historical characters from the Batman universe and the writing of new versions of some of these continues, which are increasingly convincing as the adventure continues. Children of Arkham confirms practically all the good impressions of the first chapter, giving a second episode that is never boring and that transports the player to the credits in about an hour. Unfortunately, the production limps once again under the technical aspect, with numerous frame drops that undermine practically every scene of the episode. And it is precisely because of these technical problems that Children of Arkham do not get the same vote as their predecessor and are penalized. Pros and cons
✓
Interesting plot choices
✓
Engaging stages of action
✓
Successful music and dubbing
x
Persistent frame drops