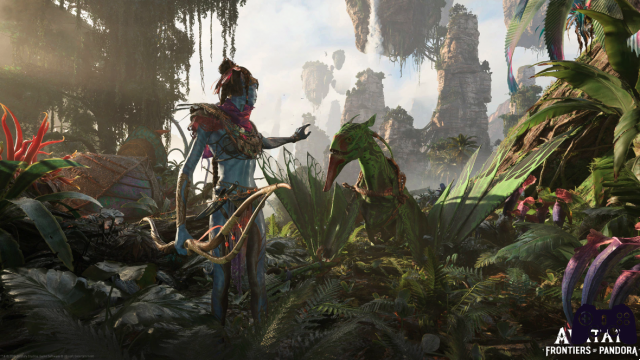 With the ever closer release of Avatar: the Way of Water, a sequel to the famous 2009 film, new details have also popped up about it Avatars: Frontiers of Pandora. All of this was revealed with the publication of the its official page on the PlayStation Store, accompanied by many small news on the new Ubisoft project, which apparently will also be equipped with a Cooperative mode.
Always keeping an eye on the reliability of this new information, we report what is written on the PlayStation Store page describing Avatar: Frontiers of Pandora: "Avatar: Frontiers of Pandora is a first-person action-adventure game developed by Massive Entertainment, a studio of Ubisoft, in collaboration with Lightstorm Entertainment and Disney. Powered by the latest version of the Snowdrop engine and uniquely developed for the new generation of consoles and PC, Avatar: Frontiers of Pandora brings to life the evocative world of Pandora in all its beauty and danger, in an immersive experience in a open. In this new standalone story, you will be a Na'vi on a journey through the western frontier of Pandora, an area never seen before. Explore a living, pulsating world inhabited by incredible creatures and never-before-seen characters, and repel the onslaught of RDA forces.
AVATAR: FRONTIERS OF PANDORA™ PSN Store Page : https://t.co/IKVO4wpD9Q
⬜ Supports up to 2 online players with PS Plus (maybe it's just a place-holder information) pic.twitter.com/8uUeHuPPaq
— PlayStation Game Size (@PlaystationSize) December 11, 2022
The new narrative possibilities offered by the sequel to James Cameron they will certainly play a central role also in the new video game (of which we currently do not yet know a specific release date, also due to the previous postponement).
For now, therefore, we just have to wait for new details regarding Avatar: Frontiers of Pandora, in the hope that this information will prove to be accessible, anticipating an experience that will surely please fans of the film from all over the world.
Before saying goodbye, we also recommend that you drop by on our YouTube channel, where you can find videos dedicated to the videogame world at 360 degrees, with curiosities, goodies and reflections on the sector and the current approach possibilities it offers.