Did you know that an average gamer spends 2 to 5 hours a day sitting in front of a screen? It doesn't seem like it, but at the end of the month they start to be many, especially if the other hours of the day are spent working sitting at the PC. The back suffers a lot which is why it is recommended to have a comfortable seat and above all built according to the rules of ergonomics. A gaming chair that doesn't make you perch like birds on the perch and maybe with an attractive design that doesn't look like grandma's orthopedic chair. For this reason we have created a selection of the best sedie gaming Amazon, chosen for ergonomics, design and functionality.
Before starting, we remind you that we have already created several other articles on gaming chairs, such as that of the best chairs ever, but we also have an article dedicated to the best gaming desks and one to the best gaming desks available on Amazon, perfect products to accompany your new gaming chair. That said, here's our pick of the best Amazon gaming chairs sorted by increasing price.
Black Friday Amazon gaming chair: the best offer
Diablo X-One 2.0, the best for quality-price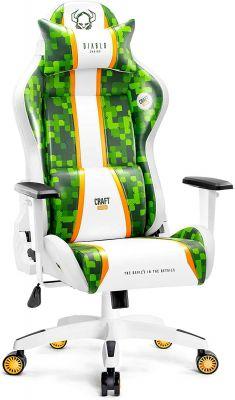 A product that for the price at which it is offered manages to reach a quality seen only in the highest ranges.
Diablo X-One 2.0
is the Amazon gaming chair dedicated to design lovers who want
a fresh and colorful product
, as well as comfortable and ergonomic. The back of the chair is indeed
tiltable up to 140°
, can be adjusted in height and offers
height-adjustable elbow rests
. The coating, in addition to offering a large variety of colors and patterns, e
made with HDS leatherette
. A luxurious type of imitation leather that remains shiny over time, fresh and resists the numerous rubbings due to everyday wear. The inside of the chair consists of a
memory foam cushion that adapts perfectly to the player's body and weight
, preventing lumbar pain and offering an almost perfect sitting. It is also available in several sizes (S, L and XL) to satisfy any type of height and lower back of the user. If you want to play it safe and buy a gaming chair with great quality in both design and ergonomics, this offer from Diablo is the one for you. Only for this
Black Friday
and only while stocks last is on offer with an 18% discount. This means you can take it home
at €239,99 instead of €279,99
.
See on Amazon
Amazon gaming chair, the best
CLP, the economy
DX Racer, the best with back and neck supports
RAZER ISKUR, the best in design
AROZZI VERNAZZA, the best for professionals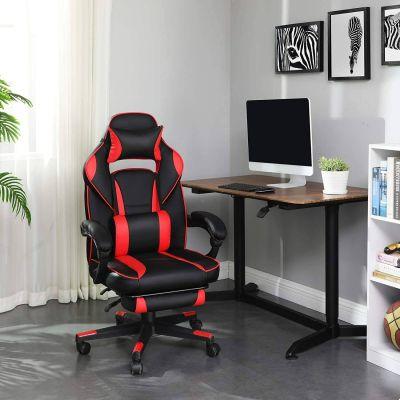 CLP, the economy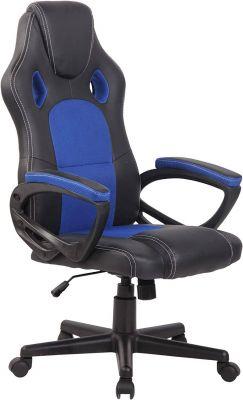 Let's start with
CLP
, a really cheap product (under 100 euros), but no less valid for this. It is a product with
a large and comfortable seat
(50 x 66 cm with 71 cm backrest) perfect for both the office and gaming. It is upholstered in both fabric and
faux leather
, while the seat is filled with a layer of
thick high density foam
, an elastic material that does not deform easily similar to the memory foam that is so fashionable in mattresses and pillows (and it is also good for you, try it for yourself). Thanks to
star support with 5 wheels
the chair holds up to 120 kg in weight very well and can be raised in height by pneumatic lifting of the backrest. Also present i
armrests
(non-adjustable) and a small head support. The backrest is unfortunately not adjustable. CLP is the Amazon gaming chair recommended for those who do not have particular needs for an ergonomic or design tool and simply want to renew their PC station while keeping costs down.
See on Amazon
DX Racer, with back, neck and leg supports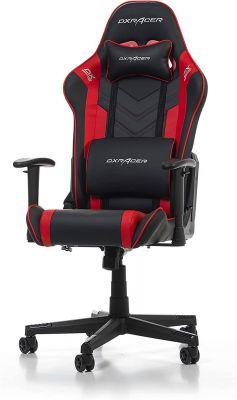 The chair
DX Racer is
dedicated to those in need
posture supports
and to those who like to lie down when playing. In fact, this Amazon gaming chair, in addition to having both the top support to support the neck and the low one at the bottom of the backrest to help the column, offers the possibility of adjusting the armrests in 3 dimensions. Moreover,
the backrest can be reclined up to 135°
(similar to a deck chair). The chair is of course also adjustable in height and can support up to 150 kg of weight. In terms of upholstery, the metal structure of the chair is covered in fabric with faux leather inlays and numerous finishes for a unique design.
Each holder is ergonomically shaped and filled with high density sponge
which then adapts to the user's weight. It's a chair fully dedicated to gamers who want to be extremely comfortable and don't mind taking a nap from time to time, but it's also an extremely elegant product that could brighten up your office.
See on Amazon
Razer Iskur, the best in design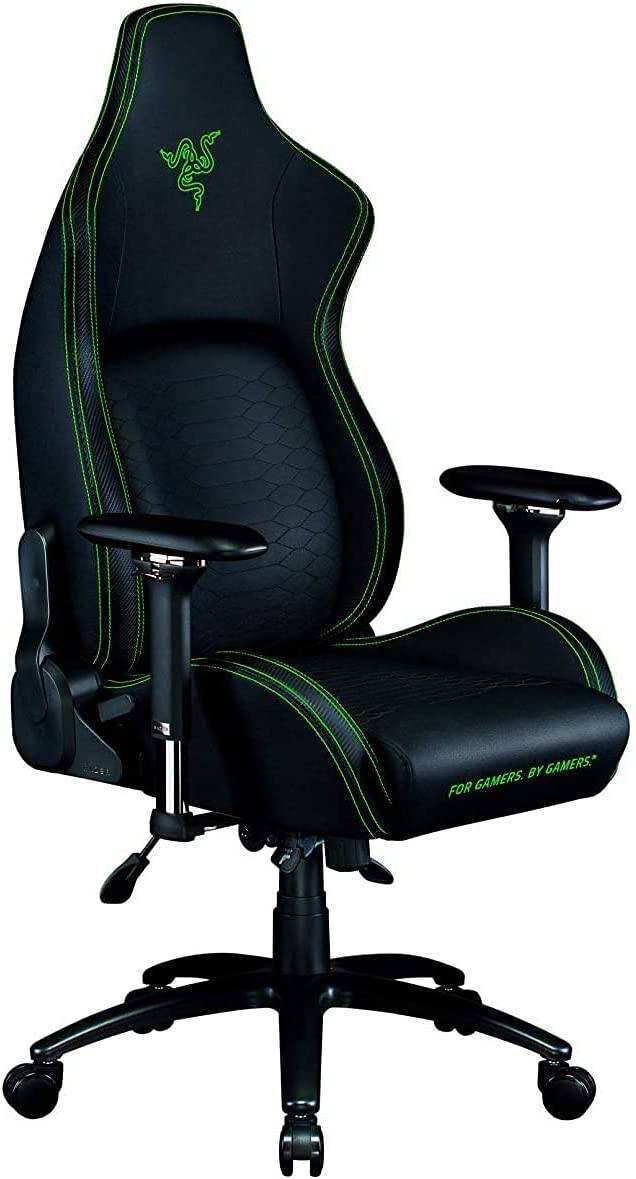 If you are budget conscious and looking for
a truly luxurious and elegant product
we recommend the
Razer Iskur
, a chair that is part of Razer's gaming product series. This gaming chair is also fully adjustable:
the backrest can be reclined up to 150°
, the seat can be adjusted in height and
the elbow rests can be set in 4 sizes
to support the arms in any type of sitting. The materials are exceptional, certified by the great quality of Razer products and coated with
multilayer synthetic leather
elegant and resistant. The same goes for the supports, one for the head and neck and one for the back. These cushions integrated into the chair are shaped and composed of a high density foam
simile al memory foam
that adapts to the player's body. It's really too good a chair not to have in front of your desk. Although it may seem expensive for an average gamer, you have to take into account that it is a product made to last over the years. By purchasing such a chair you can be sure for over 10 years at least.
See on Amazon
Arozzi Vernazza, the best for professionals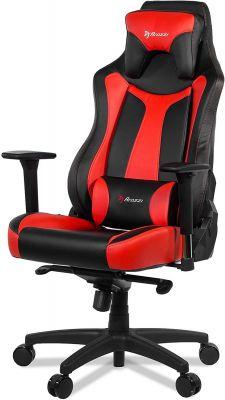 Finally we come to a product recommended for gaming professionals.
Arozzi Vernazza
is a true dream for all esports players,
designed to facilitate the movements of gamers
and make every session comfortable. This Amazon gaming chair is
equipped with both neck and lumbar support
both made up of dense
elastic memory foam
that does not get out of shape but helps maintain posture. The coating, on the other hand, is a
mix of fabric and imitation leather
finely stitched together. Seat and backrest are made of the same materials as the supports and offer the maximum level of adjustment. The backrest can be comfortably reclined and the armrests are also adjustable to support the arms in any position. If you are a professional gamer and you want a comfortable, ergonomic and adjustable chair to follow you in all your endeavors, the Arozzi chair is the one that can help you win every game.
See on Amazon
How to choose a gaming chair
After this selection it is natural to ask yourself "but how to choose a good gaming chair?" This section of our guide is here for that and will help you understand what the essential features which you really don't have to give up, the best materials for each type of player, the perfect adjustment functions and also how to make a targeted purchase while staying within the budget.
Materials
Let's start with materials, gaming chairs can be of fabric, leather or imitation leather or a mix of these materials. If you are one of those players whose armpit is always on a war footing and who sweat rivers just to face a goomba in Super Mario (believe me I know what I'm talking about) then the leather chairs they are to be avoided. Although they are easier to clean and more beautiful to look at than those in fabric, these heat up more easily and in the summer it's like resting your back on a barbecue.
Le fabric chairs they are cooler because unlike leather they do not get red-hot with prolonged use. However, they tend to get ruined sooner and often they are not exactly beautiful to look at. The best solution therefore, to stay fresh and have a design product to keep at your desk, is to choose products from leatherette that offer the best of fabric and leather and are able to stand the test of time. If you want to take a look to better understand the potential of each of the two materials described, we have also created a guide to the best fabric gaming chairs and one with advice on the best leather gaming chairs of the moment.
Of course they also exist hybrid chairs, built with leather and fabric inlays or vice versa. They are an excellent alternative if you are undecided about which material to adopt. You must keep in mind, however, that as the two materials remain, the defects also remain and in some cases you may find yourself with chairs that wear out more in specific points.
Adjustments
The second characteristic to be evaluated concerns the adjustments. To avoid being nailed to the chair like Frankenstein's monster, these must be adjustable in both different height:, to be adaptable to the screen and to your desk, both in inclination, to avoid being too wild and lighten the load on the back. Remember that the recommended height from the ground varies according to your height and must always be between 38 and 55 cm. The back must maintain a 90 degree angle when sitting and the distance between eyes and monitor recommended and between 50 and 80 cm.
Furthermore, it is good that the chair also has an elbow rest that can always be set in height if possible (even if in 4D with 360 degree adjustments it's better). The arms must be supported because the elbow weighs and tends to drag them downwards together with the shoulders and, consequently, the back. A adjustable elbow rest it is essential on a gaming chair to avoid assuming the same position as a tyrannosaurus beating on the keyboard with its little arms.
Then remember that the chair is not enough to save you from back pain and it is necessary to take breaks between one game / work session and another but above all to have a gaming desk to obtain a perfect balance. An ultra-adjustable gaming chair in front of a common static desk it loses most of its functionality because it will always be linked to the fixed height of the desk.
Supports
For maximum comfort, it is perhaps better to spend a few euros more to have the posture supports. Both the lumbar cushion for the back and relieves the load on the spine, both the one for the head that works just like the elbow rests but with the head. After several hours at the PC, the head begins to feel heavy and the neck suffers from keeping it standing in the same position.
Un headrest it helps to reduce the load on the cervical and to rest the neck. There are different types and shapes, from the simple cushion to the more performing horseshoe-shaped one with the alcove for the neck. If you already have a chair don't worry because you can also buy it separately, take a look at these headrests that can be easily inserted on any chair.
Supports can be of two types: integrated inside the upholstery of the chair or removable. Removable ones are better because in many cases you may want to remove them to try out other types of seating or to clean them separately. Those within the padding though are often made with an adaptive foam, similar to pillows memory foam for the cervical that are used in bed. This type of supports adapts, supports and protects the player's balance and posture, helping him to remain in the correct position without effort and making sure that the back grows in the right way.
Amazon Store
You all know Amazon. This guide is dedicated to the best gaming chairs that you can find on the famous Bezos store. We have chosen Amazon because it is synonymous with quality and speed and we have created this selection to provide you with a guide within the immensity of the store. The products offered on the platform are many and you can see gaming chairs of all types, colors and sizes. What we have tried to do with this article is though offer only the best of the best of the store. Often Amazon offers some products that are not exactly the best in the industry, even if they have the "Amazon choice" label. In our selection, however, you will find only the products that really deserve it, so you can be sure that what you will receive at home will be a truly quality gaming chair.
Also, remember that on Amazon there is always the possibility of subscribing to Prime which not only gives you the possibility of receiving the chosen gaming chair with one-day deliveries but also gives you access to a large amount of offers and content. The catalog Prime Video, hundreds of books and comics for the Kindle, all the music you want. All this and more by simply registering Prime service.
Price
We close with an important variable for each product and not just for Amazon gaming chairs. Of course I'm talking about the price since nobody likes sitting in a chair that probably costs more than the computer in front of them. In this case we have selected a wide range of products ranging from cheap chairs around 100 euros to professional products found under i 400 €. Speaking of the former, these are functional products but often made with materials that have low durability and which tend to get damaged quickly, while speaking of the latter, we can tell you that they are the best and most comfortable products you can find on the market. Chairs built to create over 10 years and keep their functionality and materials intact.
The truth (or price quality in this case) lies somewhere in between. If you want to take home a gaming chair worthy of the name, made of excellent materials and fully adjustable, we have chosen some of the 250 € that are able to keep you company for a very long time. They are chairs that have all the functions of a high-end chair and give up just a few gems such as memory foam or some added adjustments such as the 4D elbow rests. However, they are acceptable sacrifices given the much lower price than the high-end or even if you don't want to waste too much time lost in the gaming chair market. The final choice, of course, is up to you and your wallet. But remember that a cheap product pays off in terms of durability, while an expensive product pays off immediately but always remains.