You have decided to buy Nintendo Switch lately and you're looking around looking for alternative joy-cons? In this case, know first of all that you don't necessarily have to choose a device produced by Nintendo, also considering that the Kyoto house, in the four years of the Switch's life cycle, has so far produced substantially a single joy-con model, varying only the colors and patterns (there are countless on the market). Opting for an alternative joy-con can be a good idea in case you want to have access to features different from those of traditional mini-controllers, perhaps with some ergonomic or functional feature not available on the basic models, or simply for save something when buying. In this case, the only solution is to rely on the third-party market, and there are quite a few choices here!
Among the joy-cons customized by this or that company, in fact, you might actually find something that can be as useful as and more than the basic joy-cons, in terms of functionality, ergonomics and comfort or even if you are looking for specific compatibility with certain video games. In the following list, for these reasons, you will find quite varied solutions: each product on the list, as you can easily guess, has its own identity and various peculiarities that differentiate it from all the others. Before starting, if you are interested in altre guide to Switch theme, we point out the one on the best cases, the one on the best accessories and the one on the best covers and skins.
Alternative Joy-Con, the best
Hori Split Pad Pro
Hori joy-con with D-Pad
NexiGo Gripcon
Cover Joy-Con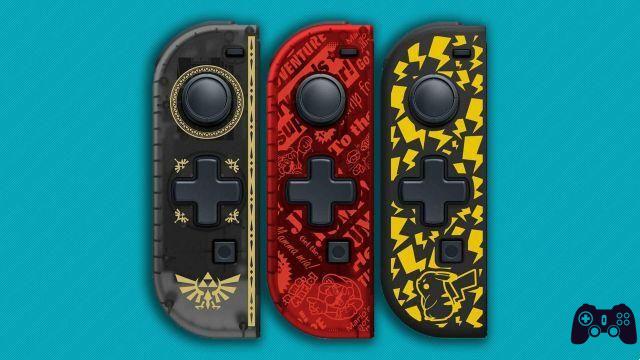 Hori Split Pad Pro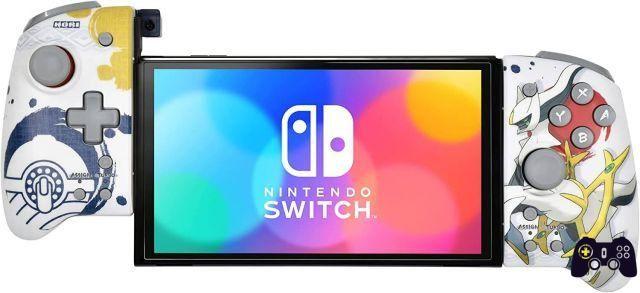 The first controller that we propose is the
Hori Split Pad Pro
, a perfect solution to solve most of the problems of those who often play in portable mode. It is a pair of controllers specifically designed to work in this way, which renounce various functions (for example, they cannot be used via Bluetooth technology to optimize others. Overall, it is one of the best alternative joy-cons commercially, device
perfect to be combined with the standard ones
, which, while more versatile, fail to excel in one aspect in particular as the Split Pad Pro does.
Among other things, the presence of two programmable rear buttons and a turbo function on both sides should be mentioned. Positive is also the fact that the two "mega controllers" of Hori fit seamlessly into the shape of the Switch dock, which allows you to insert the console in its base to recharge it without necessarily having to detach them. The Hori Split Pad Pro is available in many different colors and variations, some of which are branded with a Pokémon or Monster Hunter theme like the one visible in the image on the side.
See on Amazon
See on eBay

Hori joy-con with D-Pad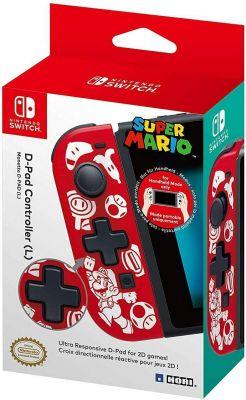 Also in this case we are talking about a Hori product, that is
the alternative joy-cons made by the well-known manufacturer of accessories for Switch
. These too, like the Split Pad Pro, are equipped with
officially licensed by Nintendo
. The biggest difference that distinguishes Hori's joy-cons with D-Pad compared to the original ones of the Kyoto house lies in the D-Pad, which in this case
it is composed of a real directional cross
instead of being split into four independent buttons. Its presence translates into a great advantage for all fans of certain video game genres, and in general for all those people who are not necessarily interested in using the left joy-con as a single controller, preferring instead a better experience in portable.
I Joy-Con con D-Pad they lack some advanced features such as bluetooth connectivity, vibration and the accelerometer, but they have the advantage of being quite cheap, costing about half of their official counterparts. You can find them in several customized editions dedicated to Mario, Pikachu and The Legend of Zelda.
See on Amazon
See on eBay
NexiGo Gripcon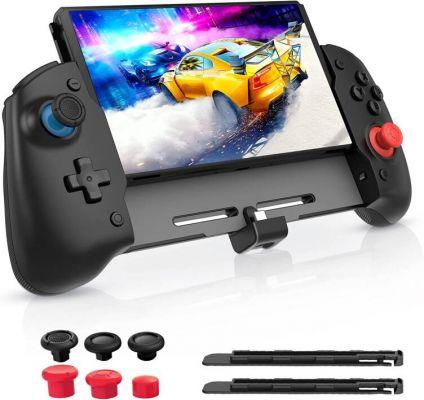 Not too interested in having two separate Joy-Cons but want a more solid grip? Then it is for you
NexiGo Gripcon
, direct grip controller compatible with both Nintendo Switch base and Nintendo Switch OLED. The NexiGo Gripcon, as well as being
completely plug&play
It also supports 6-axis gyro movement and has dual motor vibration function. To make everything even more interesting is the fact that the package, in addition of course to these particular alternative Joy-Cons, also contains
6 replaceable joystick caps.
See on Amazon
See on eBay

Cover Joy-Con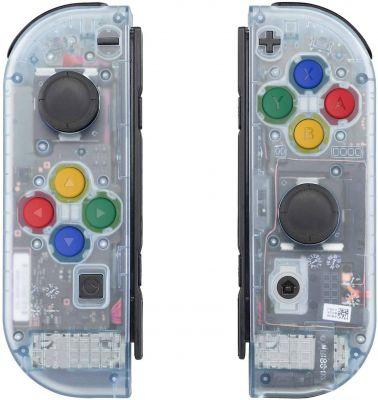 What if we told you that with a little effort and the right tools
you could transform the joy-cons you already have at home
, making them the color that you like best? And we're not talking about simple skins to stick on, but a
real kit
which allows you to completely replace the external plastics of the small Nintendo controllers. The solutions proposed in this sense are many and quite interesting. You will literally have plenty to choose from, with dozens of different possibilities. In this case, these are changes that at the end of the day are mostly aesthetic (even if there are also sets with D-Pad included), but which have another positive side at the base: learning to disassemble your joy-cons, in fact, you might as well take shelter from
any drifting problems
, which have always plagued the small Nintendo controllers, replacing the analog sticks on your behalf!
Important disclaimer, but if you've read this far you'll have already figured it out: these kits DO NOT include joy-cons, but they allow you to personalize yours!
See on Amazon
See on eBay
How to choose the best Joy-Con alternatives for Nintendo Switch
There are multiple reasons why a person might look for alternatives to the traditional Nintendo Switch Joy-Con. Joy-Cons were designed by Nintendo to be as manageable as possible in every way of using the console, without sacrificing the innovations introduced by the remote control of the past Nintendo Wii: in fixed mode these controllers can be detached and used separately or combined in a portable dock to form a sort of gamepad; in portable mode, however, they can be kept attached to the screen to use the hybrid console as if it were a sort of small tablet.
The cost, the shape or more simply the aesthetics of the traditional Joy-Cons can be a hindrance for the hands or pockets of gamers. That's why some companies, renowned or not, have come to the rescue of these needs by presenting valid alternatives to the traditional Joy-Con for Nintendo Switch on the market. Let's analyze in detail the main elements that could represent a valid reason to prefer one type of Joy-Con alternative to another: key layout, ergonomics and additional features.
Key layout
To succeed in its aim of creating small handy controllers that can also be used in portability, Nintendo has tried to concentrate all the keys in the little space available, ending up making the handling of the controllers difficult for those with larger hands or simply longer fingers , like the undersigned who is writing this guide! That's why some companies like Hori came up with the very comfortable Split Pads, useful for playing in portable mode, with more space between the keys, or because less famous companies have thought of ergonomic controllers that offer good comfort even with a more homogeneous distribution of the keys on the body.
Another question regarding the keys concerns that of the D-Pad, a conformation of the directional buttons that for some types of gamers it is more preferable of the traditional D-pad. Hori herself comes to their rescue, but also pay attention to the eXtremerate solutions which, while involving screwdrivers and alternative covers, allow the application of comfortable D-Pads.
Ergonomic spaces and furniture
Always remaining in the comfort field, if on the one hand the Joy-Con kept separately from the console seem like an extension of one's arm, on the other hand in portable mode, especially for those with large hands, they can be uncomfortable after several hours of play. If you are prone to pain and cramps in your fingers after a good session of gameplay in handheld mode, the best solution is definitely Hor's Split-Padi: A traditional gamepad that is exactly split in half to fit the portable screen. The only flaw of this alternative is that it is not usable outside of portability.
Other valid alternatives are all those ergonomic solutions that return to cyclically fill the online stores, even if they offer only some of the many Joy-Con features available. Typically these Joy-Con dummies have reinforced grips and more adaptable shapes for relaxed handling. In any case, you could bring home fully functional controllers for a lower price that can be used in all modes of the Nintendo Switch: portable, fixed and tabletop.
Additional features
Some of the products that we have proposed in this guide to the best alternative Joy-Cons offer more functionality: the same Split-Pads by Hori, for example, install more buttons on the back of the controllers that allow you to apply turbo and macro modes, in order to facilitate actions that would be repetitive. Other products, such as those grouped under the "ergonomic controllers" category, have functions that may vary from product to product such as improved vibrations and plastic supports to facilitate the grip of controllers when adapted as gamepads.
Price
One of the fundamental characteristics in the choice of alternative Joy-Con, as indeed in that of any other product, is certainly that relating to the price. In fact, alas, base money is always and in any case one of the main drivers, which, like few others, can direct a choice or a decision.
As often happens, moreover, even in this case the price can vary a lot, based on a long series of factors, such as the manufacturer brand or the materials of the product. For a couple of alternative Joy-Cons that allow you to play with your Nintendo Switch, you can find yourself spending figures ranging from around twenty euros up to exceeding the fifty threshold. Our advice, to avoid spending money unnecessarily, is therefore to understand what your budget is and, moreover, also what your needs are. If you are only looking for alternative Joy-Con to act as a forklift, for example, it is useless to spend too much.
Marche
When you find yourself having to choose alternative Joy-Cons, i.e. not produced directly by Nintendo, one of the main aspects to take into consideration is that relating to product brand. Although for many having one name instead of another can make little difference, it is instead an aspect that should not be underestimated.
Relying on unknown brands, in fact, could lead you more easily to buy poor quality devices and, consequently, to throw away money. Leaning towards well-known brands, on the other hand, gives you much more a certainty of reliability and also greater guarantees for assistance in case of need. Obviously this doesn't mean that you have to snub everything you don't know: if something inspires you but you don't know the brand, it will be enough for you to a short and quick tour on the internet to find out more.
Design
Although it is certainly not one of the first aspects to take into consideration when choosing your own alternative Joy-Con for Nintendo Switch, it is still a good and right thing to also take a look at what the product design. Choosing something with a shape or motifs to your liking, in fact, will give an extra quid to the product, while an unfortunate choice in this regard could worsen the appeal of the device.
In short, take into consideration what the aesthetic aspect of the alternative Joy-Con you have chosen is, but absolutely do not base your choice only on that. Balancing product quality and personal aesthetic tastes, moreover, you will see that it will not be too difficult or complex.