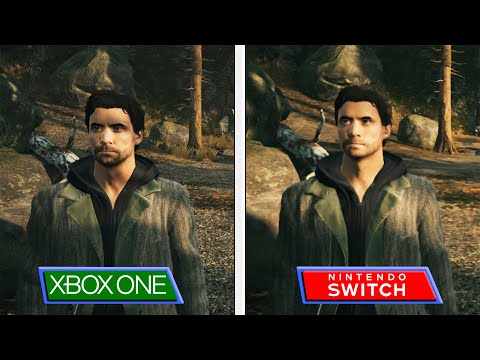 With the shadow drop two days ago, Remedy Entertainment made a welcome surprise to all fans of Alan Wake on Switch. However, it seems that the adventures of the writer created by the Finnish studio are quite complex on the Nintendo console. From a video comparison, in fact, we learn that the performance of the title on the Japanese company's portable machine is rather unstable and cannot hold a candle to the Xbox counterpart.
As we can see in a video comparison by ElAnalistaDeBits, the resolution of Alan Wake on Nintendo Switch is in fact equal to 594p when the console is connected to its dock. When we disconnect it to use it in portable mode, this resolution drops further until it reaches 396p. Obviously, in this case, the comparison with Xbox One is quite skewed.
However, the biggest problem with this Alan Wake Remastered is in the aspect of the frame. In fact, compared to that of the Microsoft console, the frame plane of the Nintendo Switch version is rather unstable. In fact, Remedy's horror game usually fluctuates around 20 fps and almost never holds the stable 30. Despite some graphic compromises already made by the developers, therefore, this new version becomes rather unstable in some phases of the gameplay. Furthermore, precisely, the waivers in terms of definition put into practice by the team lead to a consistent loss of detail in the scenarios that mainly involve distant objects. Many textures of buildings or environmental elements are poorly defined and rather sketchy.
In short, once the enthusiasm for the surprise launch has been disposed of, it seems that Alan Wake Remastered risks having rushed the times too much and still being immature. Probably, with the necessary adjustments and times, Remedy will be able to solve these shortcomings, but problems of this kind risk jeopardizing the sales of the title. In any case, while waiting for the second chapter, we can only recommend the remastered that you can find on Amazon also for PlayStation 5.