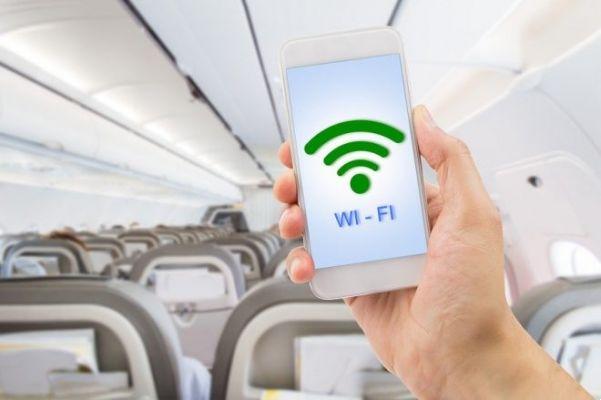 All modern mobile devices have it, be it cell phones, tablets or even laptops and computers, but what does it do and where does it come from exactly? Today we will explain what it is and when you need to activate airplane mode on your device.
We will start by explaining in a simple way what offline mode exactly is and what it does. Then we will explain when it should be activated, with particular attention to why they ask to do so during flights.
What is airplane mode
Airplane mode on your mobile device is a type of setting that you can activate at any time and which is usually present in the device shortcuts. When you turn it on, airplane mode disconnect all wireless connections from your device. Almost like it's turned off, but still able to use it offline.
This means that when you have activated airplane mode, you will not be able to send or receive SMS messages or calls and you won't even be able to connect to the internet. The mobile GPS is also turned off and neither NFC nor other connectors work. Bluetooth will also be disabled and you will no longer be able to use devices connected by this technology.
You can use the installed applications, but they will not be able to use any functions that require an Internet connection. And if this connection is needed, like a cloud app, it won't work directly. You can only use data already on your phone, such as photos you've taken or videos or music you've downloaded for offline viewing.
The name of this mode derives from the bans that existed years ago that prevented the use of the device during flights, prompting manufacturers to design this alternative. However, today it can be used for other purposes, such as simply wanting to log out of everything while still using some mobile functions
When to activate airplane mode?
Airplane mode is designed not to use the mobile phone on an airplane, although over the years, organizations have become more permissive about the use of cell phones on the plane. Without going any further, EASA or the European Commission allowed him to fly without activating it in 2014.
But one thing is what the organizations say and another thing the airlines say, which are the ones who have the last word and usually don't have an opinion like EASA. This means that in most cases you will continue to be forced to activate airplane mode on flights, and so it's still a function to use.
And why are we still forced to activate it? Well, to facilitate clear communication between the flight crew and the flight controllers and that it is not interfered at any time by the signal from our cell phones. Even so, many pilots argue that cell phone use during a flight does not cause any interference with the plane, but even so the airlines have the final say and we must obey when they ask us to turn it off.
In any case, even with the airplane mode activated, it is possible to deliberately connect the WiFi in case you are on a flight that offers it, so that you can use your mobile phone to navigate while keeping the rest of the sensors active.
In addition to the rules on flights, there are also other contexts in which it can be useful to activate this mode. A personal example is when at night you don't want no one to wake you up with a call, but you want to be able to check the time on your mobile. You can also use it in meetings and any other context where you want your device not to beep.
Enabling offline mode on your device allows you to:
Prevents the phone from sending or receiving text messages or voice calls. This is because airplane mode prevents the phone from communicating with cell towers.
Disconnect the phone from a WiFi network. With this mode activated, your phone will stop searching for WiFi networks or will even try to join them.
Disable Bluetooth on your smartphone.
It may also disable the GPS functions of your smartphone.
How to take Android mobile phone offline
To enable on your Android device, follow these steps:
Swipe down twice from the top of the screen to open the panel Quick settings. Alternatively, you can swipe down once using two fingers.
Search for Airplane mode option in the grill. If you don't see it, you may need to swipe sideways to access other icons.
Tap it and your phone goes into airplane mode.
Repeat these steps to disable airplane mode. Note that your phone may take a moment to reconnect to Wi-Fi and cellular data after exiting airplane mode. If your phone doesn't have this link for some reason, you can turn airplane mode on Settings> Network and Internet> Airplane mode.
How to activate iPhone Airplane Mode
You can access Airplane Mode via Settings o Control Center. You will find it at the top of the Settings, but it is more convenient to use the Control Center switch in most cases.
To open Control Center on an iPhone with Face ID, swipe down from the top right corner of the screen. If your iPhone has a physical Home button, swipe up from the bottom of the screen instead. Once open, tap the button with an airplane symbol.
You will immediately see the carrier settings disappear, along with the internet signal and reception. These will be replaced by a small silhouette of an airplane in the status bar.
How to activate Airplane mode on Windows and Mac
On Windows 10, you can turn on airplane mode through the Action Center. Awards Win + A or click the notification bubble icon in the lower right corner of the screen to open it, then look for the switch at the bottom. As it turns out, macOS doesn't have a dedicated airplane mode option.
Read also: Best Antispyware for Windows PC
Further Reading:
No service on iPhone, how to fix
Moto Z2 Force - Wifi not working - What to do
IPhone power saving mode, how it works
How to read WhatsApp messages secretly
How to reset network settings on your iPhone