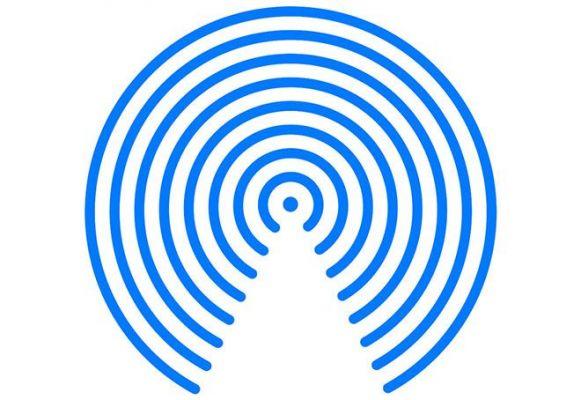 Do not despair if AirDrop does not work, only death there is no remedy. AirDrop is the easy-to-use direct file sharing protocol built into iOS and Mac OS X that allows you to send and receive files between iPhone, Mac, iPad and iPod touch.
Although AirDrop works normally without problems, sometimes there can be problems with AirDrop and in the worst case AirDrop doesn't work. If you find that AirDrop isn't working at all, read on for some tips on how to fix it so you can easily share files wirelessly between iOS devices.
Before anything else, be sure to update your iOS system software, as the latest versions include bug fixes that can directly fix the problems you are having with AirDrop.
You can update iOS by backing up your iPhone, iPad, or iPod touch, then going to Settings> General> Software Update and choosing to download and install an available update if you find it.
Also, if AirDrop does not show up in iOS Control Center it is because the feature is not enabled, but sometimes it is more complex than that, in this case the following troubleshooting methods will help to fix the problem.
AirDrop not working? Here is the solution!
When AirDrop doesn't work on iOS, the AirDrop button often doesn't do anything, or sometimes if the feature is on, the device doesn't appear to others nearby. In these situations, try the following remedies:
Open Control Center and disable Bluetooth and Wi-Fi on iPhone, iPad or iPod touch (this is temporary).
When the device turns on again, open Control Center again, this time click on the "AirDrop" button.
Choose "Everyone" from the list of people to send AirDrop to (you can choose AirDrop only for contacts if you want and you know for sure that the person you want to interact with with AirDrop is in your contact list, but using Everyone is much more reliable for troubleshooting): This will automatically turn on Bluetooth and Wi-Fi.
Now try using AirDrop via Share again, it should work fine.
Once you are done using AirDrop we recommend that you go back to the Control Center and disable the feature, otherwise the device will still be available to anyone looking for it (not disabling AirDrop for Everyone has led to some cheating in the bars and public libraries, as I'm sure you can imagine, so it's best to disable or go back to Contacts Only when you're done transferring with the protocol).
This Shutdown, Restart, and AirDrop Everyone trick has solved AirDrop sharing problems for iPhone and iPad for a long time, is reliable, and almost always works assuming iOS devices are running modern versions of the software, that there are no hardware issues (i.e. , the iPhone was not submerged in salt water) and that restrictions are not enabled for AirDrop.
Remember, if AirDrop doesn't show up, it's probably because it's been disabled in settings. This too has a simple solution, albeit separate from the troubleshooting here.
AirDrop not working between iOS and Mac OS X?
Using AirDrop between iOS and Mac OS X should work perfectly fine as long as the devices (both Mac and iPhone, iPad or iPod touch) are close to each other, running current versions of iOS and MacOS respectively X, and assuming they all have the function turned on.
If all of this is true and you still find AirDrop not working on iOS when you try to send or share on a Mac, try putting the Mac in AirDrop compatibility mode, which may fix the problem with some particular hardware.
Likewise, if you regularly use compatibility mode, try exiting and returning to normal AirDrop mode on your Mac to make sure a connection can be found. Sometimes it's just a matter of trial and error when sharing between the two Apple operating systems.
Another thing to note, even though the devices will enable both Wi-Fi and Bluetooth, the devices don't actually have to be on a Wi-Fi network for AirDrop to work. This is because no network is required with AirDrop as it creates an instant temporary ad-hoc network on the fly between, for example, two iPhones or an iPad and an iPhone or an iPhone and a Mac running Mac OS X.
Having other problems with AirDrop? The solutions we wrote to you AirDrop not working as expected? General AirDrop troubleshooting questions or suggestions? Let us know in the comments.
Further Reading:
How to use AirDrop on your iPhone
7 solutions for when AirDrop is not working on Mac
How to disable and delete Siri history on iPhone and iPad
What is AirDrop? How does it work?
How to fix AirDrop not working from iPhone to Mac