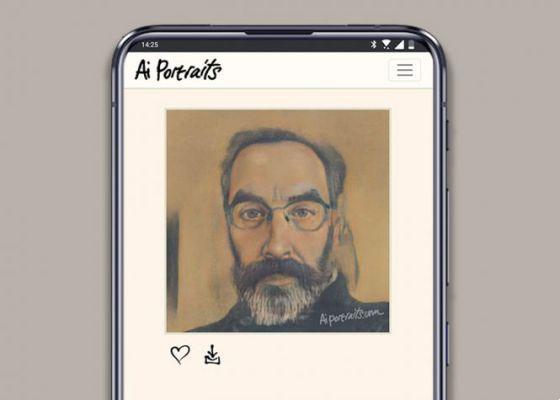 With FaceApp on everyone's lips almost three years after its launch, and its terms of use and privacy in the spotlight, a team of researchers from the MIT-IBM Watson AI Lab is willing to steal the visibility from today's fashionable application and reach the millions of people who never stop flooding social networks with images of imaginary elders. How? Turn your face into a work of art.
AI Portraits Ars is a new web application capable of create 4K resolution portraits from a photograph, intelligently generating colors, shapes and lines to give the portrait the style that best suits the characteristics of the image provided.
Like other tools of this type, AI Portrait Ars relies on artificial intelligence to edit photographs.
According to its creators, the model was made up of tens of thousands of works - around 45.000 to be exact - from the Renaissance to contemporary art.
It causes the images provided to be transformed into works that simulate oil or ink paintings, in which the colors, shapes and even the background of the image will be completely redesigned to the point of adopting an absolutely unique style.
A feature that differentiates this tool from others like FaceApp, in which instead of generating a totally new image, the basis and functionality that the AI ​​model has learned during its training period is taken.
With AI Portraits Ars, anyone can use GAN - Antagonistic Generative Network - models to generate a new work, in which the facial lines are completely redrawn.
The model independently decides which style to use for the portrait. The details of the face and background help direct the model towards a style.
In style transfer, there is usually a strong color shift, but the characteristics of the photo do not change. AI Portraits Ars creates new forms, instead of altering the style of an existing photo.
The operation is simple: just upload an image - from the gallery or via the mobile camera - and after a few seconds, the application will offer the finished work available for download. The website also offers the possibility to create an account and log in to save all the works generated by the images or where to store your favorite portraits.
What about privacy? The researchers charged with bringing this tool to life point out that, although user photos go through their servers before generating each portrait, they will not be used for any other purpose in addition to that of the creation of the works, e all photos are deleted as soon as the process ends.
But if you still don't like the fact of uploading your own photos, the creators of the tool also offer an optimized alternative for working with celebrity images.
Read also: "Transparent" wallpapers for everyone: the inside of your phone as a background thanks to iFixit
Further Reading:
Is FaceApp safe to use? And what does it do with my data?
How to become a woman or a man with FaceApp
FaceApp doesn't install malware on your phone, but its fake clone does
Five apps to create emojis with your face on Android
Turn your TV into Smart TV for only € 25 with Amazon Stick TV