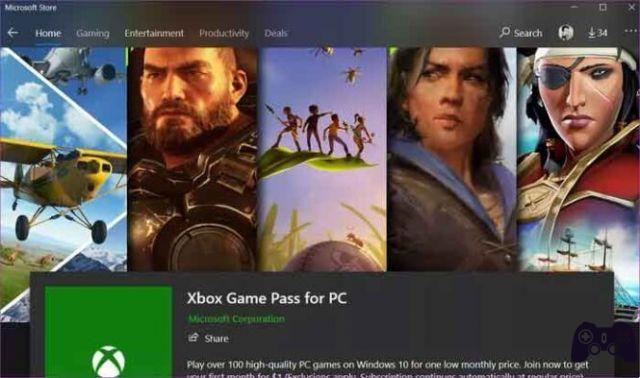 Microsoft's Xbox Game Pass is a subscription service from the personal computing giant that aims to revolutionize the PC gaming industry. You will have many burning questions if you are new to gaming or just the world of Xbox Gaming Pass. We will answer all your questions today in this guide. They want to become the Netflix of the gaming world and if given enough time, they could be successful. Microsoft has multiple subscription plans in place, and Xbox Game Pass is an affordable deal. It's hours of game content with the promise of new titles being added all the time.
How much does Xbox Game Pass cost per month
There are three plans to choose from and they are quite easy to select. There is a plan for PC gamers that will cost you € 9,99 per month with the first month billed at an introductory price of € 1. The second plan called Console offers the same benefits at the same price but for users of the Xbox console. Both plans give you access to over 200 games, including AAA and indie titles, same-day access to Xbox Game Studio titles as a release date, and exclusive offers for members.
The Ultimate plan will cost you € 14,99 and will unlock access to games on PC, console and even Android. It is very useful if you have access to a console and also love to play on your smartphone. You can also access Xbox Live Gold and EA titles listed in Play. The introductory offer of € 1 will last three months instead of just one which is just the icing on the cake.
How Xbox Game Pass works
There are two ways to use it. You can download a dedicated Xbox app that is currently in beta. You can find it in the Microsoft Store or download it directly using the shared link below.
Any game available on the Xbox app is also available directly on the Microsoft Store, however, it is not currently possible to filter the available games by platform.
This means that you will see all games available on Windows and Xbox. If a game is available exclusively on Xbox, you'll still see it. Instead, we recommend that you download the Xbox app and stop wasting time with titles you can't play on Windows computers.
Download Xbox for Windows
How many games are there in Xbox Game Pass
At the moment, there are more than 200 titles with big names like Gears 5, Forza Horizon 4, Sea of ​​Thieves and others. Xbox has created an entire catalog where you can search and filter results based on niche and maturity ratings, among other factors.
Keep in mind that just like movie titles on Netflix, games on Xbox Game Pass are added regularly and leave the platform as well. Fortunately, they have a dedicated filter called Recently Added and Coming Soon to find these gems. The total number of games will vary at any given time, but should only increase over time.
How many devices in Xbox Game Pass
As noted by Leo G, it is currently not possible to share your Xbox Game Pass with multiple PC users. This feature only works on Xbox One and requires Xbox Home functionality.
The only way to do this is to use the same Microsoft account on all devices, as one Reddit user discovered. For some reason, the Xbox team isn't clear on this and hasn't mentioned the device limitations anywhere on the site yet.
How to cancel your Xbox Game Pass subscription
Do you think it is too expensive for you? Not a regular player or do you prefer to buy and own titles? All subscription services are listed in your Microsoft account. You will find listed all the services you are subscribed to.
You can visit Manage under Xbox Game Pass to cancel your subscription.
How to play on your phone using Xbox Game Pass
You will need an Xbox Game Pass Ultimate subscription to access and play the games on your smartphone. You can not only download games to your phone but also other connected devices like a Windows computer and Xbox console. And then some missions will earn you rewards for completing them. Due to the restrictive nature of the Apple ecosystem, only limited features are available on iPhones and iPads. You can complete missions but you can't play games like on Android.
Download the app using the link below and install it on your phone. Connect the controller to your Android phone and now you can instantly play from over 100 titles anywhere, on the go.
Download Xbox on Android
Download Xbox on iOS
How to get Discord Nitro with Xbox Game Pass
Discord has partnered with Microsoft to offer its free Nitro premium account for three months, and the offer runs until January 15, 2021 (23:59 UTC). The Nitro Upgrade Code will only be available to Xbox Game Pass Ultimate users on the Xbox Game Pass> Perks tab.
Open the promotion and click the Request button to reveal a Redeem button. Click on it to start the redemption process and follow the on-screen instructions.
One pass for everything
Huge selection of free PC games divided by category
Xbox Game Pass offers amazing value, especially the Ultimate plan, which lets you play on the go using just a controller and your Android phone. I would recommend buying a high-end smartphone that can handle games and deliver crisp images with a higher refresh rate display. Otherwise, get yourself an Xbox Game Pass for PC, which is cheaper and will work on your Windows computer.
Further Reading:
How to record Windows 10 PC games without installing programs
How to install IPTV on Xbox One and Xbox 360?
How to get credits in Rocket League
How to Record Windows 10 Desktops Without Programs
How to connect the Nintendo Switch to the laptop