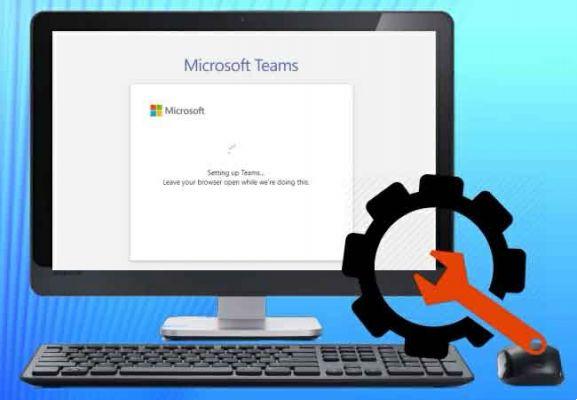 Microsoft Teams has come a long way since its inception and continues to add new features to its product all the time. However, the old features continue to give users problems often. One of the main features is the ability to share screen, but some users complain that Microsoft Teams does not allow screen sharing.
There may be a few reasons behind this problem as we will discuss below. Much will depend on the platform you are using to log into Microsoft Teams and share your screen. We'll cover all platforms so you can share a screen on Teams by the end of the article.
How to sign documents in Microsoft Teams
1. Change platform
This is for those Microsoft Teams users who are using an old computer / mobile with insufficient resources. Close all open / background apps on Windows to free up RAM and CPU. Windows 10 users can close background apps using Task Manager. Right-click the app to select the End task to shut it down option in the Processes tab.
2. CPU resources
People using an old computer / mobile device with insufficient resources should pay attention to how much Teams consumes. You should close all open / background apps on Windows to free up some memory and processor resources. Windows 10 users can close background apps using Task Manager. Right-click the app to select the End Task option to close them on the Processes tab.
Smartphone users can close open apps. Another way to free up system resources is a simple reboot. Don't forget to save all your work before doing this.
How to add a custom background to Microsoft Teams
3. Sharing enabled
Much will also depend on the screen sharing settings you've selected within Teams and the type of app or window you're trying to share with your colleagues.
Have you made a custom policy? If so, go back to it and make sure screen sharing is enabled in settings like this.
The option is enabled by default for most users no matter what plan you are on, but I recommend that you check the settings once.
4. Screen sharing options
Microsoft allows you to share your screen in different settings. For example, you may want to share only a particular app or window while keeping other open windows / apps hidden. There is also a dedicated option for PowerPoint.
Do you share a presentation? Choose the correct setting from the drop-down menu and see if you can share your screen in Microsoft Teams now. Just click the Share button to select the correct option and you are good to go.
How to download and use funny wallpapers with zoom
5. Screen resolution
As several users have recently discovered, there appears to be a resolution issue with the desktop version of Microsoft Teams. Reducing the screen resolution by a notch seems to fix the problem for now. Hope Microsoft releases a fix soon, but until then, do the following.
1 pass: Right-click anywhere on the desktop and select Properties. You can now change the resolution under the Display heading.
Make a note of the current settings in case you want to change them again. However, the Recommended option is usually the way to go.
6. Clear cache and data
This will immediately log you out of the Teams app if you're clearing an app-specific cache. In some cases, it will disconnect you from all open apps. Again, save your work before moving on.
You can easily clear cookies and cache single site data on Chrome or any Chromium-based browser. You can also do this from the settings and work with other browsers such as Firefox and Safari. Simply search for Teams in the search bar where the privacy options are hosted.
There is no way to clear cache or data on Apple devices like iPhone and Mac. However, you can clear Teams cache and Android data.
For Windows
Step 1: press Windows key + E to open File Explorer. Type the address below in the address bar above.
%appdata%MicrosoftteamsCache
Step 2: you will need to delete all files in this particular folder. Press Ctrl + A to select all and the Delete key to delete them.
Step 3: you'll repeat the same process and delete the files for these Teams folders as well.
%appdata%Microsoftteamstmp
%appdata%Microsoftteamsdatabases
%appdata%MicrosoftteamsGPUCache
%appdata%MicrosoftteamsIndexedDB
%appdata%MicrosoftteamsLocal Storage
Check if you can share your screen using Microsoft Teams now.
7. Teams Policies
Are you part of an organization? If so, you can only share your screen if your administrator has allowed it in Meeting Options> Privacy Settings. "Who Can Present" should be set to "Everyone".
Another thing to note here is the type of screen you can share. The admin can decide whether users can share an app or an entire desktop. This is controlled by Meetings> Meeting Policies. The administrator will need to create a new policy by clicking Add and then selecting the correct option from the "Screen Sharing Mode" drop-down menu.
Note that there are separate toggle options for the Whiteboard app and PowerPoint.
Much depends on your administrator deciding who is allowed to do what and how. Let your administrator know that you have something important to share in the next meeting.
Teamwork is essential
While working from home is the new normal, apps like Teams play a key role in helping with the transition process. While you can host or attend meetings professionally, you can also meet your colleagues around the world.
The teams are doing a good job and the occasional hiccups like the one you are facing are part of the process. Hope you can now screen share using Microsoft Teams and everything works smoothly. Let us know if you find a different solution in the comments below.
Further Reading:
How to block contact in Microsoft Teams
How to install and use Microsoft Teams on Fire Stick
What is Microsoft Teams?
8 solutions for when Microsoft Teams screen sharing isn't working
How to install and configure Microsoft Teams for Mac