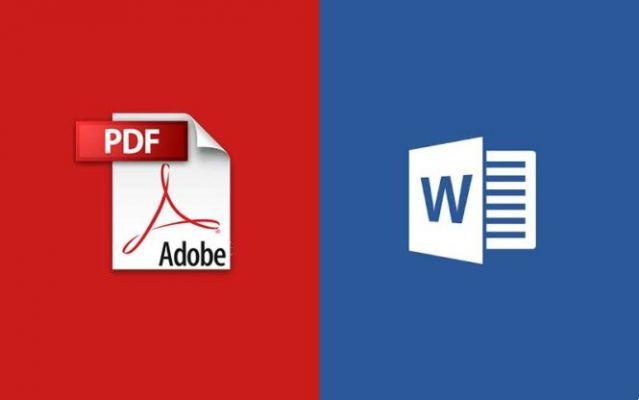 It often happens that the forms to be filled in or administrative documents today are in PDF, thus preventing any modification of their content. Unfortunately, there is no native way to convert a PDF to a Word file on Windows or Mac. However, below is a list with the various methods to help you convert a PDF file to Word the easy way.
The method you will read below differs from person to person. There are some people who want it with these documents and need to convert PDF to Word very often, then there are those who need it once, and are looking for a program to convert PDF to Word for free. Let's start with Adobe's default solution.
How to scan multiple pages into one PDF file
1. Convert PDF to Word online via Adobe
Adobe offers a program to convert PDF to Word online for free on Windows and MAC, which can be very useful if you want to convert PDF files. This web-based tool is available on Windows, Mac, ChromeOS and Linux. While it's free, we recommend that you avoid converting PDF files that may contain sensitive data. Follow the steps below.
Visit the Adobe online conversion tool on your desktop.
Select the file and import a PDF file from the device memory.
Each PDF file you select for conversion will be uploaded to Adobe Cloud.
Let Adobe go through the conversion process and your Word file will be ready for download in a minute.
Press the Download button and save it.
While this online tool works quite well, it might mess up the formatting of a few things, and you might have to spend a little extra time fixing them in Word.
The 5 best PDF editors for Mac
2. Convert PDF to Word via Word
If you have a Microsoft 365 subscription, you can use the Word app to convert a PDF file to multiple formats. In fact, a Microsoft 365 subscription is required to import and edit a PDF file. Follow the steps below.
Browse and locate the PDF file on Windows or Mac.
Right-click on it and open the file using Microsoft Word software.
You can make any necessary text changes before exporting the file.
Go to the File option in the menu bar and select Save As.
From the following menu, select the export file format option and choose Word Document (.docx). You can also export a PDF file in plain text or HTML format.
Click the Save button and successfully convert a PDF file to a Word document.
The method works on both Mac and Windows.
How to password protect PDFs on Mac, Windows and the web
3. Small PDF
Small PDF is one of the best PDF editors for Windows and Mac. It offers rich options to convert PDF to Word online for free, the ability to sign a file, highlight text and more. It's simple, easy to use, and packed with features, with just the right amount of options in the right place.
Using Small PDF, you can easily convert a PDF file to various formats. Follow the steps below.
Locate the PDF file on your device.
Visit the Small PDF PDF converter tool on the web.
Import the PDF file using the Choose File option.
You can also import a file from Dropbox or Google Drive cloud storage.
Select Convert to Word from the following menu.
Within a minute, the file is ready for download.
The Small PDF home page is neatly divided into 21 categories for editing a PDF. From the home page, you can edit a PDF, convert it to other formats, sign a PDF, split a PDF, and more. You don't have to go through hundreds of options to get things done.
4. SODA PDF
Soda PDF is another powerful web-based PDF editor. Soda PDF recently received a welcome makeover. It has been modernized. All relevant options are divided into eight categories on the home page. The edit menu is simple and offers the most basic options like adding text, image, adding a shape and drawing on a PDF.
Follow the steps below to convert a PDF file to a Word document.
Visit the Soda PDF online converter tool on the web.
Import a file from your device.
Hit the convert button and the service will convert your PDF file in less than a minute.
To conclude
Microsoft 365 subscribers should use Microsoft Word to convert a PDF to Word. Others may opt for online PDF conversion tools like Soda PDF, Small PDF, or Adobe's online tool.
Further Reading:
How to convert Word to PDF on MAC, Windows, Android and iPhone
How to convert a Word document to a JPG OR GIF image
4 ways to convert PDF to PNG on iPhone
How to convert PDF to Word or ODT online and without installing anything
How to Put a Picture Behind Text - Microsoft Word