Together with our guide on the best 4K monitors for PS5 and Xbox Series X | S to buy, it seems more than right to also deal with a lower resolution, but no less qualitative. Among the vast choice of 4K panels, there are many gamers who prefer to find a middle ground that still allows them to enjoy a visual that remains impactful. To cater to the needs of these players, there are a whole range of 2K monitor, with a resolution of 2560×1440, very convenient and with excellent quality that you can buy at great prices on Amazon.
It is right to start with a premise to underline. Each 2K monitor has its own characteristics which differ in brands, models and various unique or sometimes recurring characteristics. Measurement in inches, for example, is one of the first things to take into account, especially if you don't have much space on your desk. Now that we've outlined these features to keep in mind, we can begin with the list of best 2K monitors for PS5 and Xbox Series X|S, but if you are also interested in 4K OLED TVs for playing, find the guide at this address.
Best 2K monitors for PS5 and Xbox Series X|S
LG 27GN850 UltraGear, the fastest
Samsung Odyssey, the curved alternative
ASUS VG279Q, the cheapest
HP OMEN 27i, the most elegant
AOC Gaming 27G2U, the most versatile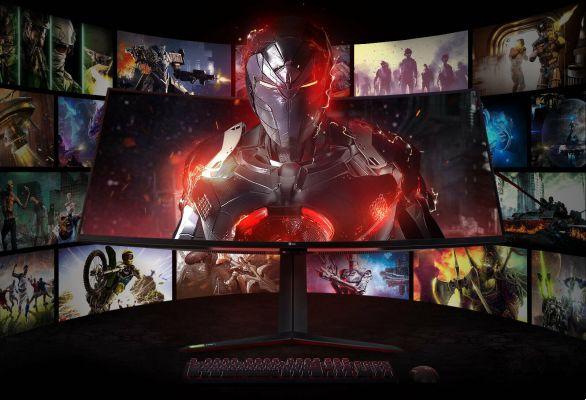 LG 27GN850 UltraGear, the fastest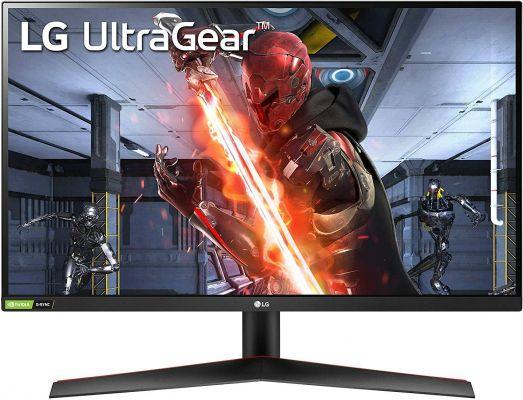 Let's start our list of the best 2K monitors for PS5 and Xbox Series X|S with the LG 27GP850, 27-inch and with an IPS-type panel. It is one of the monitors with the highest refresh rate among those on the market since it is 180 Hz, while the response time is the classic 1 ms. The images will then be transmitted with an ultra-fast speed, and thanks to the compatibility with G-Sync and AMD FreeSync Premium also the effects of tearing, lag and stuttering will be minimized, for extremely fluid gameplay.
Thanks to the panel Ultra Gear, your performance during gaming sessions will always be at its best. If you don't have an exaggerated budget available, this solution will allow you to play with your new generation PlayStation 5 and Xbox Series X|S consoles by making the most of the features of this screen. In addition to the FreeSync function, this LG panel also has HDR technology in itself, which offers a visual appearance with more vivid and realistic colors in any game situation.
See on Amazon
See on eBay
Samsung Monitor Odyssey, the curved alternative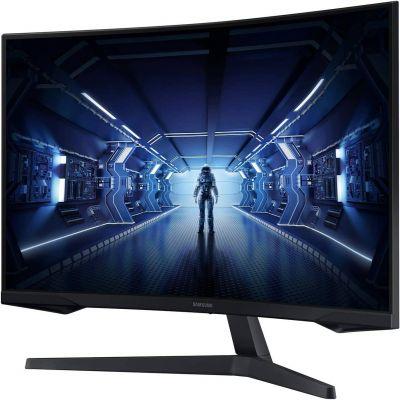 We continue with the
Samsung Monitor Odyssey,
which provides a series of features that will make your gaming sessions of the highest quality. This curved panel is available in three sizes: 27″, 32″ and 34″, all three with features and functionality more than suitable for gaming. If you have recently purchased one (or both) of the new generation consoles, start thinking seriously about adding this 2K panel to your new machines, so you can better experience the game worlds you're going to explore.
This monitor has a refresh rate of 144Hz and a response time of 1ms, for which every gameplay will be fluid, even the most intense and lively. It's also compatible with AMD FreeSync Premium, further reducing tearing, stuttering and input lag. In short, you will be able to play anything without worrying about lags and dropped frames, but only having to worry about admiring the fantastic screen. In fact, the panel has an extraordinary resolution with HDR technology, which will make bright whites and ultra-deep blacks.
See on Amazon
See on eBay

ASUS VG279Q, the cheapest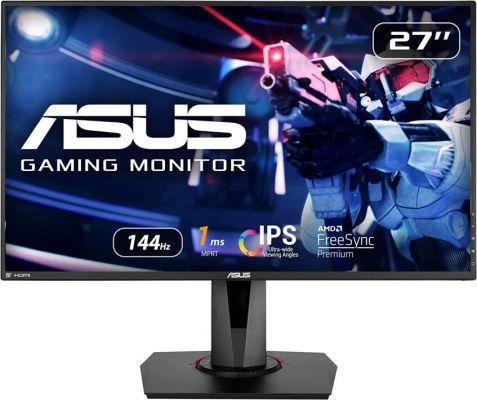 We then move on to the Asus VG279Q monitor, which features a 27-inch Full HD display and designed specifically for intense and dynamic games. In fact, it will guarantee you extremely fluid gameplay thanks to the 144Hz refresh rate and a response time of just 1ms, which will not make you miss a single frame.
The display is also equipped with ultra-low light technology, a filter that will help you rest your eyes in night sessions. In addition, the panel enhances image detail during dark scenes by brightening them to avoid the "black screen" effect that so often occurs while gaming. Finally, there are two dual-link DVI-D, DisplayPort 1.2 and HDMI ports, so you can connect all your devices easily.
See on Amazon
See on eBay
HP OMEN 27i, the most elegant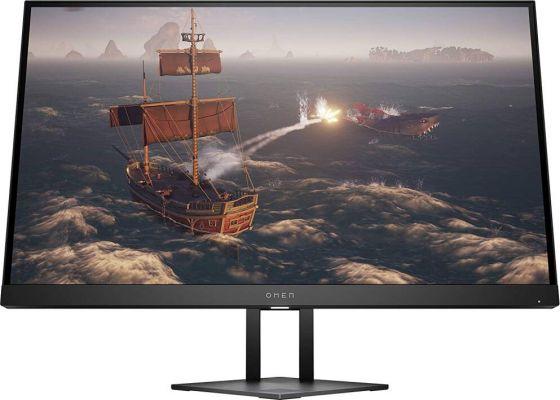 Then we find the HP OMEN 27i, an extremely elegant-looking monitor thanks to the thin border and the lights positioned behind the panel in a rhomboidal shape. In addition to the appearance, however, the product has excellent characteristics: 27-inch IPS display, 1ms response time and 165Hz refresh rate.
The monitor will make the colors brighter and brighter thanks to HDR technology, while offering you a smooth game without dropping frames. Furthermore, the panel is very comfortable and adaptable to any workstation: in fact, you can adjust the height, lighting and filter of the screen, setting the one that best suits you.
See on Amazon
See on eBay
AOC Gaming 27G2U, the most versatile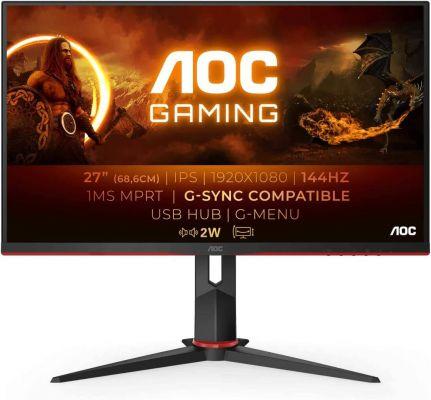 We close the list of the best 2K monitors for PS5 and Xbox Series X|S with the AOC Gaming 27G2U, which features a 27-inch IPS-type panel. As for the Asus proposal we have a refresh rate of 144 Hz and a response time of 1 ms, so even the fastest movements will be intercepted and transmitted to the screen without losing a single frame.
The monitor also benefits from AMD Free-Sync technology, which ensures that the refresh rates of the GPU and the monitor are synchronized, thus further increasing the fluidity of gameplay. The panel has 6 different game modes that will adjust the brightness and contrast of the screen, thus allowing you to adapt it according to your preferences or what you are playing. Lastly, the monitor features built-in speakers and is height-adjustable, perfectly adapting to your set up.
See on Amazon
See on eBay
How to choose a 2K monitor for PS5 and Xbox Series X|S
To best choose the panel that is closest to your needs and the economic budget in your possession, here are some essential characteristics to evaluate during the purchase phase to ensure a good TV.
Price
Let's start with one of the variables to keep a close eye on, especially if your budget is limited, the price. In this guide we have chosen to include products suitable for all budgets, but it can happen to come across 2K monitors with a high price. It must be kept in mind, however, that the various components, the type of monitor and the characteristics of the different products can raise or lower the price. In general, the greater the amount you intend to invest, the better the quality of the product you will take home; although all the alternatives that we have proposed in this guide are excellent, there are some features that vary according to the price, such as the refresh rate, the type of screen (resolution and curvature) and the technologies present such as HDR and the FreeSync.
Inches
Panel width is measured in inches. This is one of the first to keep an eye on before buying a TV that is 4K or lower resolution. The thumbs allow you to understand immediately without too much confusion if that monitor matches your workstation. If you prefer to play at a certain distance from the panel, then you'll want to go for a larger monitor. If, on the other hand, you don't have an extremely large space available, it is also good to aim for a panel that is between 32 inches.
FreeSync
Thanks to technology FreeSync your panel will have access to the ability to synchronize adaptively to the refresh rate. Thanks to the activation of FreeSync, visual effects that are misaligned with the rest of the image and other visual problems that can be linked to the frames on the screen will not appear on the screen.
HDR
HDR is a technology that for some years now has been well present in many of the televisions that you can buy. This feature allows you to see even more vivid and realistic colors, giving your gaming experiences a truly well-blended overview. In addition to this, the colors of your favorite game worlds also benefit from the activation of HDR. Thanks to significantly darker black tones, and greater brilliance on the brightest colors, by activating HDR on TVs that support this function you will enjoy truly pleasing to the eye experiences.