1MORE also adds a pair of True Wireless earphones with active noise cancellation to its catalog (ANC), precisely the "True Wireless ANC in-ear headphones", without particular imagination. Lights and shadows for these earphones, whose main advantage is not costing as much as the AirPods Pro, but with competitors like the Sony WF-1000XM3, sold at practically the same price (199 euros), the challenge is very tough.
How they are made
The oval body integrates a double driver, a dynamic, classic, and a balanced one armature which should be capable of better acoustic output than a single driver is capable of. The in-ear design features an elongated neck for insertion into the ear, but the overall bulk will result in a "hybrid" use, as it won't fit perfectly in all ears.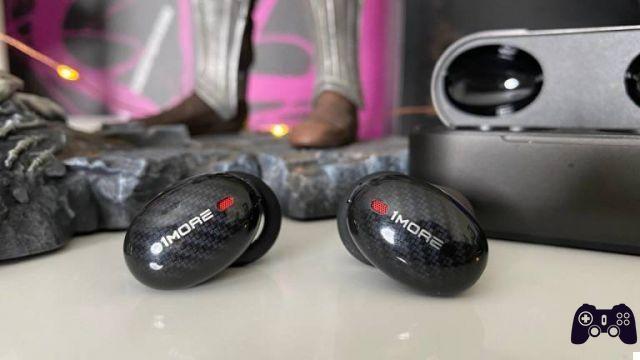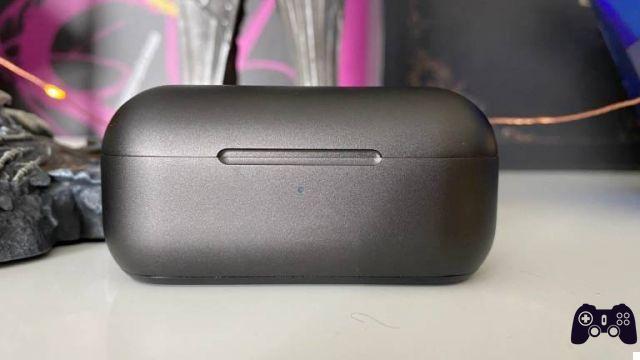 A small button located on one end allows you to manage music playback and volume. With a single press you raise or lower the volume, depending on the headset you interact with. A double press pauses or starts playback, while the left earpiece activates the voice assistant. A long press finally turns the earphones on or off, in case there is a need. A double tap, not on the button but on the headset, activates or deactivates the ANC.
Together with the earphones there are different rubber caps and ear supports in the package.
They fit into the case and lock into place with magnets. The case is made of metal, quite bulky but well made, and integrates both a USB-C port and wireless charging. Thanks to the flat bottom it is possible to place it on a surface in comfort.
From a technical point of view they are equipped with Bluetooth 5.0 and aptX compatible.
Proof of use
We immediately share our experience which, as mentioned, is a mix of light and shadow. They wear very easily, as you just have to place them in your ear and rotate them counter-clockwise. The shape is such as to facilitate insertion into the ears with this movement. However, the general ergonomics are not entirely satisfactory. It will probably also depend on your ear, but we have found the supports that should help to anchor the earphones to our ears that are always too short or with shapes that do not exploit the physiognomy of the ear at all.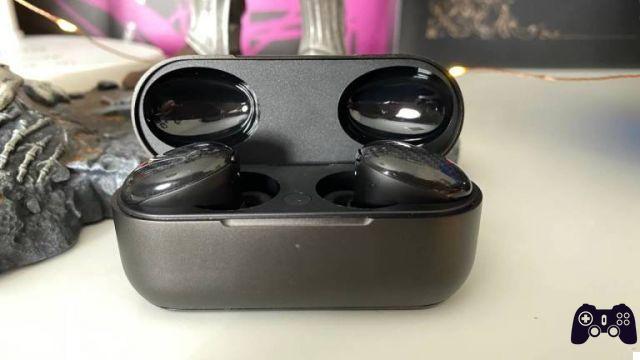 As a result, as we used them, we found ourselves repeatedly fixing them as we felt the grip weaken. The same goes for the supplied headphones, none allowed us to wear them in a completely correct way, perfectly occluding the ear canal. Considering that with all the other earphones tested we have always found the right combination of headphones and supports, surely part of the reason lies precisely in the design of these 1MORE. All this means that for the price at which they are sold we expected more from an ergonomic point of view, while in this case the experience was only sufficient.
To support that there is something wrong, the presence sensor does not always work. Sometimes music playback starts as soon as we insert the earphones into the ear, and then stop and force us to put the earphone back in place by pushing hard into the ear.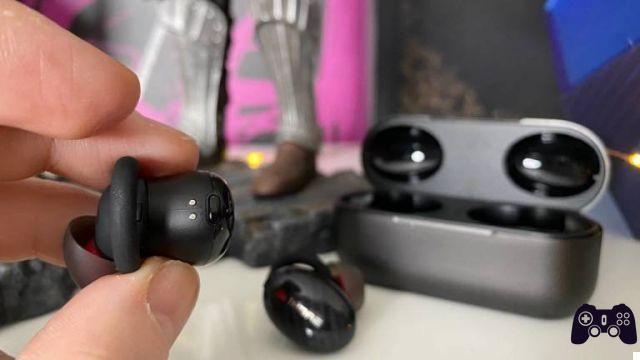 We also noticed some usage detection problems, as the earphones are supposed to turn on and connect to the player as soon as they are removed from the case. Sometimes this does not happen and we have to press the button to turn them on, other times only one turns on, other times they turn on but do not connect to the smartphone. These are probably problems that a firmware update can fix but, again, that's not what you'd expect from a $ 200 pair of earbuds.
The case is quite bulky, but it is above all heavy. Not that the other ANC True Wireless earphones available today disappear in the pockets, but in this case we are above average. On the other hand, the quality of construction and the metal adopted for the case gives a feeling of high quality.
Autonomy
About three hours, or slightly more, with a single charge and active ANC. A result, also in this case, lukewarm. The case can charge the earphones approximately three times. In total we can realistically aim for around 13 hours of battery life with active ANC, and a few more hours without active noise reduction.
Audio quality
We subject the 1MORE to our usual listening tracks. The dynamic driver should give us a powerful and full-bodied bass, a good mid / low-mid and the balanced armature a high end of the quality spectrum. All these elements are there, even if they are not perfectly rendered. The more powerful basses lose precision, some distortion is also perceived.
With tracks like Darkside - Paper Trails you tend to be overwhelmed by powerful bass that obscure everything else, causing the higher end of the audio spectrum to lose precision. On the other hand, the medium frequencies with vowels are good which, unfortunately, are not supported by a yield as good as the medium-high.
On balance the audio quality is between fair and good, depending on the type of music you want to listen to. They are not headphones for sophisticated audio tracks, but suitable for those who listen to music without paying attention to all the nuances.
Active noise cancellation
Two levels of noise cancellation can be selected and pass-through. Most likely due to the imperfect ergonomics that does not allow us to wear them at their best, the noise cancellation yield is only discreet. The AirPods Pro and Sony WF-1000XM3 are certainly better.
Verdict
The main problem of the 1MORE True Wireless ANCs are the Sony WF-1000XM3. The latter were presented at a price of around 250 euros, but can now be found (and for some months now) for less than 200 euros, even at a price below the 199 euros at which the 1MORE are sold.
At this price there is no comparison, although the 1MORE have some unique characteristics. In case they drop in price and earn an advantage of at least 50 euros over Sony counterparts, then you could consider buying it, as long as you can live with the defects found.
From an ergonomic point of view we found ourselves wrong, but we cannot assure you that they are defects that can be found by anyone, considering that each of us has different ears. We believe that those with small ears will be better off.
The autonomy of about 3 hours per charge is not the best, far from it, while the audio quality is decent, and in any case appreciable - as long as it is not for you something you want the best of. Active noise cancellation is only decent. The workmanship is excellent, they are worn quickly, the case is well made and is also equipped with wireless charging.
If they go down in price, it will be worth taking them into consideration but just in case you can't spend more than what they cost.