Galaxy Z Flip is Samsung's second foldable smartphone. The device features a flexible panel with clamshell closure. The display can be folded at right angles, thus leaving the possibility of displaying different elements in the two portions of the screen. Now, YouTube is also adapting to the new Galaxy Z Flip form factor. The novelty is the result of the close collaboration between the Seoul-based manufacturer and Google to offer an optimized user experience for the new type of smartphone.
The latest YouTube update therefore introduces the Flex mode which allows you to view the video at the top of the screen - when placed at right angles - and to use the lower half to search for other videos, read descriptions and write comments. You can see the UI simulation on the Galaxy Z Flip in the images below.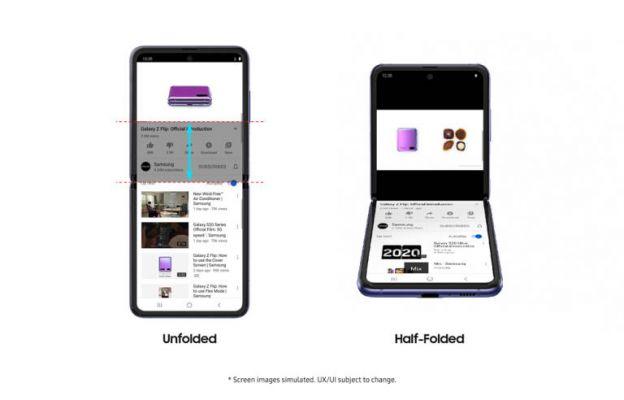 As for viewing videos by format, those made vertically or horizontally they will almost entirely occupy the upper space of the screen; while movies in 16: 9 they will fit in the center leaving a black band above and below the video. Samsung points out that this was not simply a user interface update but an application redesign at the operating system level.
The integration of the Android Support Library also makes it possible to take advantage of the Flex Mode even on third-party services. The release of the new version of YouTube has already started even if - at present - it will be exploited by few users. Either way, it's proof (not that it was needed) of how much Google believes in foldable smartphones too.
Galaxy A71 with Snapdragon 730 is available for purchase on Amazon, via.