Do you want to see the Highlights of Serie A matches on Youtube but you don't know which channel to see them on? Now we will show you how to see all the goals of the various Serie A championship days.
Youtube is the best known streaming platform in the world and with videos of all kinds and also the Highlights of football matches.
How to watch Serie A Highlights on Youtube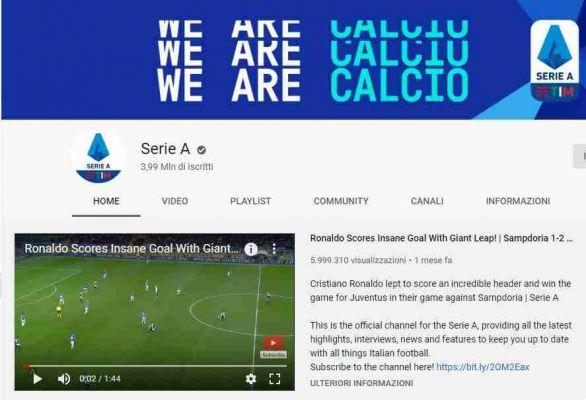 All you need to do to see the goals of the last Serie A matches is to go to.
Once on the channel you will be able to see all the highlights of the various matches played in the various championship days. You can see all the goals scored and the most important moments of a specific football match.
You can subscribe to the channel soccer league serie a tim so as to display them on your Youtube feeds. Once registered, activate notifications and thus receive warnings when new Highlights are published on Youtube.
From Youtube channel of the Seria A you can also know and subscribe to the official Youtube channel of your favorite team, to receive updates and new videos related to it.
What you need to do is select the section Channels in Official Youtube page of the soccer league serie a tim and you will see a list with all the channels of the various Serie A football teams.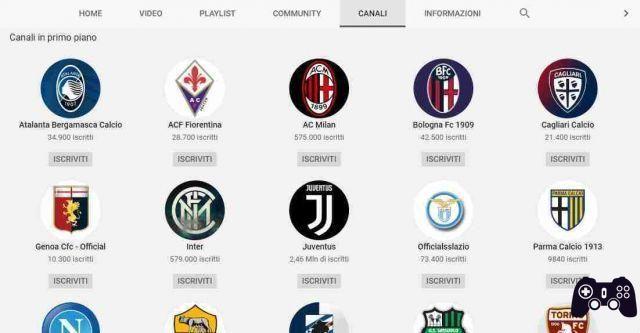 Now select Subscribe under the team crest you want to follow to receive and view all new videos from that channel on your Youtube feed.
You can also activate notifications here or customize them to be notified when a new video is uploaded.
Usually the videos of Highlights serie A su Youtube they are loaded at the end of the game or after a few hours after the mach.
Also discover the on your smartphone and tablet.