About a week ago, after years of absolute silence, to be exact from the end of August 2017 when the acclaimed expansion of XCOM 2 War of the Chosen, Firaxis Games announced out of nowhere XCOM Chimera Squad, new episode of the famous saga of turn-based strategy that will officially arrive exclusively on PC tomorrow, April 24, 2020. A completely unexpected announcement, which has ripped the quiet of this quarantine like a flash, flooding the hearts of fans with joy and anticipation. . A work that seems to have all the trappings of the famous series and, at the same time, also introduce some particularly innovative mechanics, you see the possibility of being able to control a team made up of both humans and aliens and hybrids. In short, therefore, there seem to be all the credentials for a very interesting title, capable of inaugurating a new strand of the turn-based strategy saga.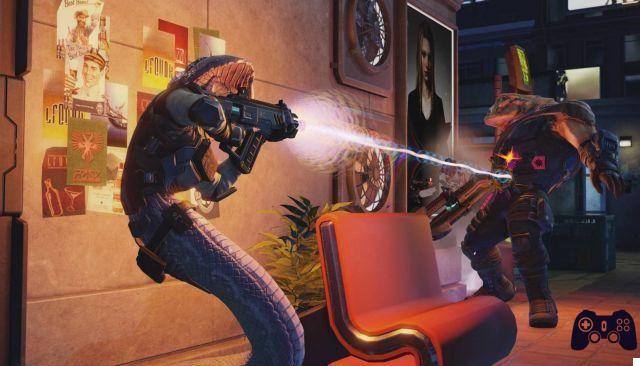 Despite the good conditions, and the great references of the well-known software house, the timing of the announcement and the launch price were perplexing. XCOM Chimera Squad, in fact, it was announced on April 14th, just 10 days from the official launch date, at a price of only € 20 which becomes 10 if the title is purchased by May 2029st. Far be it from us to think badly, but after the penalty received by Corruption XNUMX, a title announced with the same modus operandi and turned out to be a sort of carbon copy of Mutant Year Zero, the doubt is definitely legitimate. To make everything even more nebulous is finally a launch by return of post with the highly anticipated Gears Tactics, another exponent of the genre that will officially make its debut on the market next April 28th. Confidence in their own means or a simple attempt to bite a slice of the market from the most imposing competitor? It will be successful Firaxis Games to surprise us again this time o XCOM Chimera Squad will it have turned out to be a small disappointment? In order to answer these and other questions, we have immersed ourselves in the intriguing title in the last few days, examining its characteristics and peculiarities and identifying its true potential.
XCOM Chimera Squad: many agents, one mission
XCOM Chimera Squad, wanting to immediately cut the bull's head, is a title that, although it is closely linked to its own series, manages without too many problems to stand as a work that lives of life test, rising with its own feet and imposing itself as a title absolutely noteworthy. The first thing that catches the eye in the game is indeed its own the great care placed by Firaxis, who refused to do the homework and has indeed shrewdly injected into the series an unprecedented and highly appreciated mix of new additions, some of which are also fairly courageous. Of course, Chimera Squad it is far from the incredible glories of the second chapter, but what is proposed by this spin-off is definitely remarkable and able to satisfy the countless fans of the saga. Expecting more from a budget-priced title was downright difficult.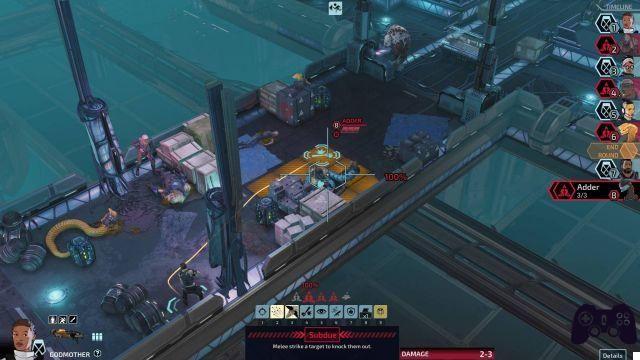 Among the most important innovations of Chimera Squad the main one is certainly that relating to the passage from a series of anonymous soldiers to a predetermined team of heroes. No more recruits to be thrown to the assault or to be employed in suicide missions therefore: in this new chapter we will have to keep an eye on every single component of our team with great attention, making sure that they arrive safe and sound at the end of each mission. Each of them, in fact, has unique characteristics and peculiarities and, above all, we will absolutely not be allowed to have one die in battleto. In the event that one of our agents should unfortunately leave us the pens, the title will in fact immediately take us to the game-over screen, precluding us from continuing the adventure with one less component. For many this may seem excessively drastic and, above all, different from what we saw in the previous two chapters, but in the end it all fits well with the idea behind the work.
In XCOM Chimera Squad in fact we will put ourselves in the shoes of a special team, made up of both humans and aliens and hybrids, and we will be called to restore order a City 31, the location of the title, prey to riots and riots. A mission that will lead us to control about ten different agents, although only 4 of them can be thrown into battle at the same time. Each of these characters is then equipped with its own individuality and background, as well as dedicated dialogue lines. The whole, therefore, pushes towards a conception of the game more based on "heroes" and their unique characteristics and peculiarities.
A city under siege
The weave at the base of XCOM Chimera unfolds as previously mentioned within Citta 31, about 5 years after the events that occurred in the second chapter of the series. In this, albeit short period of time, things have definitely changed and the earth from the bastion of human civilization has become a real melting pot, a melting pot of cultures and, above all, of different species. However, such a sudden transition between war and peace did not go completely down to many and, as often happens in these situations, criminal associations were soon created aimed at making the already precarious social fabric unstable. Our task, needless to say, will obviously be to investigate these riots, reveal their dark plans and restore a semblance of peace to City 31. A decidedly arduous task, which requires the intervention of an exceptional team, equipped with the best technologies and trained by the most talented individuals: in a nutshell the Chimera Squad.
To make our life difficult will be three different organizations, each with different aims and to be addressed individually. XCOM Chimera Squad it will allow us to autonomously decide the order of the various investigations and it will therefore be possible to choose which threat to eradicate first. To put the sticks in the wheels will therefore be the Sacra Spira, a religious movement for hybrids, the Gray Phoenix, an organization of alien traffickers, and finally,a Progeny, which is a network of human psykers. To make everything more interesting, and to flood the title with a more than remarkable replayability, is also the fact that, based on our choices and when we decide to face it, each criminal association will have a different level of difficulty, complete with new threats. and different war potentials. Furthermore, putting an end to one of these organizations will also allow us to have access to new objects and dedicated searches, thus allowing us to create games that are always different and with unique variations.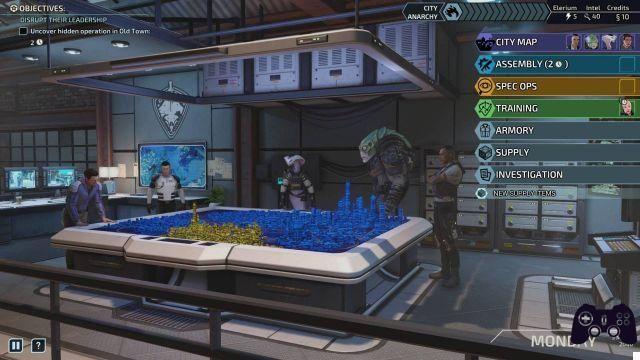 As we said earlier City 31 is a tumultuous and ever-boiling place. Precisely in this warm climate, what is the famous management phase of the title, transposed here into a city map with the various levels of insurrection in the various districts. As in classic XCOM, where each macro-group of nations had its own level of alert, in Chimera Squad it will therefore be the various suburbs that require our attention. Excessively neglecting an area, in fact, will soon lead to an increase in the level of total insurrection of the city, an indicator that if it reaches its climax it will take us straight to the game over screen. To avert this possibility and reduce the level of insurrection XCOM Chimera Squad Fortunately, it provides us with different methods, the simplest of which is to carry out certain missions in areas at risk. Keeping everything under control will obviously be impossible. It will therefore be up to us to combine the continuation of the story with effectively keeping the state of City 31 under control, carefully choosing which mission to dedicate ourselves to and, above all, when to continue with the plot and when to dedicate ourselves to some secondary quests aimed at maintaining control. of the metropolis.
A team to manage
The management part of XCOM Chimera Squad it is then completed with numerous other activities, see for example the research laboratory that allows us to discover new technologies, as already seen in the main chapters of the series, or the training center, where we can improve the characteristics of our agents or have them recovered from some wounds sustained in battle. This series of mechanics requires the use of an agent, who will therefore remain unavailable for several days for field missions. Precisely on this aspect, i.e. on the turnover of our team members, one of the main critical issues of the stock can be found, that is the essentiality of some elements of the squad and the consequent almost uselessness of other soldiers. Terminal, the curator of the team, is, for example, absolutely indispensable and, without her, it is practically impossible to just try to carry out certain missions. His gremlin, a sort of portable drone, can in fact be used once per turn and simultaneously allows both to heal and to equip any agent with an additional shield. An absolutely indispensable feature, drastically more powerful than the classic medkits, and, above all, not replaceable by any potential of the other agents. As for Terminal, other heroes will also be difficult to replace, see for example the tank, egwe will therefore be practically obliged to complete almost all of the game missions with always the same team, sweating the so-called seven shirts in the mission in which we will inevitably be called to do without a crucial element.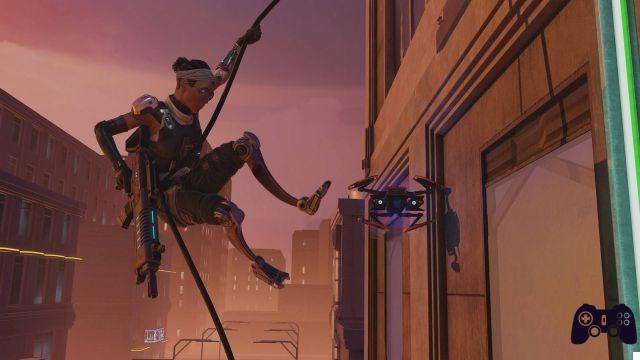 Each agent can then be customized with regard to the equipment with changes to the weapon, such as increased sights or magazines, armor, utility items, see grenades or medkits, and, finally, objects for raids. It is in this last element that one of the main innovations of XCOM Chimera Squad, i.e. the ability to more carefully orchestrate our team's entry into the scene during missions, a feature we will discuss in more detail shortly. The aesthetic changes, on the other hand, are practically reduced to the sole color of the armor, also in this case all due to a transition to a model of heroes and no longer to anonymous soldiers.
A long series of novelties
As previously mentioned the major news of XCOM Chimera Squad can be found during the most operational sections of the title. Firaxis Games, given the transition of the saga in this chapter to a detective vein, he has well thought of introducing a break-in phase at the start of each various encounter. Before throwing ourselves into battle we will therefore be called to decide the order and modality of our agents' entry onto the scene. Each different breach point obviously has its own pros and cons, with a whole host of various modifiers and a maximum number of units. However, choosing exclusively the point with the greatest advantages may not be the best choice in any case, as it would amass all our team in a single point, precluding us a greater range of tactical options in the actual battle. Finally, to make everything more interesting is the fact that the aforementioned objects for break-ins allow certain agents to use particular passages, see for example the explosive charge that sometimes gives us the possibility of breaking through a wall. An innovation, in the end, decidedly successful and that manages to give a decisive refresh to the title, offering us a new mechanic, although still improvable, definitely valid.
Another big change brought by Chimera Squad are the turns, with the various characters who will be able to perform their actions in a certain order. It will therefore no longer be possible to globally orchestrate our team by interspersing the actions of the various agents, but it will be necessary to pay close attention to their position in the timeline, in order to better manage the threats in the most appropriate and appropriate order to the situation. Obviously there is no lack of symbiotic skills in this case either, which will allow us to partially circumvent this system by making more agents cooperate by settling their temporal position, but it is still a trick that is not always exploitable. The last big news is then given by presence of different non-human agents, which will allow us to exploit new potentials and able to further rejuvenate everything. Verge, for example, has psychic powers and is able to control the minds of some opponents by weaving a dense neural network, while Torge it can crush opponents with its tail and splash poison at them. An addition perhaps not excessively disruptive, but which manages to give a not indifferent quid to the whole.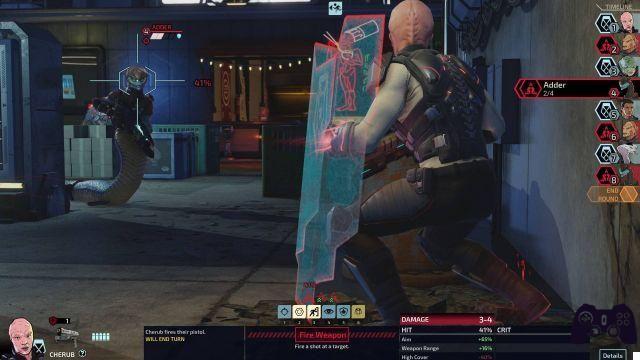 A negative novelty introduced by XCOM Chimera Squad is instead that relating to the various maps, which especially at the beginning turn out to be too small and claustrophobic as much as you can. In fact, we will often and willingly fight in a few square meters, finding ourselves forced to do real circus acts to escape some particularly tedious situation. Which, at least initially, manages to give a decidedly interesting interpretation to the genre, but in the long run, the broader scope of the previous chapters from this point of view begins to make you miss it a bit. All this is due, in addition to the fact that we will often find ourselves fighting indoors in offices or similar places, to the decision to Firaxis Games to divide some missions of the work into several phases, thus breaking them up into several fragments, each of which has its own irruption phase. This mechanic also allows us to replace the stunned agents with androids, thus avoiding us having to continue in the course of the quest with fewer components. A decidedly nice and successful idea, but which has as a contraindication precisely this decisive reduction in the width of the various maps. Fortunately with the continuation of the adventure the combat zones widen, although not reaching the size we were used to.
Even the variety of the different quests, after all, is not exactly the best and in fact, it will very often happen that you have to repeat the same tasks, see saving a certain VIP, especially in side missions. Of course, it is a historical and physiological defect of the kind that is difficult to contain, but it is undeniable that this scent is still present although not excessively debilitating.
A highly customizable adventure
Firaxis Games finally, as always, it has created a great possibility of customizing the game, allowing players to choose numerous other features in addition to the difficulty. Between hardcore mode, limited health regeneration and much more XCOM Chimera Squad is therefore a perfect title for a huge range of players, starting from the most complete neophyte of the genre up to the expert strategist. Another and undeniable sign of the great care placed by the famous software house in the project and of the validity of this chapter.