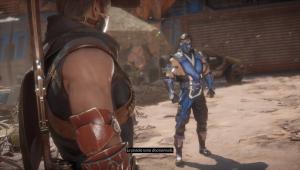 Over the past few hours, Low Roar have announced the passing of their front man, Ryan Karazija. The Icelandic group had gained a lot of popularity after some of the songs had been selected by Hideo Kojima for Death Stranding, his first game after his divorce from Konami.
The band announced the passing of Ryan Karazija in a post published on the group's various social networks. Ryan Karazija, front man of Low Roar, has died at the age of 40. His beautiful music and his lyrics had rocked the lives of so many people around the world and he will continue to do so," reads the statement released by the other members of the group. The group's sixth album will still be released: it was in the last stages of production and will be released as soon as it is ready.
Ryan Karazija had founded Low Roar after moving to Iceland. The group was about to break up in 2016, but Hideo Kojima chose "I'll Keep Coming" for the first Death Stranding trailer, presented at E3 2016. At that point the band gained a lot of popularity, which allowed them to be able to work on further songs, which were then included in the game. Condolences from all over the world obviously also that of Hideo Kojima has been added. "I heard the news. I don't want to believe it. I don't want to believe it. Without you and your music Death Stranding would never have been born. Everything you have achieved will remain in this world and above all within me. Thanks for everything and rest in peace", the words of the game designer disclosed via Twitter.
I heard the news. I can't believe it. I don't want to believe it. Without Ryan, without you and your music, Death Stranding would not have been born. Your music will live forever in this world and in me. Thank you. Rest in peace.
Low Roar Ryan Karazija (1982-2022) pic.twitter.com/buzBwtBHvr
- HIDEO_KOJIMA (@HIDEO_KOJIMA_EN) October 29, 2022
Condolences also came from Kojima Productions. "With respect to Ryan Karazija's creations, we are grateful to have met him and honored to have worked with him. May he rest in peace ", the software house press release always appeared on Twitter.