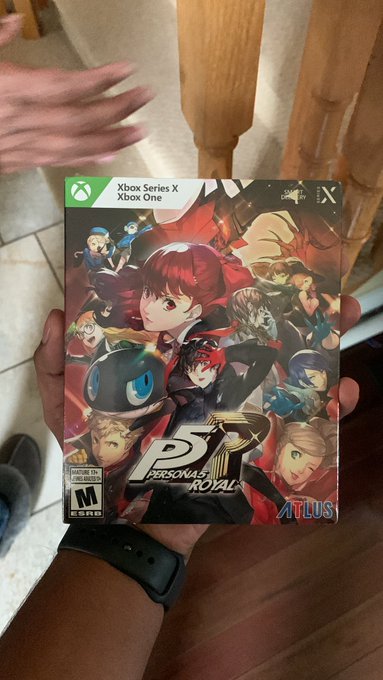 There is a problem, an imperfection, that almost none of us can see. Yet it is there, in front of all the advances made by the gaming industry. We are talking about the enormous imbalance between day one and digital delivery, between those who have chosen to completely eliminate any physical support in favor of digital convenience and simply limit themselves to actual collecting. An imbalance that yesterday became even heavier thanks to Amazon, and that should make us think for the future of highly story-driven videogames.
What happened, exactly? Well, the most famous retailer in the world has started shipping physical copies of Persona 5 Royal to some lucky players, due on October 21, 2022 for Xbox consoles. It is a break from day one of 11 days, not just a few for a game like that of Atlus. And yes, many could say that the game has been available on PlayStation consoles for four years now, but it doesn't matter: this imbalance between day one and digital delivery can seriously jeopardize our gaming experiences, the pleasure of discovery, and obviously puts us at risk of spoilers.
The world of video games has evolved, and if it is true that the digital delivery offers us great freedoms, with the possibility of buying games without going to the store and taking advantage of much greater discounts than in the physical store, it is also true, however, that we are still limited by the release date. Problem to which the physicist is obviously not subject: day ones break, very often days in advance, and this becomes a problem for all games, which obviously risk being "spoiled" to all those who are waiting for the time unlock in a given title.
Some copies of Persona 5 Royal for Xbox Series have been shipped out early by Amazon prior to the October 21, 2022 release date.
(Thanks to @IBombZ11 for the pics) pic.twitter.com/k2xYFNQP1A
— Persona Central (@Persona_Central) October 9, 2022
Over the years, the industry in this sector has overcome increasingly evident and serious problems, such as the loss of cloud saves, the integration of a real multiplayer, the creation of new services to enjoy a hobby that is becoming increasingly expensive and subject, like any industry, to inflation. Yet the problem of day one broken well in advance has never been resolved, nor ever taken into consideration. A question that sooner or later will have to be answered, whether we like it or not.