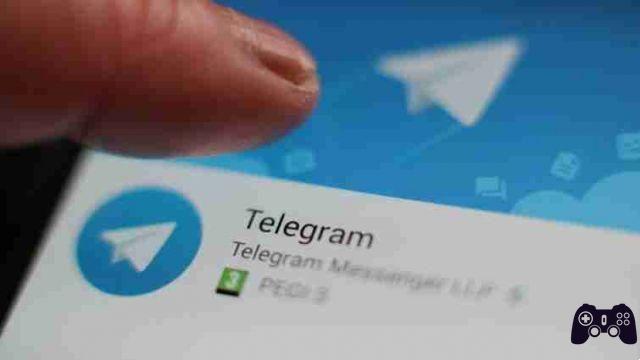 Telegram is a cloud-based instant messaging app. It is one of the many WhatsApp alternatives worth trying. It is free, very simple and intuitive to use.
Telegram was founded in 2013 by Nikolai and Pavel Durov and they sold the company in 2014. Telegram Messenger is controlled and operated by an independent company.
It is available on all major operating systems, including Windows, macOS, Android, iOS and Linux. There is also a web-based version.
Telegram how to download on Android and iOS
You can download telegram for e.
Once you open the app on the Start Messaging button.
Then indicate your nationality using the appropriate drop-down menu and your mobile number then press the V button to confirm.
Telegram will send you a confirmation code which you will need to enter in the appropriate text field.
Once done you will have logged in to Telegram and start texting with your contacts.
How Telegram works on Android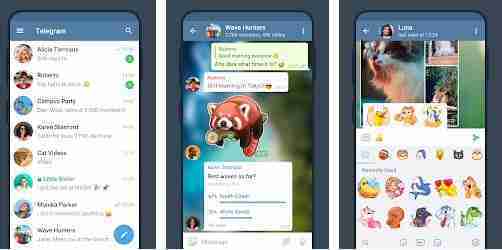 Once you have started the app on Android to send a message Press on the pencil symbol at the bottom left and select the person to contact. A chat window will open and you can send a text message via the text field below.
To send a photo, video, music, file and more, press on the paperclip. To send a voice message, tap on the microphone symbol.
To start a new group, a new channel or a new secret chat go to the Menu.
How Telegram works on iPhone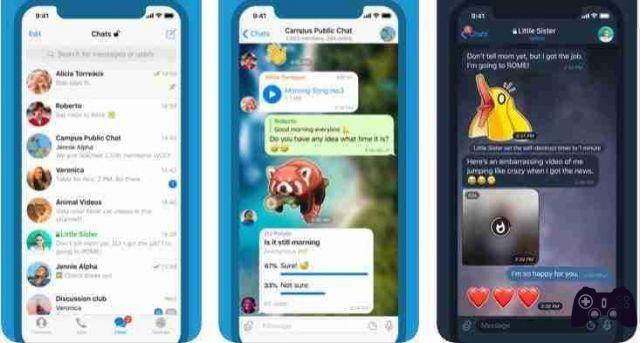 Start the app on iPhone or iPad and at the bottom you will see three items: Contacts, which will allow you to view the complete list of your contacts, Chat, will allow you to access the list of chats started. The third one instead lets you enter the app settings.
To send a message to a person, go to the Contacts list and select them. The chat will open where you can send a text message.
To start a new conversation, press the pencil symbol with the sheet of paper at the top right.
Telegram Functions
Encryption and privacy
Telegram uses the MTProto protocol. The client and server send messages within a session. Sessions are connected to client devices rather than relying on a WebSocket. Messages have a 64-bit key identifier and a 128-bit message key. The two keys are combined with a 256-bit key encoded using AES-256 encryption. Determines whether to use HTTP, HTTPS, WS, WSS, TCP, or UDP to allow the client and server to broadcast their messages.
API Bot
If you are a developer, you can create your own custom Telegram bots. Users can interact with them using messages, commands and requests.
Telegram groups
Telegram allows people to add up to 200.000 users to a group. Although very few users will ever need 200.000 people in a group, there are many conceivable situations where you may need more than 256 which is Whatsapp's limit. In these cases, Telegram is the best solution.
Send files at 1,5GB
You can use Telegram Messenger to send files up to 1,5GB in size. These files become instantly available on all your devices and can be easily shared with other users.
Schedule the sending of messages
Telegram allows users to schedule messages in the future. The feature has a number of practical benefits. For example, you can create reminders for yourself about future appointments or post a news for a group at a specific time.
Save messages on Telegram
All Telegram Messenger users have access to a personal cloud storage facility. You can add bookmarks to messages and keep them in the saved folder, write notes and reminders, and forward the saved messages to other users and platforms.
Send messages to anyone
If you want to send a message to someone on WhatsApp you must first know their phone number and add it as a contact.
Telegram works on the basis of a username. If you know someone's username, you can send them a message. There is also a search function, so you can try to find the person you want to contact even if you've never spoken to them.
For security reasons, users can disable unsolicited messages in the app settings. You are also not required to set up a username. Without the others they will not be able to find you in the search.
How to unsubscribe from telegram
If you want to know how to unsubscribe from Telegram because you no longer use the app or you no longer want to use it.