Some men just want to see the world burn. Those who had the unhealthy idea of ​​devising this question and answer are among them.
Who writes you loved DmC Devil May Cry.
Perhaps precisely because it is one of those many (too many) misunderstood titles, targeted because they dared to go against the status quo in a market where fans usually complain about photocopy games, only to not give a shred of chance to those who try. to make the revolution.
Would be very easy get on the train of those who had seen us along, who had embraced the Ninja Theory gaijin project right away and applauded Capcom's initiative - of a Capcom more lucid than it is now, and playful enough to admit that gasoline in the tank was over and had burned Devil May Cry 4. The truth is that even those who write to the announcement he was definitely skeptical and he is not afraid to hide it (to the point of saying it candidly even in front of Alessandro Taini, the Art Director of the title and artist with square balls).
And he was skeptical even on day one, when his copy of the game arrived home before being swallowed up by the PlayStation 3 optical drive.
Except that unlike too many of you, whoever is writing these lines then playing has put away all his prejudices.
And this question and answer between the author and you readers - this umpteenth question and answer born on Facebook and then exploded up to our pages - started from this premise: you feel at least a little guilty, after years and after having, in fact, sanctioned the abortion of this new era for Dante and Vergil?
DmC Devil May Cry: Do you feel at least a little guilty?
Imagine that you are an avid fan of a historical series. A series that invented a genre, launched its designer into Olympus, consecrated its publisher.
A series that, however, lives in the shadow of itself, which has run out of ideas and is now limited to always recycle the same formula since the days of PlayStation 2.
A familiar design? Yes, we are talking about Devil May Cry.
But the big problem is that when Capcom tried a new path you took it in the face, preferring recycles and operations more as software merchants than developers.
DmC Devil May Cry - Ninja Theory's Devil May Cry, to be clear - was a resounding product.
With lots of licenses and without the awe (indeed, let's call it by its name: face from c * lo) that had Devil May Cry 4, but taking risks, daring to do something new.
Rejuvenating, in a series that badly needed it.
Yet so many of you didn't go down, for several reasons we'd like to discuss below.
Here because? Is it just for Dante's hair or because the demo paid for the dialogues that were definitely not brilliant or is there something else, something else that we have seen and you simply haven't?
by
We analyze your answers.
And the analysis of these answers sees the author of the article forced to make his debut apologizing: so many comments arrived in favor of the work of Alessandro Taini and associates - even, even direct certificates of esteem to Alessandro himself, who is almost at home here on Holygamerz -, and to be honest also several of the detractors of DmC Devil May Cry ( also and especially those sided with Devil May Cry 4) have left really smart comments. A controversial article was expected, and instead the final result will probably have more the connotations of a discussion between fans.
Let's start with the criticism that went the most, which concerns a precise gameplay gimmick: having decided to allow you to eliminate some enemies only with specific weapons. Choice that, in your opinion, has gone to limit and impoverish the playful package completely, because in fact it puts stakes on the combos that can be performed in certain situations, where the series has always hinged on the freedom and spectacularity of the maneuver of Dante.
And you are also right, but you are looking at only one side of the coin.
There is no doubt that be as you say and that in these circumstances there is no freedom of action that one breathed in the "classic" chapters - provided that, however, even in the previous chapters there were some best practices that when not applied made the player's life much harder.
But on the other hand it is also true that DmC Devil May Cry does not focus only on the battle system on the gameplay side.
DmC goes
over
the mere battle system
One of the characterizing traits of Ninja Theory's work is the Artificial Intelligence behind the enemies that appear on the screen, much more advanced and "refined" in setting up tactics against Dante than usual. And it is precisely the AI ​​that derives the maximum benefit from this choice: there are enemies who are able to "cast" energy barriers on their companions that can only be removed by angelic or demonic weapons, going - as you said - to limit the combos available but on the other hand making the whole production more alive, something very different from the classic more or less masked arenas where the center of the stage were Dante's acrobatic moves. It is a choice that you may like or not like, but Ninja Theory has decided to play it in this way also and above all for distance yourself from Devil May Cry 4, which stands right on the other side of the spectrum - or so many combos, a lot of Dante, but very little around him - and he did so at the explicit request of Capcom.
Yes, Capcom will also have been quick to justify the sales of DmC (lower than those of Devil May Cry 4) with the choice of entrusting the series to some gaijin, but at first the idea was them and indeed, it was they who asked Ninja Theory to take it out of the jar, as Alessandro Taini told us.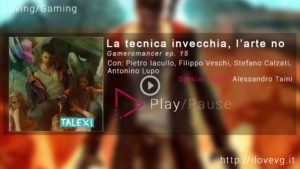 Incorrect video game:
Ep. 15: Technology Ages, Art Does Not - Holygamerz Podcast
The other big criticism is the choice, at least for the PS3 and Xbox 360 versions, of thirty frames per second, where the series had always settled around 60 FPS.
There is little to say here, you are comparing two products conceptually very different ...
Devil May Cry was
old
, up to DmC
There is no point in hiding it, Devil May Cry 4 is much poorer - from a purely technical and visual point of view - by DmC. Indeed, we would dare to say more staticwhen it is not a question of leading hands. Because when you are not fighting in Devil May Cry 4 - but also in the three main chapters - you wander around the map exploring and the title hinges on a certain level backtracking (then on this front the fourth chapter, as already mentioned, exaggerates to be kind ...). In short, he feels the hand of the matrix of the first Resident Evil, saga of which Devil May Cry was originally supposed to be a rib, and it is not a virtue. It is a stylistic approach that is at least three generations old, if not four, which necessarily needed updating. And it was done, because the platform clips do just that and moments of highest level design are the club level and the boss fight with Bob Barbas.
We don't say that Devil May Cry was old, Hideki Kamiya said so - let's repeat it, Hideki Kamiya, the one who invented Stylish Action and then demolished it and rebuilt in his image with Bayonetta - saying that Capcom for the next chapter should go a similar path to that taken by Santa Monica with the God of War in PS4 sauce. Because gasoline, as we said before, is gone, and it cannot be accepted that in 2018 a software house with the budget that Capcom has at its disposal will exploit stylistic solutions daughters of technical compromises of PlayStation 2.
I'm just throwing some ideas out there, but I think it's about time DMC got a game design revision. Looking at current global trends and the amazing graphics in recent Capcom games, the next DMC game could do with a full model change, like the new God of War. (1/2)
- 神 谷 英 樹 Hideki Kamiya (@PG_kamiya) January 12, 2018
The truth, again, is that Ninja Theory has tried to rejuvenate a formula that was now close to stale, and it must be admitted that he did everything he could to do so. Because on PC the 60 frames per second can be reached even on machines that are not high-end, and on the aforementioned PlayStation 3 and Xbox 360, however, everything possible has been done to "simulate" the 60 FPS. If that's still not enough, well ... Play the Remastered on PS4 and Xbox One, which among other things adds a series of absolutely not second-rate extras (turbo mode above all), and that we would never label it as a sinister commercial operation as some of you did in the comments. Especially if someone was happy with the Special Edition of Devil May Cry 4 ...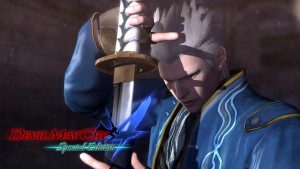 To learn more:
Devil May Cry 4 Special Edition
Then there was talk of one less brilliant writing, especially in the dialogues, compared to what we have seen in the past.
Is Dante less brilliant?
True
. But there is a reason (even if we don't like it)
Essentially true, but here too it must be said that more than a lack of skill - too easy to mention the section "Fuck you, no fuck you" in the demo ... The game then, during its 10 hours of experience, touches even higher moments - it is a choice due to wanting to render everything less Dante-centric. Here probably Ninja Theory, we also said it in the original review of the title - has actually exaggerated, going to remove what is the true characterizing trait of the series. Because Dante in the course of the experience in the end trims just two or three truly memorable punch lines (It seemed to never end ... Church!), And in this the comparison with the more classic Dante - which in reality is often the Dante of Devil May Cry 3, since the original was still much less sborone and the Devil May Cry 2 dress up as a hottie in Diesel jeans - it's one way. But on the other hand, again, the idea behind the operation was to rejuvenate, and Ninja Theory does too putting Dante at the service of history and trying to tell something, putting behind the screen - even by force, for heaven's sake - a certain moral, taking it out on multinationals and consumerism and touching on quite delicate themes, especially at the end.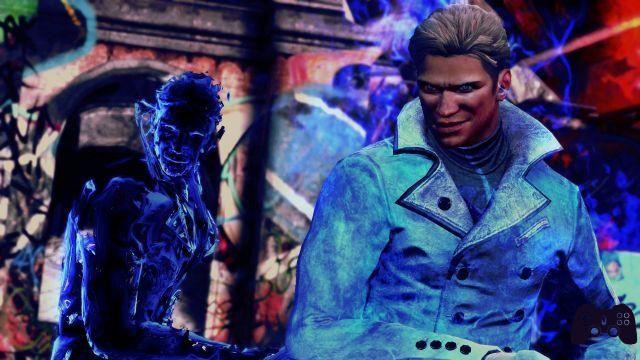 Could one be more daring? As someone said in the comments, since in the end it is not a prequel but a real reboot, si. There were the means, there was the talent to do it - we saw it with Hellblade, as if that weren't enough, Ninja Theory has the cojones to do more or less what it wants and there was the opportunity. We often say that the Cambridge studio was not in awe of the Devil May Cry franchise, and it's true.
You could have pushed even harder, in hindsight.
But again, going to dust off a consideration made by Alessandro both in the interview and during the episode of Holygamerz that saw him as a guest, it is often from the second chapter that a video game really takes off. Just think of Uncharted, which became truly memorable with Il Covo dei Thieri, or one of the many many sequels that have done better than the original. Virtually everyone except Devil May Cry 2, one would say… But this is material for one of the next cover insights.