When it comes to tablets most of us understand "iPad" but of course Apple isn't the only player in this game. Indeed, the truth is that Android tablets are now more than solid alternatives, with a very large range of applications, most of which have a version optimized for larger screens.
And as with smartphones, by choosing an Android tablet you can often spend less, without giving up too many things. The new Samsung Galaxy Tab A7 (2020) is a good example: it can be found at prices starting from around 200 euros, a more than interesting figure for a modern tablet like this.
Design
The first thing you notice about the Samsung Galaxy Tab A7 (2020) is its lightweight design. It weighs only 476 grams, which is little more than an iPad Air 4 but in the face of a slightly larger screen. The tablet is extremely handy also because it is very thin (7 mm). A little more than the incredible Galaxy Tab S7, which is a truly admirable achievement in this price range.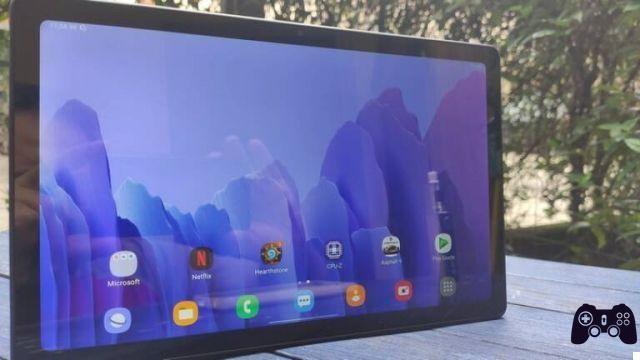 The dimensions are compact and the bezels around the screen are about one centimeter thick. They are slightly thicker bezels than the more expensive tablets, but similar to those of the Amazon Fire HD8, among others. And they help to make the tablet a little more manageable since there is space to rest your fingers without touching the actual screen; not much space but still something better than other tablets. In any case, even with the Galaxy Tab A7 (2020) maximum ergonomics is achieved with a case.
The aesthetic effect is excellent but it is also more difficult to hold the tablet in hand without covering the screen or giving inadvertent inputs. On the other hand, tablets are usually used with a case, which can certainly solve the problems of ergonomics - otherwise quite heavy.
The body of the Galaxy A7 (2020) is all metal, another notable detail in this price range. The tablet feels very solid and should withstand an accidental drop. But the finish also seems very sensitive to scratches. The flat edges and rounded corners are pleasant to the touch and make the Galaxy A7 (2020) a little more manageable.
The Galaxy A7 is especially designed for use in landscape mode, so the front camera is positioned along the long side, which favors video calling. The rear camera, on the other hand, is placed in one of the upper corners and the module protrudes a few millimeters from the tablet body. Placed on a table, however, it remains stable.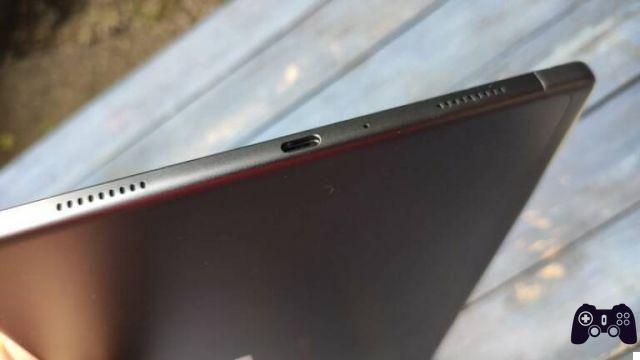 The underside houses the USB-C port and the headphone jack. An interesting detail since the most valuable Tab S7 is devoid of it, and therefore forces us to use Bluetooth headphones and earphones. The USB-C connector supports the USB 2.0 standard and cannot be used as a video output; it's not an important detail for everyone, but if you like the idea of ​​connecting your tablet to your TV with a cable, then this product is not for you.
Speaking of audio, the Galaxy Tab A7 boasts 4 speakers, one in each corner, and they make themselves heard great: if you use it to watch Netflix you will have a truly excellent experience, and the same goes for calls, thanks also to really well calibrated microphones.
On the left side we also find a drawer to insert a microSD card and the SIM, for those who choose the variant with LTE connectivity. Along the right side we find the activation button and the volume rocker, both of which are easy to reach and use. There is no fingerprint sensor, but if you want you can set face recognition to unlock the tablet.
Display
Samsung has accustomed us to gorgeous AMOLED displays on a ton of its products, including some mid-range smartphones. But in a tablet that costs just over 200 euros, that would be too much to ask.
In fact, we find a normal LCD screen with a resolution of 1200 × 2000 pixels. A little more than full HD, but it doesn't even get to 1440p. Perhaps it would be excessive to speak of "low" resolution, but from time to time the images do not appear as sharp and defined as we would have liked. With video streaming this is pretty obvious.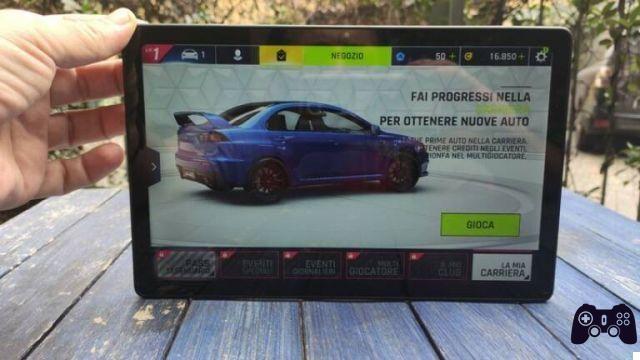 It is a 10,4 "screen surrounded by relatively thick bezels, which betrays its nature as a cheap product. But it is capable of reproducing intense colors. We watched some content on Netflix, and in particular with Spider-Man: A New Universe you can appreciate the color performance of this screen, and a pretty good sharpness, certainly higher than what you might expect in this price range.
The maximum brightness is not very high, and it stops at 329 nits. It is not a tablet suitable for very bright environments but on the other hand it is designed for home use, where you can generally get comfortable and away from direct light sources.
There is some problem with adaptive brightness: from time to time the Samsung software sets the brightness to minimum, even if there is a lot of light, and the screen becomes almost unreadable. During the time we had to test the tablet, the only solutions were to either disable the automatic brightness, or manually adjust the intensity whenever the problem arose.
Audio
The four speakers of the Samsung Galaxy Tab A7 (2020) deserve a few words of their own. There are not many tablets with similar equipment, even more so if Dolby Atmos certification is added.
And it feels. When you play or watch a movie, in fact, the added value from this sound system is truly remarkable. Not only is the maximum volume very loud, but you also get a particularly rich sound, with a full spectrum. The bass power in particular is incredible considering we are talking about microscopic speakers or almost.
Those who want the best possible sound will still have to use a good pair of headphones, but in any case the audio performance of this Samsung tablet is clearly above average.
Performances
The Samsung Galaxy Tab has the Qualcomm Snapdragon 665 processor, paired with 3GB of RAM and 32GB of storage. They are low-medium specs, but more than adequate for most uses.
This tablet can handle several applications open at the same time, and it won't make you wait more than a couple of seconds (at most) to switch between them. In web browsing, it takes up to a couple of seconds to load the homepages of the most popular newspapers.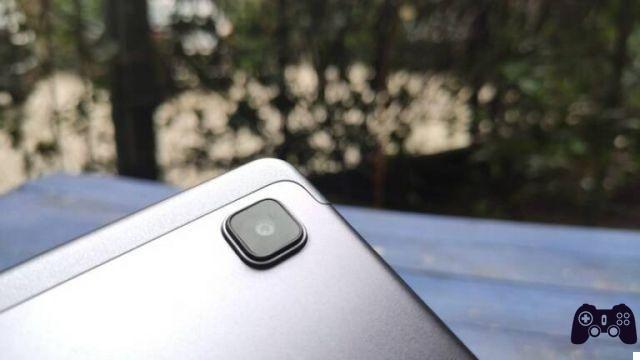 The Galaxy Tab A7 (2020) also lets you play well with the titles available on the Play Store. We put it to the test with Asphalt 9: the game runs without waiting but the fluidity is not exactly ideal. Not that we expected it, considering the hardware: with the most graphically demanding games you will have to take into account a few micro-shots, every now and then. But it's the kind of flaw that only the most experienced users will notice, people who are likely to choose more powerful devices.
Therefore, in terms of performance, the Samsung Galaxy Tab A7 (2020) does very well, and is absolutely able to meet the expectations in relation to the price. It is also in line with its competitors, but in absolute terms we are far from what we consider optimal performance.
Battery
The 7040mAh battery is quite large for a mid-range tablet but not huge. Nevertheless, the Galaxy Tab A7 (2020) has excellent battery life.
You can use it without difficulty for a whole day, in the unlikely hypothesis that you take the tablet in the morning and use it continuously until the evening. More realistically, you will need to recharge it every 3-4 days, or even a lot more. In fact, even one refill per week could prove to be enough in many situations.
If you are looking for a tablet to keep in the living room or kitchen, you won't have to worry about finding it drained too often. Provided and not granted that you remember to put him in charge at least every now and then.
That said, Samsung could have tried a little harder with the charger - the one included in the box is 7,8 watts and takes many hours to charge the tablet. If you plug it in in the evening, it will be 100% in the morning, but don't expect a quick charge if you ever need it. Unless you have a fast power supply available separately.
Software
The Samsung Galaxy Tab A7 (2020) uses Android 10, customized with Samsung's One UI interface. The South Korean company has added some extra apps, such as the browser, Calendar, Galaxy Store and something else.
They are all apps that somehow duplicate those already built into Android, provided by Google, and we would rather they weren't there. But they are not particularly invasive and, above all, you can uninstall them easily. Among the pre-installed apps there are also some from Microsoft: Office, OneDrive and Outlook. These too can be easily eliminated.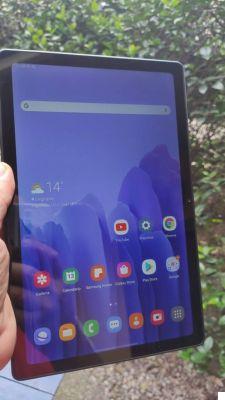 Then there are some specific functions of Samsung, which facilitate communication with smartphones and other devices of this brand. For example, you can receive calls and SMS (and more) from smartphone to tablet. The Samsung software allows you to configure multiple users, and it is possible to have an administrator account and several sub accounts. There is also the option to create an account dedicated to children.
For some reason the process of creating a new account is quite long, because the software applies a real new configuration, as if the tablet were new. It would be preferable to be able to create a new local account in seconds, at least as an option. Once this feature is configured, you can switch between users from the notification panel.
Camera
The Samsung Galaxy Tab A7 (2020) features an 8MP main camera, capable of recording 1080p video. This is an ordinary camera, at best, that you may want to use to document something on the fly. Or maybe during a video call you might need to show something. But other than that it's not very useful.
As on all tablets, the most important camera is the front one, since it is the one used for video calls. The image quality obtained from the sensor (5 MP) is what we would call the minimum wage: it is not a particularly sharp image, and if the lighting is not abundant, the noise can be seen. But you can make your calls, be it personal or business.
Conclusions
The Samsung does not scream a miracle from any point of view. In fact it is "average" from any side you look at it, from the performance to the camera, and in particular the price.
Considering that you will pay just over 200 euros, it is an excellent purchase to enrich the home equipment. You can keep it in the kitchen or living room, where it will always be available for your needs thanks to its excellent autonomy. And if you want to use it to watch a TV series, you will appreciate its excellent sound.
All things considered, the Galaxy Tab A7 (2020) manages to offer something better than its competitors, thanks to its four speakers and slightly above average battery life. Despite a not particularly bright screen, it is a great choice for those looking for a budget tablet.