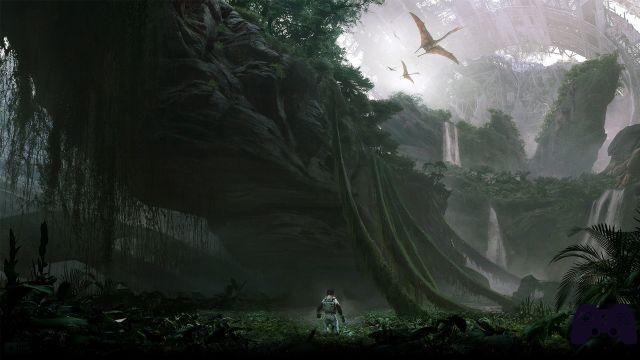 With the passage of time it is inevitable that video games change and that, consequently, gamers also change. With the advent of virtual reality (with all the pros and cons of the case) the time has come for us editors to also change the style with which to write reviews for this particular type of product. For titles like Robinson: The Journey, for example, we realized how impossible it is to give a completely objective judgment as positive elements such as the emotion of being in front of a life-size dinosaur or negative elements such as motion sickness are of the all subjective and cannot be evaluated as absolute. Here, therefore, we invite you to read these new reviews dedicated to VR titles even more carefully and we remain at your disposal for any question / doubt / hesitation or perplexity. Enjoy the reading!
What child has never dreamed of being in front of a life-size dinosaur? Of course, we can go and see dinosaur skeletons in museums and thanks to immortal films like Jurassic Park we were able to experience unforgettable emotions in front of these fascinating creatures. But is it really the same? The boys of Crytek (famous for making the Crysis trilogy) decided to answer this question with Robinson: The Journey, title developed for PlayStation 4 and that takes full advantage of the new virtual reality viewer made by Sony. But will the wonder of being in front of a 1: 1 scale tyrannosaurus be enough to keep players' attention until the end of the adventure? Before discovering it, we remind you that the title is available from today, November 7, at an introductory price of € 60,99.
The last survivor
The atmosphere of Robinson: The Journey is truly sensational and immersive
La plot sees us interpret Robin, a young boy who, after crashing on the planet Tyson III along with the rest of the crew of the spaceship Esmeralda, decides to do everything possible to survive and to find out if his parents have managed, like him, to land on the dangerous alien planet. To keep him company, in addition to the trusty drone HIGS, a cub of the most dangerous predator on the planet (which resembles, in all respects, a Tirannosaurus Rex) named Time. The plot of Robinson: The Journey starts slowly, but manages to evolve when, after collecting other small artificial intelligences such as HIGS, we're going to find out what really happened to Esmeralda. Even without any particular twists, we have reached the end of the adventure (after around 4 hours) quite satisfied, especially thanks to second half of the game which is much more dynamic and able to keep the player's interest high. Despite the not exciting longevity (although still aligned with the single proposals of this first wave of VR titles), we would like to emphasize how there are some collectable within the adventure that surely contribute to the additional number of hours once the main story is over. We are sorry to admit, however, as the title present gods moments of climax (maximum narrative peak) without particular bite, not properly emphasizing the first appearance of important dinosaurs such as the Raptors and also relegating to the Tirannosaurus Rex a short role with a relatively little scenographic impact. Nothing to say regarding the general atmosphere of the title which, thanks also to the PlayStation VR, is truly sensational and able to immerse us in a virtual game world and completely "out of this world".
Robin like Robinson
Robinson: The Journey is fully among those titles that make exploration their strong point
It gives a playful point of view, Robinson: The Journey is fully among those titles that make exploration their strong point. Arm yourself with ours multi-function object (which clearly recalls the PlayStation Move) we can interact in two ways with objects: lifting them off the ground with a powerful telekinesis or scanning them to discover all its secrets and add them to ours Infotarium (a personal archive of Robin). Here, therefore, we will have to move on to Tyson III solving small environmental puzzles which, being always accessible and never really complex, they will allow us to quickly proceed to the next area and to meet ever new and fascinating creatures. Precisely the aforementioned creatures will be scannable by our multi-function object which, as soon as we get close, we will have to use to capture a series of green particles inside the animals without touching other red ones, under penalty of having to start the scan from scratch. Another of the actions that we will carry out most in Robinson: The Jouney is to climb; through R2 and L2, in fact, we will find ourselves several times having to climb walls / trees / vertical surfaces to overcome certain areas. This action, however, highlights one of the limitations of the Crytek title: the lack of PlayStation Move support. Despite our protagonist holding an object similar to the Sony motion controller in his hand and although many actions seem designed for the Move, the Dualshock 4 is the only tool with which we will be forced to face our adventure. It is therefore inevitable that immersion in the game world is, in some moments, inevitably damaged. Among other things that we will be able to do as Robin is the possibility of give orders to Laika, useful to overcome certain puzzles and to overcome otherwise inaccessible areas. Finally, in some particular moments it will be possible tackle puzzles via HIGS, necessary to reactivate the electricity in the various areas and, once again, fundamental for the continuation of the plot.
Almost smelling the Triceratops poop
Robinson: The Journey is, on a technical level, one of the most impressive productions for PlayStation VR
It gives a purely technical point of view, Robinson: The Journey it is certainly one of the most impressive productions for PlayStation VR. The dinosaurs we meet will really be able to create in us that feeling of fear and admiration that we expected to experience from an early age. The polygonal models of the creatures, in fact, are of excellent quality and VR manages to be so immersive that everyone forgets being inside a video game. The sound sector is also excellent, with a discreet dubbing in other languages and with sounds perfectly blended with the game context. We are sure, in fact, that 3D audio will amaze you in this production as in few others, pushing you to turn your head at every slightest noise behind you. And then we came to Robinson's biggest flaw: The Journey: motion-sickness. During our sessions we were able to see how the Crytek title pushes the health of the players to its limit, imposing itself with strong nausea even after a few minutes of play. In any case, taking the necessary precautions, the title can be faced with sessions of 30/40 minutes, but however, forcing players to take breaks between certain zones and others.
Verdict 7/10 Are dinosaurs expected to be seen in your dinosaur park? Comment Robinson: The Journey does not prove to be an essential title for PlayStation VR owners, but it will certainly entertain all those who are looking for an adventure capable of immersing the player in a virtual world full of details and creatures capable of arousing strong emotions. Too bad, however, that a fairly high launch price, the lack of support for PlayStation Move (with a consequent decline in identification) and, above all, the presence of a devastating motion sickness nausea does not allow us to promote a full marks for the new Crytek title. Pros and cons
✓
Technically excellent
✓
Immersive atmosphere
✓
Plot with good potential ...
x
… But that never really takes off
x
Lack of support for PlayStation Move
x
Devastating Motion-Sickness